Advising farmers
Share - WeChat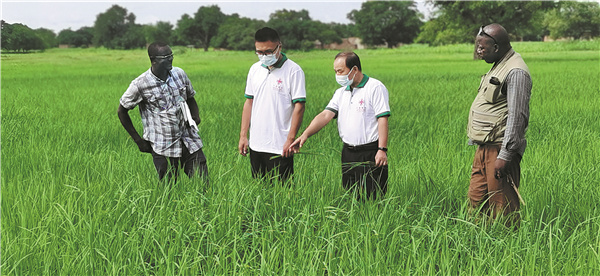 Chinese agricultural expert travels to Burkina Faso to help with the country's rice production.
When Hu Yuzhou first arrived in Burkina Faso as the deputy head of a Chinese agricultural expert team in 2018, he found the mission confronting multiple challenges-recurring droughts, land degradation and dire poverty among rural residents there.
He also understood more keenly the responsibility of his team: to bring hope of food security to a country where over 40 percent of the population lives below the poverty line and the agricultural sector employs 80 percent of the residents.
"To help the nation reach the goal of ensuring food security, there is a lot to be done," he said, explaining that the team was primarily tasked with devising a national plan for the development of the rice sector through 2030, the training of farmers and demonstrating the strength of Chinese technology with pilot projects.
Amid the COVID-19 pandemic, Hu, who has devoted his 30-year career to the promotion of agricultural technologies, made his second trip to the Sahelian country in late 2020, leading another team of experts on irrigation, water conservancy, rice cultivation and agricultural machinery.
The team to Burkina Faso, one of the least developed nations in the world, is a part of a flagship program launched by China to aid the nation's rural development since the two sides reestablished diplomatic relations in May 2018.
In addition to the program, Chinese companies are in a race against time to construct a hospital with 500 beds in Bobo-Dioulasso, the second-largest city in the landlocked country. The project is expected to help alleviate the pressure on the nation's medical resources that have been overly stretched by the ongoing pandemic.
In addition, a team of Chinese healthcare workers have already done 400 surgeries on patients with cataract, and another medical team from China has shared their expertise in fighting COVID-19, according to the Chinese embassy in Burkina Faso.
Hu, a native of Central China's Hubei province, who served as an adviser on agricultural technologies in Zimbabwe in 2009, said he was convinced that the experience of China's agricultural development can be shared with Africa as the continent is endowed with even better natural conditions.
However, he added that the challenge for feeding Burkina Faso's population, which is growing at an annual rate of 2.86 percent, according to the World Bank, cannot be underestimated.
Chinese experts will require courage to tackle various challenges, in addition to strong expertise.
"We must work under the risks of the pandemic, malaria and other infectious diseases and protect ourselves from possible terrorist attacks and anti-government militia groups," he said, adding that some of the project sites are located in the nation's conflict-prone border areas.
A key focus of his team is to help Burkina Faso with rice development through 2030, as the country seeks to improve its annual volume of rice production to 1 million metric tons from a level of about 300,000 tons per year.
Since the resumption of bilateral ties, China has provided over 5,000 tons of grain in emergency assistance to Burkina Faso, and offered humanitarian assistance with tents, pharmaceuticals and other daily necessities to refugees from its border conflicts. With the help of Chinese experts, Burkina Faso also developed 1,200 hectares of new rice fields in its low-lying areas last year, where local farmers were able to grow over 5,000 tons of rice.
To promote the Chinese rice technology, the team established a pilot zone of 50 hectares, where the farmers were able to increase the yield from 1.5 tons per hectare to 5 tons per hectare under the guidance of Chinese experts.
Hu said the goal of this term is to develop 2,000 hectares of lowland for rice production and to demonstrate the strength of Chinese technologies.
"We are trying to introduce more suitable advanced Chinese agricultural technologies to local circumstances and offer training to as many technicians and farmers as possible," he said.
A major challenge for the agricultural development of Burkina Faso is the lack of irrigation facilities, and grain production mostly takes place in the wet season that only spans four months.
"The low level of productivity and mechanization, and the lack of agricultural investment meant that most farmers could only resort to the practice of subsistence farming," he said.
The team decided that they would give priority to the development of irrigation facilities, as Ouagadougou, capital of Burkina Faso, receives an annual precipitation of 743.8 millimeters, a level that is higher than London or Beijing.
"The problem is not a lack of rainfall but a lack of methods and infrastructure to properly use and store rainwater," he said.
Last year, the team, facing scorching summer temperatures during the dry season and difficulties brought by the pandemic, completed the construction of three wells for irrigation that are equipped with solar-powered pumps, as well as two dams. One well and one dam are located in Nariou, a village in Boulkiemde province.
Hu said the team has tried to introduce green and more efficient farming methods to rice farmers who used to rely too much on the use of pesticides and fertilizers. To improve yield of the paddy, Hu said the team told farmers to use a larger proportion of fertilizer as base fertilizer in rice planting to improve the utilization rate of fertilizer.
Chinese experts introduced the farmers to green pest-control methods, including the use of pest-killing lamps and yellow sticky boards in replacement of pesticides, to minimize the impact of agricultural practices on the environment.
"It is our hope that Burkina Faso can draw on lessons from China and adopt green practices in its agricultural development as early as possible so as to attain sustainable growth," Hu said.
Most Popular