The foreigner who 'loves Changsha most'
Share - WeChat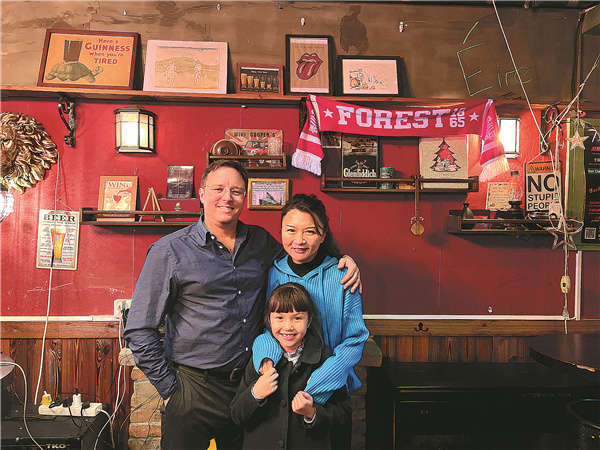 On the night of Jan 22, haggis and whiskey were offered at the Red Lion pub in the Kaifu district of Changsha, Hunan province. Joyful participants read poems and performed the Ceilidh, a traditional Scottish dance, to celebrate the coming of Burns Night.
Jan 25 is the birthday of renowned Scottish poet Robert Burns and part of an important festival in Scotland.
The party was organized by the bar's British manager, Damion Braithwaite. He noted that Jan 22 this year falls on a Saturday, which made it more convenient for people to join the party. He wants everybody to drink and laugh, but the most important thing is to have a cultural exchange.
Braithwaite, 42, teaches English during the day and manages the pub during his spare time.
Before coming to China, Braithwaite was engaged in railway management in London. He spent four years teaching English in the Xinjiang Uygur autonomous region, where he met his Chinese wife, Fu Xiaoli. In 2009, he joined another school in Changsha.
He said that while Changsha is not globally famous, it has a rich culture-which is why he chose it.
"My favorite parts of Changsha are all historic areas, such as the old part of Changsha near Nanmenkou and the Xiangjiang River."
Another thing impresses him: Hunan cuisine. "People scared me by telling me that Hunan food is very spicy. Actually, I don't think it is. It's fine, because they cut up the chili peppers and mix them with the meal."
Changsha also has a strong bar culture. Even deep into the night, the boiling music and sounds from crowded bars can be loud, Braithwaite said.
And that reminds him of his hometown of Nottingham.
"Most people go to pubs and can spend a long time there," he said.
He said the bar serves a lot of Chinese customers who are interested in making foreign friends and practicing foreign languages. "It's more like a community center for social exchanges," he said.
Every business has been affected by the pandemic, with some of them closing. But the local government helped by reducing rent. When the bar reopened, strict rules must be followed, including showing a green health code.
"Thankfully we have loyal customers, so we got back to normal quite soon," Braithwaite said.
Because of the pandemic, he has not returned the UK for years.
He said he missed Christmas and his parents. But instead he can celebrate the Spring Festival with his family and friends in China. "So some of the sad feelings disappear because I can do similar holiday things in the Chinese way," he said.
Braithwaite also runs a WeChat account-WNIC, meaning What's New in Changsha-to share information about entertainment, attractions and job opportunities with foreigners.
Fu, his wife, said he launched WNIC when their daughter was born 10 years ago, and he put all his energy into it.
"He is probably the foreigner who loves Changsha the most," she said.
Zhu Youfang in Changsha contributed to this story.
Most Popular