Global art sales shift online, NFT prices soar
Share - WeChat COVID shutdowns cancelled physical art auctions and exhibitions through 2019, forcing auction houses online — rebounding the global art market. In 2020, Hong Kong ranked second in art sales globally, behind New York. The NFT craze delights artists, dazes experts, and adds a younger clientele to art auctions. Wang Yuke reports from Hong Kong.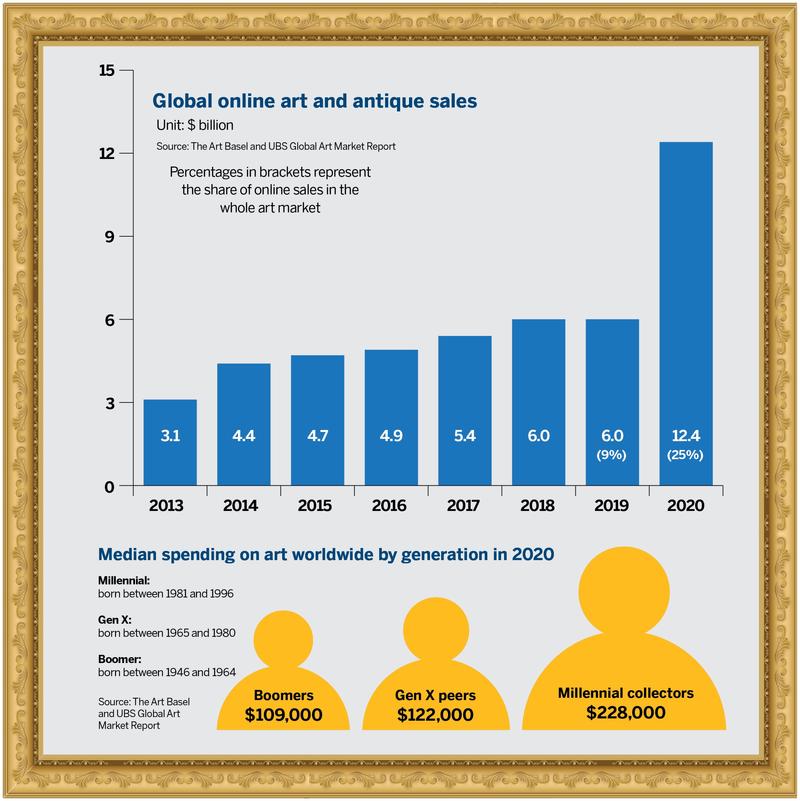 Hong Kong overtook London in 2020 to be the world's second largest contemporary art auction market after New York, even though the COVID shutdowns cancelled physical Art Basel Hong Kong and the Hong Kong Arts Festival.
The global sales of art and antiques contracted by 22 percent from 2019 and public auction sales declined by 30 percent, according to the Art Basel and UBS Global Art Market report published in March 2021. But Hong Kong bucked that downward trend.
In the first eight months of 2020, Hong Kong's global art market share rose to 26 percent, from 20 percent for the full 2019, recording $314.6 million in auction sales, beating London's $303.5 million, according to ArtTactic, an art market data analysis company. The three major art auction houses in Hong Kong, Christie's, Sotheby's and Phillips, all realized a bumper year, with Asian buyers accounting for a third of all bids by value, in global sales.
Christie's projected $7.1 billion total sales in 2021, a 54 percent rise from 2020 and the highest in five years. Its auction sales in Hong Kong reached $1.03 billion for 2021, with a record season in the fall.
Phillips saw a 32 percent increase in global sales for 2021, from 2019. Hong Kong contributed significantly to Phillips' record auction sales with $269.8 million, nearly double that of 2020.
Sotheby's Asian auction sales for 2021 reached a record high, at over $1.1 billion, with 90 percent sell-through rate in both auction and private sales.