At last, long-lost son reunited with mother
Share - WeChat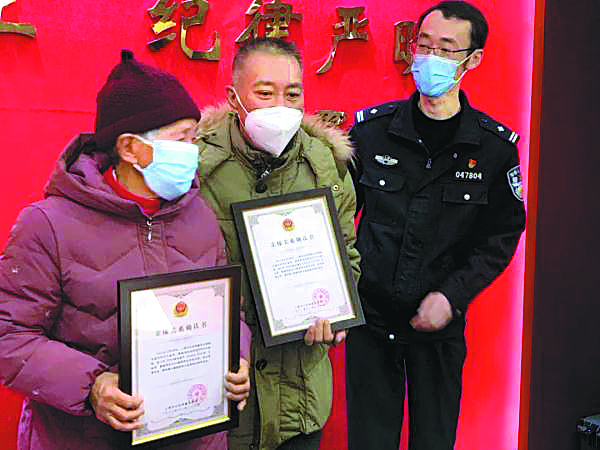 It was a meeting over half a century in the making as Wang Jinhu, a 59-year-old from Henan province's Luoyang, reunited with his biological mother in Jiading district, Shanghai, on Jan 6 after spending decades searching for her.
Wang was thrilled, bursting into tears of joy as he held his 80-year-old mother in his arms during the reunion, which was witnessed by the police who had helped in the search and family members from both cities.
"I'd dreamed of this joyful reunion for years, but still didn't dare believe that it was really happening. I'm glad my mother is healthy and energetic," Wang said.
Wang brought old photos to show his biological family in Shanghai. "My biological sister and I have the same broad noses and big eyes."
To celebrate, Qin Zhenying, Wang's biological mother, cooked local dishes, including fish balls and meatballs whose round shapes symbolize reunion. "I'm finally back home, and we will never be apart again," he added.
Wang was abandoned by his biological family a day after his birth in 1963, as they didn't have the means to raise him.
His biological father, who passed away in 2019, left Wang in a basket with some clothes on the doorstep of an orphanage in Jiading. The card tucked in beside him listed only his birth date and his nickname, Mao Fan. The orphanage later arranged for him to be adopted in Luoyang.
Wang found out as a child that he was adopted when he overheard neighbors asking his family about him, but he was too young to realize the importance of finding his biological parents at the time. It wasn't until his adoptive mother, with her dying words, urged him to search for them in the 1980s that he thought about doing so.
"She held my hand and told me to find my biological mom, so I started searching then," Wang said.
Starting out is always difficult. Since 1990, Wang has been in contact with police stations in Shanghai, sending out flyers and asking friends in an attempt to find clues. Sometimes, he'd just go to Shanghai and stand in the middle of the crowd staring at pedestrians, searching for a similar face.
This blind search lasted nearly two decades and turned up nothing, but Wang's persistence opened the way to a brighter future.
In 2009, he found out from police in Jiading that there was a household registration file on record related to a boy named "Mao Fan", which listed the date when he had left Shanghai for Luoyang.
The news gave him hope that his long wait was coming to an end. Banding together with 18 other local residents who were in a similar situation, Wang began to visit Shanghai every year.
He also registered with a number of family reunion groups and later became the leader of his own, a group of 300 adoptees from Luoyang.
"Some people told us we were only interested in finding our biological families for their properties, but I held up the flyers I had of the people who were looking for family members and told them we were doing this for love," Wang said, speaking about some of the common misunderstandings he and his group faced.
Ten found their parents and siblings with Wang's help, including 92-year-old veteran Wang Gentao, who had been separated from his daughter, Lu Ruijuan, for 57 years.
Wang maintained contact with the elderly man, who lived in Shanghai, and his daughter, who lived in Xiamen, Fujian province, for many years as he checked details of their identities and negotiated with the police on analyzing biological samples.
"I was relieved to see them reunited last June, but I felt lost afterward. I couldn't help wondering when it would be my turn," he said.
His kindness paid off. By way of gratitude, Wang Gentao's son-in-law assisted Wang Jinhu and the Shanghai police in the collection of biological samples and the dissemination of information to cities in Jiangsu and Zhejiang provinces.
On Dec 23, the police found a biological match in Kunshan, Jiangsu province, which turned out to be his uncle. Through him, Wang was led to his birth mother, Qin Zhenying, who was living in Jiading.
According to the police, villagers immediately recognized Wang when they were shown photos of him as a child, and paternity tests were ordered to confirm the match between Qin and Wang.
Three days later, Wang made a video call to the woman he believed was his biological sister for the first time.
They confirmed what they each knew about the boy named Mao Fan.
"My wife was certain she was a blood relative, because she looked the same as our daughter," Wang said.
On Dec 30, the results came back. Wang had finally found his biological family.
"I think I had seen him somewhere on television years ago when I was watching a program about people looking for their parents," Qin said.
"But my memory of him was vague, and I also couldn't bear the guilt of sending him away. Seeing my son eating dishes that I have cooked, holding my hand and sitting beside me, I'm happy."
Wang plans to treasure the time he has left to spend with his birth family.
"I will take my mother to Luoyang this year to give her care and attention, and I'll learn to cook Shanghai cuisine," he said.
He's also still working hard to help other families reunite. "My advice to people in a similar situation who haven't been able to find any clues is to keep going and be patient. It's only a matter of time," he said.