Containment of COVID-19 'best strategy'
Share - WeChat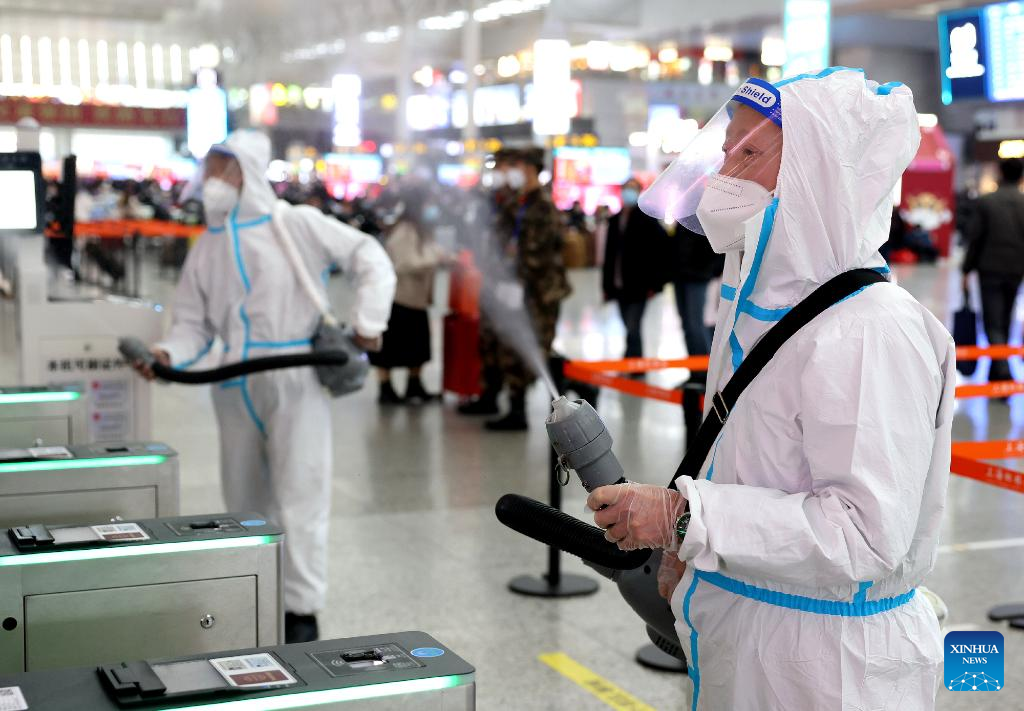 Experts say uncertainties related to Omicron variant necessitate vigilance
The continuation of China's strict COVID-19 containment strategy is the country's best choice at present because much remains unknown about the Omicron variant of the novel coronavirus, including the efficacy of vaccines in warding off infection and the lingering symptoms of recovered patients, public health experts have said.
Liang Wannian, a disease control expert with the National Health Commission, said the COVID-19 pandemic is still raging worldwide, and the pathogenicity and lingering effects of the Omicron strain are unclear.
"The current vaccination campaign has not yet built a solid herd immunity barrier against the virus," he told a news conference in Beijing on Saturday. "Relaxing virus control measures prematurely will risk undermining China's hard-earned outcomes."
He said the country's strategy is capable of curbing new outbreaks effectively, reducing severe cases and deaths, avoiding an overstretched hospital system and minimizing the pandemic's impact on socioeconomic development.
With a World Health Organization report released last week saying that more variants might emerge, Liang said China's strategy should be effective against all strains and is the best choice for the country.
He said local governments should continue to improve their disease control policies to make them more precise. They must sharpen their ability to conduct accurate epidemiological investigations, track down close contacts and designate lockdown areas, and provide more services to ensure the daily needs of affected people are met and that tailored treatment is delivered to different patients.
With the Spring Festival holiday from Jan 31 to Feb 6 approaching, Liang said analysis shows that the risk of a major virus resurgence is low despite increased movement and gatherings.
Wu Zunyou, chief epidemiologist at the Chinese Center for Disease Control and Prevention, told Beijing News that the likelihood of the novel coronavirus evolving to become a flu-like virus is very low.
Compared with the influenza flu virus that primarily attacks the upper respiratory tract, he said the novel coronavirus poses a higher risk to people because it mainly infects the lungs and possibly other organs, increasing its death rate.
"In addition, the immunity induced by flu vaccines is longer than that of COVID-19 vaccines," he said. "As a result, it is inappropriate to treat them equally."
Wu said that although the Omicron variant appears to have caused milder symptoms in patients, it is capable of spreading stealthily, making it more difficult for a region to detect hidden cases promptly.
"There are also a number of breakthrough infections (cases that see fully vaccinated people get infected) with the Omicron variant," he said. "This means that we need to further adjust our vaccination strategy, including delivering booster shots."
As of Friday, China had fully vaccinated more than 1.22 billion people, including nearly 210 million aged above 60, according to the National Health Commission.
Despite the challenges, He Qinghua, an official with the commission's disease prevention and control bureau, said China should be confident in coping with the virus, but a high degree of alertness must be maintained.
"The overall domestic epidemic situation is stable now, and the development of multiple locally transmitted outbreaks has shown positive signs," he said.
However, He said a Delta variant infection cluster in Beijing, China's capital, was still at an early stage, and the screening of high-risk groups should be accelerated to curb its spread.
Beijing reported nine locally transmitted cases on Saturday, taking the total since Jan 15 to 30.Bo Lan, Fengtai district's deputy head, told a news conference on Sunday that it began districtwide testing on Sunday morning and planned to complete sampling that day. Large group activities in the district have been suspended, she added.
Xu Hejian, a spokesman for the Beijing municipal government, added that all people who have bought anti-infection medications or drugs to cure fevers, coughs and sore throats in the past 14 days will be required to take a test within 72 hours, as will those making such purchases in the future.