Beijing's Fengtai district steps up epidemic control
Share - WeChat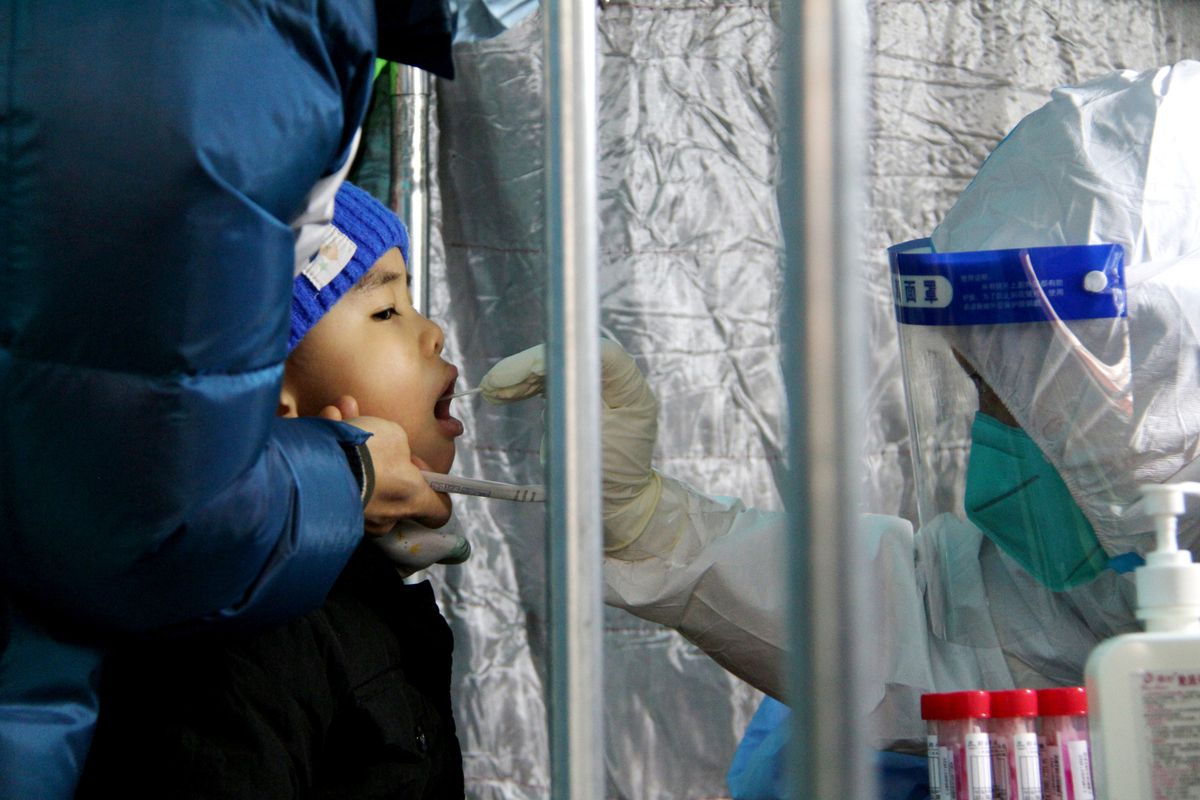 Beijing's Fengtai district has strengthened the epidemic prevention and control measures to cut the virus spreading among communities, a senior official said on Sunday, following one residential compound in the district classified as high-risk on Saturday and an increasing number of cases detected in the area.
Fengtai launched mass nucleic acid testing for the whole district at 6 am Sunday. Medical workers from other 10 districts, including Dongcheng, Xicheng, Chaoyang and Haidian, have been sent to Fengtai to help the epidemic control and prevention work, in order to cut the transmission as soon as possible, said Bo Lan, deputy head of the Fengtai district, at a news conference on Sunday.
The district will investigate all the 1,856 cold chain companies and 1,760 cold storage companies to avoid any risks.
The Wanliuyuan community's classification was adjusted from medium to high-risk after it registered a total of eight confirmed locally transmitted COVID-19 cases between 14 days ago and noon on Saturday, said Li Ang, deputy director of the Beijing Municipal Health Commission.
Another residential community named Hengfengyuan was classified as medium-risk on Sunday as two confirmed locally transmitted COVID-19 cases were reported in the previous 14 days, Li said on Sunday.
The city currently has one high-risk area for COVID-19 and two medium-risk areas - Hengfengyuan in Fengtai and another previously classified community in Fangshan.
Beijing has reported 43 locally transmitted COVID-19 cases since Jan 15, with two clusters of infections having different sources, said Pang Xinghuo, deputy director of the Beijing Center for Disease Control and Prevention, at the news conference on Sunday.
Among the 43 cases, six confirmed patients are from one cluster with Omicron variant caused by an international mail, which has limited spreading risk among communities.
The other cluster of the rest 37 cases - 27 confirmed local COVID-19 cases and 10 asymptomatic cases - was caused by a Delta strain arriving through a cold-chain import, which is still developing, Pang said.
To avoid further spread, the authority has asked the residents who have bought medicines for fever, sore throat and cough in the past 14 days to take the nucleic acid testing in next 72 hours.