Cases in Beijing climb to 23, controls tightened
Share - WeChat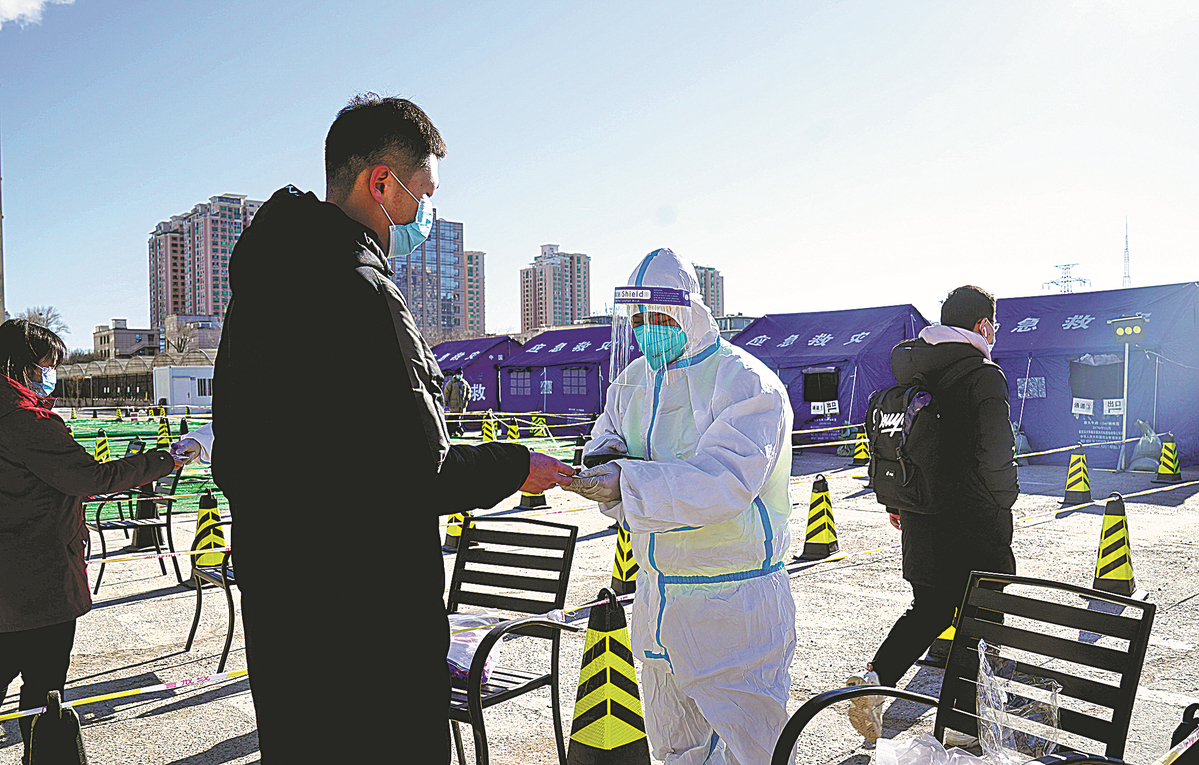 Beijing has reported 23 locally transmitted COVID-19 cases in total since Jan 15 with two clusters of infections from different sources, a senior municipal official said on Friday.
Among the cases, 18 are confirmed patients and five are asymptomatic, involving the districts of Haidian, Chaoyang, Fengtai and Fangshan, said Pang Xinghuo, deputy director of the Beijing Center for Disease Control and Prevention, at a news conference on Friday afternoon.
"According to the epidemiological investigation and full genome sequencing of viruses, the authority made a preliminary assessment that one infection cluster was caused by the international mail with Omicron. The total number of those infected cases is five, all in Haidian district," she said.
"The other cluster is caused by the imported cold chain with Delta variant."
According to the center, Beijing reported seven new locally transmitted patients and five asymptomatic cases on Friday.
Among the new cases, two live in Haidian district and the other 10 live in Fengtai district.
All of the new cases in Fengtai work in the cold chain industry or are close contacts of the confirmed cases.
Pang said that cold chain companies and their supervision departments should tighten control and prevention measures to ensure disinfection management and safety control of the goods' storage, delivery and sales.
All the movements of the individuals were released on Friday. Pang said people who have been to the two cold storage sites where the individuals work from Jan 1 to 20, as well as a restaurant and the residential community, should report to the local community as soon as possible to follow epidemic prevention measures.
On Thursday, Beijing's market supervision bureau said all employees in the city's cold chain industry should take nucleic acid tests every three days instead of every seven days, as previously mandated.
According to the bureau, Beijing has imported 60,000 metric tons of cold chain food in 23,900 batches since Jan 1.
Beijing's Party Secretary Cai Qi inspected the epidemic prevention and control work in Fengtai district on Friday, saying that the local government should cut the transmission swiftly to ensure public safety. He said local authorities should ensure daily supplies for people in the controlled residential communities.
Pan Xuhong, spokesman for Beijing's public security bureau, said on Friday that a wholesale businessman surnamed Yang was charged for violating cold chain regulations by changing the import label to a domestic label.
Beijing has been reporting new local cases during the week in several districts, which means the city is facing a severe and complicated COVID-19 epidemic control and prevention situation, Xu Hejian, a municipal government spokesman, said at the news conference.