Is artificial snowmaking detrimental to the environment?
Share - WeChat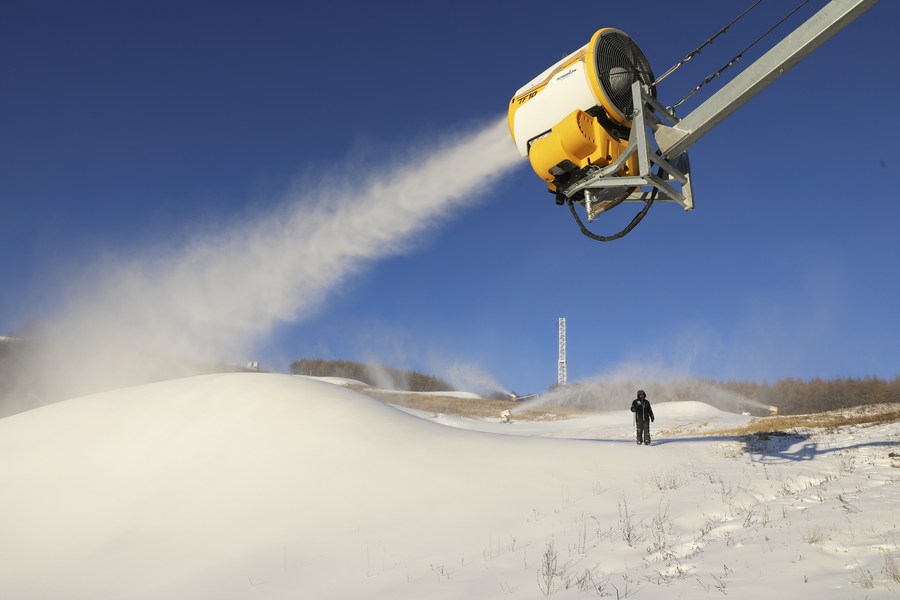 The claim: In an article titled "Mounting concern over the environmental cost of fake snow for Olympics" published last November, a British daily newspaper quoted a University of Strasbourg professor saying that Beijing 2022 "could be the most unsustainable Winter Olympics ever held", as artificial snow was water- and energy-intensive, damaging soil health and causing erosion.
Fact:
Artificial snow and fake snow have to be strictly separated at first, as snow is just the solid state of water. Beijing 2022 organizers have vowed to deliver a sustainable and eco-friendly Games. In line with this commitment, snowmaking at some of the Beijing 2022 venues is anything but detrimental to the environment.
Artificial snow was first used at the 1980 Lake Placid Olympic Winter Games. Around 90 percent of snow used at the Alpine skiing venue for the PyeongChang 2018 Winter Olympics was artificial, while man-made snow was also a feature of Vancouver 2010 and Sochi 2014.
Former International Ski Federation (FIS) freestyle coordinator Joseph Fitzgerald told Xinhua that snowmaking is a requirement by the FIS in order to hold ski competitions that can be separated in time. "If you want to wait for nature to provide you with all of the required material to ski on, you risk not being able to organize a competition."
As water occurs in three different states - liquid, solid or vapor - Fitzgerald explained that snow is just water that is in a transitional phase due to the temperatures. It can either occur naturally, or it can be man-made.
Competition snow requires a higher density than recreational snow in order to meet the requirements of the FIS and to ensure conditions are consistent and fair for each competitor.
"Fake snow is like fake news. That's interesting fake news about fake snow. It is quite comical when I read these so-called expert remarks!" Fitzgerald said.
According to Nikolai Belokrinkin, a course design expert who has helped to organize international Alpine skiing competitions since 2008, the FIS requires to have a certain number of kilograms per cubic meter of snow, and this is frozen water. "You can change the natural snow to these conditions, and it doesn't matter how you produce it, either from nature or from the snowmaking system. The conditions are the same."
"Snowmaking is not a waste of water. The water will come back to nature. It is a basic physics law that everything is a cycle. It's not going out," he commented.
A spokesperson of the Beijing Organizing Committee for the 2022 Olympic and Paralympic Winter Games said that artificial snowmaking has little impact on the local water supply and ecology thanks to China's world-leading water-conserving equipment for artificial snowmaking.
During the snowmaking process for Beijing 2022 venues, the collected natural precipitation and the overland runoff will be primarily used, and an intelligent system will help decide the timing for snowmaking based on the weather conditions, the spokesperson said.
For instance, the intelligent snowmaking system applied at Shougang Big Air helps decide the timing for snowmaking based on the weather conditions and adjusts the water proportion, which lowers the amount of water used by about 20 percent for each cubic meter of artificial snow.
Water demand during the Games accounts for 1.6 percent of the total current water consumption in Yanqing district, according to the Beijing Water Authority.
In the Zhangjiakou competition zone, water demand during the Games accounts for 9.8 percent of the total current water consumption in Zhangjiakou's Chongli district.
Snowmaking is not an irreversible consumption of water resources; instead, the snow-melt water can be recycled into reservoirs. Three reservoirs with a total maximum water storage of 160,000 cubic meters can collect the snow-melt and rainwater through conduits in the Yanqing competition zone and pump up the water for snowmaking in the venues, forming an internal recycle of water resources, according to Sun Xianghui, an engineer from Beijing Beikong Jing'ao Construction Corporation.
In the south of Yanqing, a sewage treatment station has been established to process the sanitary sewage from the competition zone into reclaimed water for plant-watering and toilet use, Sun added.