Hong Kong digs deep to solve land shortage problems
Share - WeChat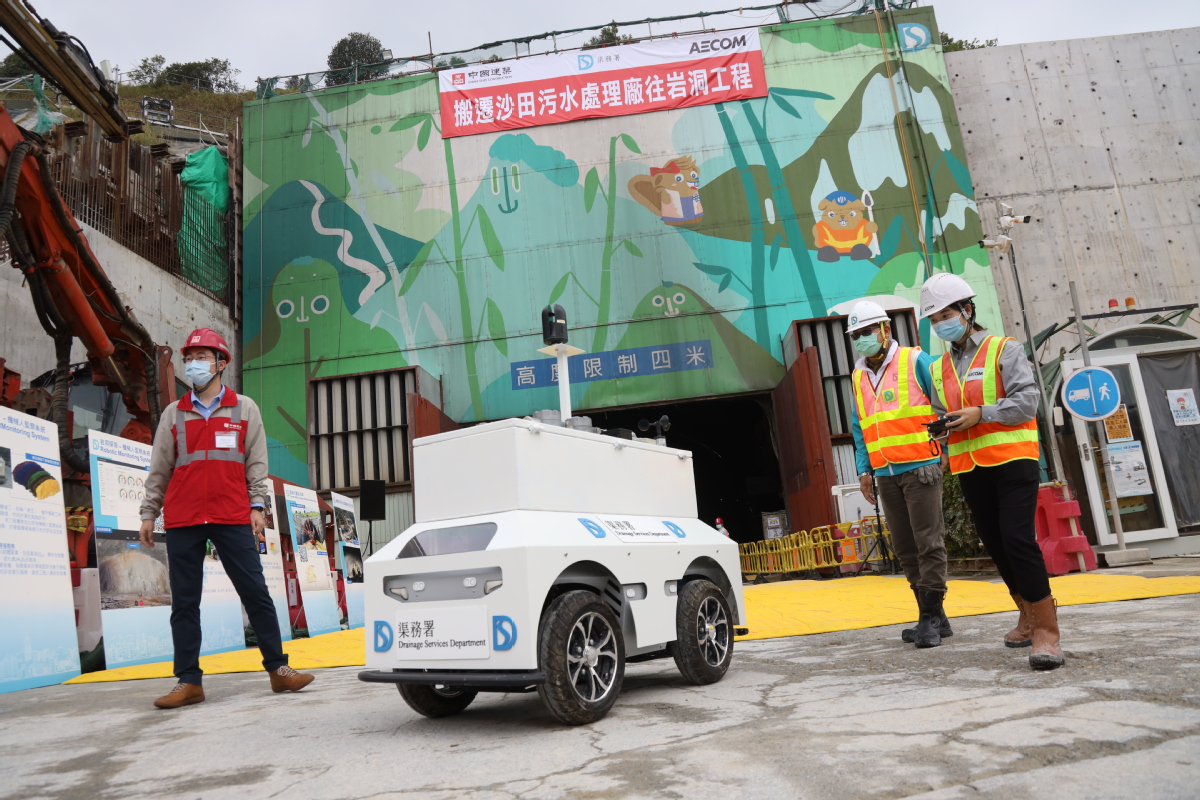 Technology helps
After the open-air plant is relocated, each cavern will serve as a natural barrier, fully enclosing the facility.
Work on the main cavern calls for engineering teams to excavate 11 caverns for the sewage treatment facility, and the entire underground complex will cover 2.3 million cu m. The caverns will be excavated by drilling and blasting.
Li Yifeng, senior site manager at China State Construction Engineering (Hong Kong), which is responsible for the project, said, "We are exploring high-technology solutions to address difficult problems, and we aim to promote the use of smart construction sites and create demonstration projects for technological innovation."
The construction site is the first in Hong Kong equipped with 5G technology. Numerous industrial sensors and internet of things, or IoT, equipment have been installed to help surveying and engineering teams-reducing safety risks for workers in a hazardous environment.
This equipment monitors the impact of construction, including groundwater levels, blasting vibrations, other noise, and tunnel air quality in real time, as well as construction activity data, including drilling, use of electricity and worker location.
The engineering team developed its own robotic monitoring system to ensure workers' safety.
Li said teams at the site also installed noise barriers, blasting doors, and used the IoT monitoring systems to minimize the impact of construction on nearby residents.
Tony Leung Ka-chung, chief engineer (cavern projects) at the city's Drainage Services Department, said the relocation project will benefit residents and have a positive effect on Sha Tin and the surrounding area.
Hong Kong resident Tsang Chuen-ming, who lives about 900 meters from the existing Sha Tin Sewage Treatment Plant, said he supports the relocation project, as he believes it will improve the environment.
"Sometimes, I can detect the odors coming from the sewage treatment plant at home. I hope this problem will be addressed after the new one is put into use," Tsang said.
He added that when he heard that the construction project would involve blasting, he was worried about safety and excessive noise. "But now I have no such concerns, as I haven't heard any noise at all," he said.
The construction team also used the self-developed robotic monitoring system for blasting work in the tunnel and caverns.
An automatically-driven vehicle with 3D cameras and sensors enters the tunnel or caverns and sends back real-time information about chemical composition of the air and images of rock surfaces.
Zhu Juling, an engineer who took part in the sewage facility relocation project, said this technology can help ensure construction workers' safety and largely reduce such risks.
The plant currently serves a population of 650,000 in Sha Tin and Ma On Shan districts, which produce a total of 260,000 cu m of sewage a day.
The Sha Tin sewage treatment facility is just one of the projects in the Hong Kong government's master plan for cavern development, which was released in late 2017.
The plan lists 48 potential underground and hillside sites for new caverns, eliminating the need for companies to find their own. It could free as much as 1,000 hectares of land.
Caverns will be mainly used to house sewage treatment facilities and as depots to store explosives.
Before the project to relocate the Sha Tin sewage facility to caverns was proposed, the city already had a small pilot cavern sewage treatment facility program in Stanley on Hong Kong Island. Put into use in 1995, this program serves a population of more than 27,000.
Hong Kong is not the only place to venture deep into the mountains to free up much-needed space. In Norway, the National Archives and Olympic Sports Center have been built in caverns; in France, wine and food storage facilities have been built within hills; while in Finland, caverns are used to house swimming pools and parking lots.
On the Chinese mainland, internet giant Tencent is building a data center in rock caverns in Guizhou province.
According to Yue, the HKU professor, various factors, such as geological environments, climate, topography and local needs have a significant impact on the roles caverns can play.
Countries in northern Europe have opted to build entertainment facilities in caverns due to harsh winter weather, as the interior temperature tends to be constant throughout the year, Yue said.
"However, in Hong Kong, there's no need to develop caverns in this way, as the city's average winter temperature is higher than 10 C," he added.
Yue said it is not clear whether Hong Kong's Northern Metropolis Development Strategy, an ambitious plan by the local government to develop land near the boundary with the mainland, will influence the overall aim to develop caverns. But he stressed that developing underground space is still important for the city's further development and expansion, adding that there is great potential to develop underground space in the Guangdong-Hong Kong-Macao Greater Bay Area.