Spokespersons for Beijing organizing committee make call for unity, peace
Share - WeChat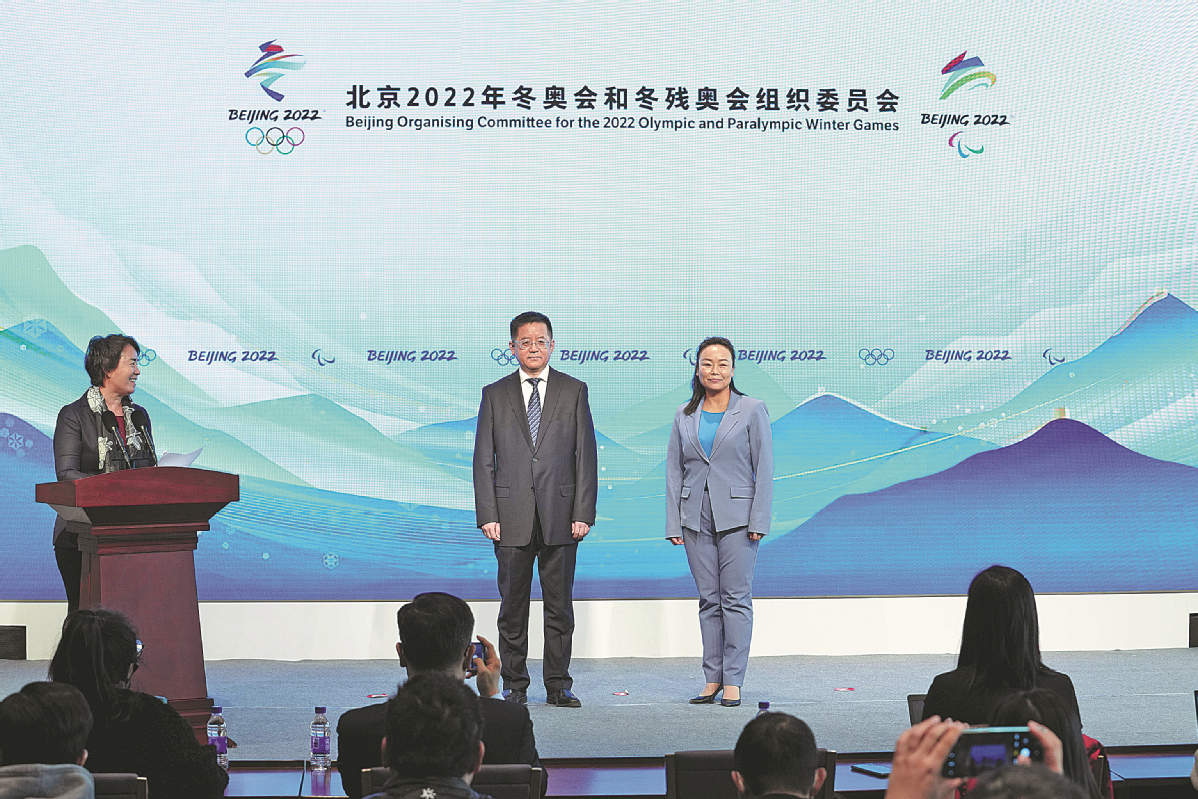 The newly announced spokespersons for the Beijing Organising Committee for the 2022 Olympic and Paralympic Winter Games have condemned the politicization of sports, while promoting the upcoming Games as an opportunity for the world to stay united during difficult times.
With 30 days to go before the Beijing Winter Olympics open on Feb 4, the Games organizing committee introduced Zhao Weidong and Yan Jiarong as spokespersons at a news conference on Wednesday.
Zhao is director of the Beijing 2022 organizing committee's media and communications department, while Yan is a former member of the Chinese delegation to the UN General Assembly. They will join their counterparts from the International Olympic Committee to organize news conferences and daily briefings during the Games.
Citing the Games motto of "Together for a Shared Future", Yan called for greater international solidarity in using the upcoming Games as a platform for better understanding and cultural exchanges.
"Facing tough common challenges, such as the COVID-19 pandemic, the international community more than ever needs the Olympic spirit, which promotes unity, peace, friendship and togetherness," she said in an interview.
Yan said the Olympics and sports should not be used as political tools, adding that politicization of sports will only create division.
"A few noises won't distract from the successful hosting of the 2022 Olympic and Paralympic Winter Games, and cannot stop the world from staying united throughout the Games," she said.
Her comments come after the United States and a handful of its allies announced last month they will not send senior government officials to attend the Beijing Olympics under so-called "political boycotts".
In his New Year message published on Dec 31, IOC President Thomas Bach praised the international support for the Beijing Winter Games.
"The support of the international community for these Olympic Winter Games is very evident and is very much welcomed," the German former Olympic fencing champion said in the message.
"We can only accomplish our mission to unite the world, if everybody respects that the Olympic Games must be beyond all political disputes," he added.
The Beijing 2022 Winter Olympics will be held across three zones-Beijing's downtown area, its northwest Yanqing district and co-host Zhangjiakou, Hebei province-with nearly 3,000 athletes to compete in 109 medal events from Feb 4 through 20.
Finishing touches
Preparation work for the Games has entered the final stage with organizers busy putting finishing touches to competition venues, the Olympic villages, the Main Media Center and temporary facilities for broadcasting and interviews, Zhao said.
The media center, situated in phase two of the National Convention Center, opened for trial operations on Tuesday. The facilities have the capacity to accommodate up to 6,000 accredited journalists, photographers and broadcasting staff during the Games. The IOC has set the press quota at 3,000 for the Beijing Games.
All Games participants, including athletes, organizers and media, have to operate under closed-loop management and strictly follow COVID-19 prevention and control rules.