Lucky woman meets endangered tiger back-to-back
Share - WeChat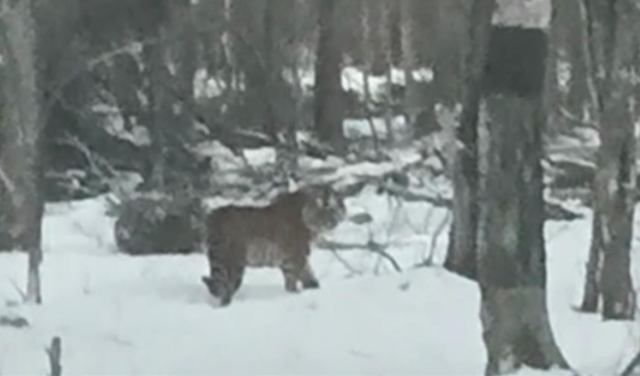 A woman and her friends were lucky enough to see wild Amur tiger, an endangered species, for two consecutive days during the New Year holiday. They spotted the rare animals while driving on mountain-climbing excursions in Hunchun, Northeast China's Jilin province.
The woman, surnamed Zhao, was driving with two friends when they first saw a cub near the Sandaogou village of Hunchun on Jan 1, CCTV News reported.
Zhao said the young tiger looked chubby and cute. When the tiger saw them, it turned and ran.
"We wished to see a wild tiger once, and I didn't expect our wish would come true on the first day of the new year!" Zhao said.
The next day, when Zhao and her friends drove to where they saw the young tiger a day before, they found an even bigger one.
Compared with the cub, the adult did not rush to run away after seeing their car but sat there and watched them for a moment before it "walked slowly into the woods", Zhao said.
"How lucky they are!" many netizens commented. The year 2022 is the Year of the Tiger in the Chinese lunar calendar.
According to reports, local residents in Hunchun have encountered wild Amur tigers more than 30 times since the beginning of 2021.
A large area in Hunchun is part of Northeast China's Tiger and Leopard National Park, which is one of the country's first five national parks. The parks will be partly open to the public and serve as "classrooms" for nature conservation education.
The Amur tiger population in China saw a sharp decline in the 1990s. Thanks to preservation measures, the wild Amur tiger population has been experiencing rapid growth.