23 injured as quake rattles city in Yunnan
Share - WeChat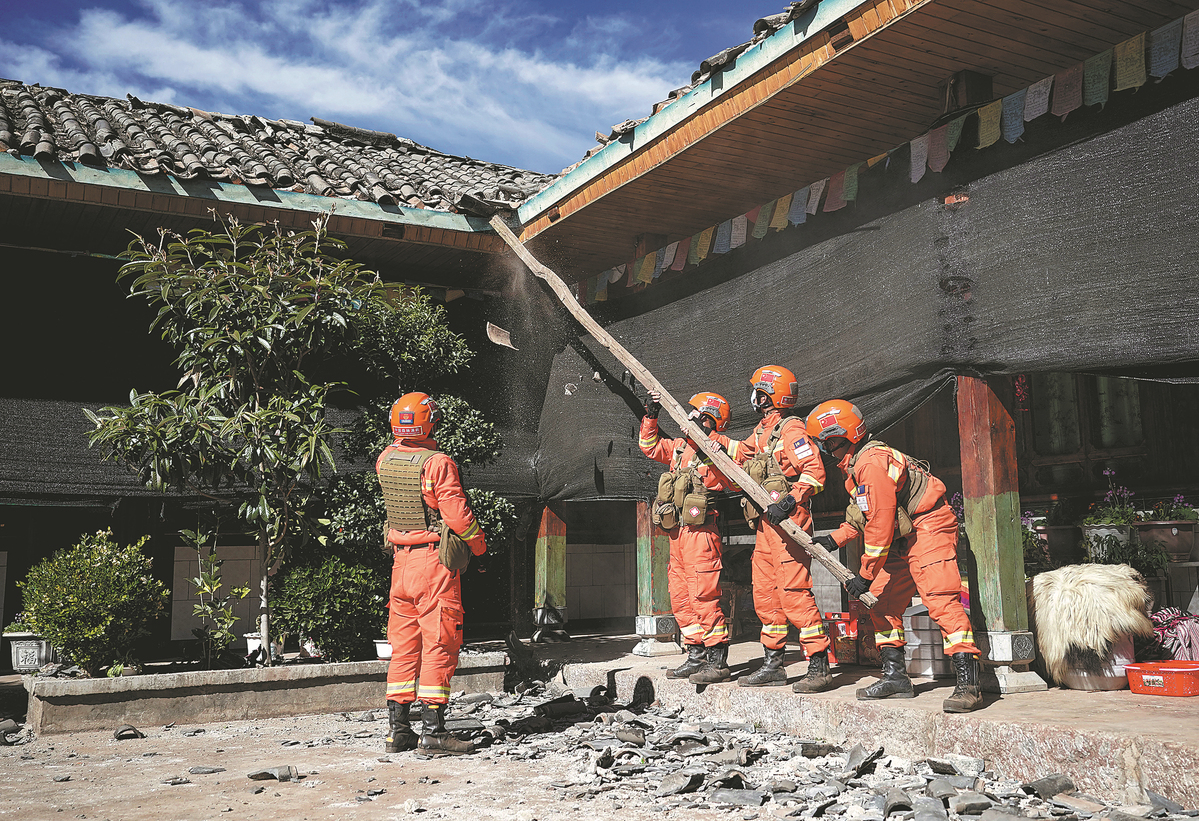 More than 13,000 people have been evacuated after a 5.5 magnitude earthquake struck Ninglang county in Lijiang city, Yunnan province, at 3:02 pm on Sunday, the county government said on Monday.
No one was killed in the quake, but 23 were injured, the county government's information office said, adding that all the injured have received medical treatment.
The earthquake didn't cause any buildings to collapse, but it damaged 38 roads with a combined length of 455 kilometers and left 153 households without power.
The China Earthquake Networks Center said the epicenter was about 60 km away from the county seat and 110 km from the Old Town of Lijiang, a UNESCO World Heritage Site.
Rescue teams consisting of 1,150 members from fire brigades and the provincial safety emergency rescue department have been sent to Ninglang. The teams carried out search and rescue work, evacuations, disaster relief, tent building and fire prevention patrol.
In addition, the Yunnan, Lijiang and Ninglang governments have sent relief goods to the disaster areas, including tents, folding beds, quilts and coats.
"Wenquan village is the area that suffered the most serious damage. Among the 827 houses in the village, 817 sustained minor damage, including 50 that were seriously damaged," said An Zhifei, deputy director of Yongning town. "So far, 200 tents have been arranged for residents from the 50 households."
Ma Sennong, 44, a villager from Wenquan village, said: "I was working on my farmland at that time, and I rushed home immediately when I realized there was an earthquake. My family members were not injured, but we can't live in our house due to the damage.
"Rescuers set a tent up for us, but it wasn't enough for all my family members-my parents, my three children, my wife and I," he said. "They set up another tent for us at 10 pm on Sunday, so we didn't have to spend the night in the cold."
The Lugu Lake Scenic Area, about 20 km from the epicenter, reported no deaths or injuries during the quake, according to the Lijiang Lugu Lake Administration Bureau.
The area remains open to the public, and follow-up information will be released in a timely manner, the bureau said.
Separately, a magnitude 6.4 earthquake jolted Taiwan at 5:46 pm on Monday.
The China Earthquake Networks Center put the epicenter 71 kilometers off the east coast of the island. The quake was also felt by many people in Fujian and Zhejiang provinces. No casualties were reported from this quake on Monday evening.