China cannot rest upon its laurels, the nation 'still has a long way to go'
Share - WeChat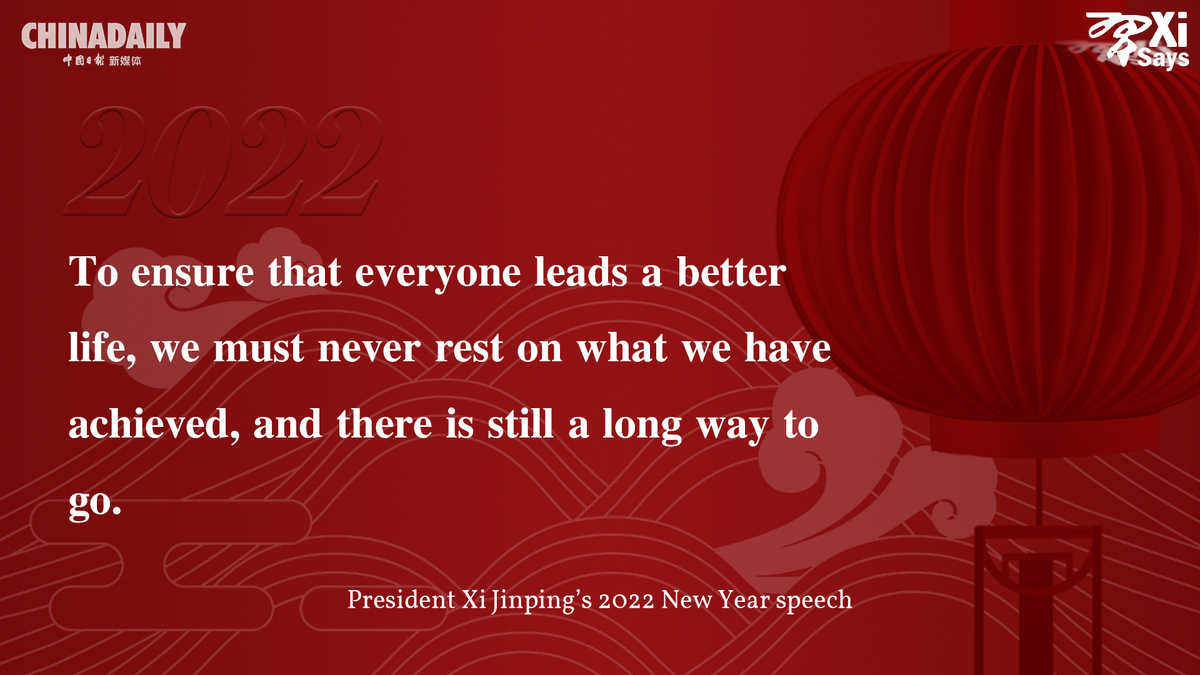 The New Year speech President Xi Jinping delivered on Friday sheds light on how China has emerged stronger from the harsh tests of the past 12 months, and should consolidate the confidence that the nation can embrace a brighter future in the coming year.
Under the leadership of the Communist Party of China Central Committee with Xi at the core, the nation has effectively responded to all the challenges and difficulties of what Xi called a year "of exceptional significance".
Over the past year, a "resilient and dynamic" China has shown that it has a solid foundation on which to build as it embarks on the next stage of its development journey. It has also shown that with Xi at the helm and guided by Xi Jinping Thought on Socialism with Chinese Characteristics for a New Era, there is a clear understanding of what kind of development the nation should pursue and how it should pursue it at this critical juncture in its development journey.
The resolution on historical issues adopted at the Sixth Plenary Session of the 19th CPC Central Committee in November-only the third such resolution in the Party's history-connected the past, present and future, showing that the Party has a thorough understanding of the characteristics of the current stage of Chinese economic development and is well-prepared to fulfill the task of building China into a modern socialist country in all respects.
It is under the leadership of the Party, which celebrated the 100th anniversary of its founding in 2021, that the nation has realized the historic achievements of becoming moderately prosperous in all respects and eliminating absolute poverty, and the knowledge and practical experience the Party has gained in attaining those hard-won accomplishments-that are also "contributions to the world"-will stand the country in good stead as it pursues its modernization amid a challenging and ever-changing development environment.
Now, as the country begins to implement its 14th Five-Year Plan (2021-25) and starts its advance toward the Long-Range Objectives Through the Year 2035, the focus is on improving the quality and returns of economic growth, promoting sustainable and healthy economic development, and making substantive progress in promoting common prosperity.
To these ends, Xi stressed the nation should maintain a long-term perspective, remain mindful of potential risks, and maintain its strategic focus and determination, paying attention to issues both great and small, and he offered the timely reminder that "If we do not fail Nature, Nature shall never fail us", effectively a rallying cry as the nation pursues the challenging goal of carbon neutrality.
Calling for unity and concerted efforts to ensure "a brighter future for our nation" and the realization of the Chinese people's shared aspiration for the complete reunification of the motherland, Xi said that the nation is on an extraordinary journey, a journey in which the CPC continues to lead the Chinese people on a march forward.