Happiness is 'getting close to nature'
Share - WeChat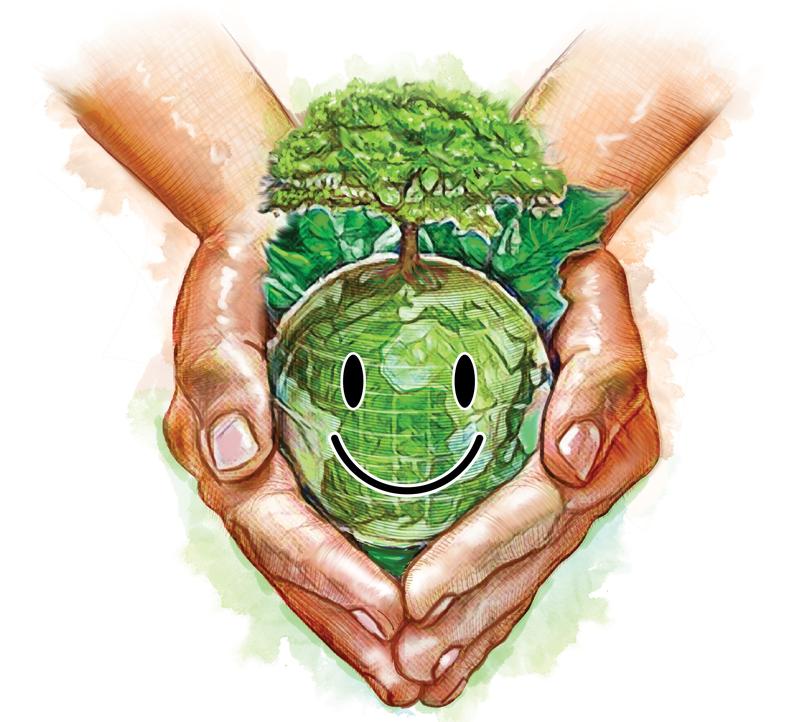 Environmentalists and eco-minded entrepreneurs in Hong Kong are pulling out all the stops to reduce emissions and build a greener and more environmentally friendly city. Kathy Zhang reports from Hong Kong.
Living without a washing machine, air conditioner or television might be a nightmare for most urbanites, but for environmentalist Mok Ho-kwong and his family, it's part of their lives.
Mok, who grew up in Hong Kong's downtown area, chose to live a sustainable and simple life in a rural area after graduating from the University of Hong Kong in 2004.
"When I talked with more environmentalists and participated in more relevant events, the idea of protecting the environment and reducing consumption took root in my mind deeply," he told China Daily.
Mok is widely known by his Cantonese nickname, Ye Yan, which means "wild man" in English, because of his distinctive lifestyle. He, his wife and their 5-year-old son have lived in a rented and remote farm at Kai Leng Village, Sheung Shui, in the New Territories, for many years.
In the Xanadu, which was totally built by Mok and some volunteers with their bare hands and secondhand goods, all chemical-based products and "unnecessary" domestic appliances, such as washing machines, air conditioners and television sets, are banned.
Mok and his wife do laundry by hand with baked soda instead of detergents. They wash dishes and their hair with tea-seed powder, and use homemade lemongrass oil to repel mosquitoes.
Although the farm is located in a tranquil place far away from the concrete jungle, Mok doesn't think he is out of touch with the community. "I still use my laptop and cellphone," he said.
Sometimes he is invited to speak at schools or communicate with social associations, when he advocates sustainable and low-carbon lifestyles. He also organizes regular visits to or education activities on his farm, providing opportunities to children and their parents to get close to nature and learn how to protect the environment. He also works for other farms to make a living.
'Less is more'
Mok earns about HK$10,000 ($1,280) a month. After taking care of his family members' daily expenses and the rent, he can save at least HK$2,000. "To some people, this is impoverished. But to me, it's a kind of high-quality life," said Mok, adding he does find happiness and peace by being close to nature and living an eco-friendly simple life.
Mok plants various types of vegetables on his farm, such as tomatoes, Chinese cabbage, green beans and peanuts, which can meet the family's needs. The entire family sticks to a vegetarian diet.
According to the World Wide Fund for Nature, plant-based diets can cut food-related carbon emissions by at least 30 percent and cut wildlife loss by up to 46 percent. Agricultural landuse can also be slashed by at least 41 percent and premature deaths by up to 20 percent.
In addition, all furniture and the clothes Mok and his family members wear are secondhand or made by themselves. His son Mai Pei's toy car and entertainment equipment on the farm, including slides, a swing, seesaw, a treehouse and a catapult, were handmade.
Mok built a tool warehouse filled with saws, hammers and screwdrivers of various sizes and categories. "More than 90 percent of the tools here were 'rubbish' thrown away by their owners for various reasons. Some still looked brand-new when I collected and brought them back," he said.
Mok doesn't mind other people likening him to a scavenger. "In fact, many urban dwellers live a wasteful life. We can easily dump anything without hesitating although these things still can be used. That is also why our landfills are getting overloaded."
When China Daily visited Mok's farm, he was fixing up a "new" piece of furniture - an iron cabinet that had been discarded by others. The cabinet's only flaw was that the upper drawer cannot close completely. "Sometimes, we need to accept such imperfections," Mok said.
What Mok and his family are doing is exceptional - something that cannot be easily done by everyone living in the city. But Mok isn't alone.
Lam Chiu-ying, a meteorologist and former director of the Hong Kong Observatory, has not used air conditioners for years. He doesn't use body wash or shampoo and only takes quick cold showers to save water and energy.
Lam and his wife use only 1.5 to 2 kilowatt-hours of electricity daily - about one-sixth that of the household average.
According to the Electrical and Mechanical Services Department, the average household electricity consumption in Hong Kong is about 390 kWh per month.
"Saving energy is for the Earth and the future of human beings," Lam said. He encourages more young people to help cut down on daily carbon emissions and everyone to stay alert to climate change and global warming.
Entrepreneurs make efforts
Besides individual models, a growing number of eco-minded entrepreneurs are going all-out to instill a green living culture in communities.
Slowood - a Hong Kong-based chain run on the zero-waste principle - opened its fourth store at Central Market in August. The brand offers shoppers all sorts of organic and green-living necessities, including but not limited to spices, dry food, raw noodles, spaghetti, body wash, and skincare products and detergents. Slowood is different from other shops in that it does not providing customers with single-use plastic bottles or bags. Customers are encouraged to bring their own containers or bags when they shop.
"We are trying to find a solution to Hong Kong's overpackaging issue and offer residents a greener and eco-friendly alternative," said Dora Lam Shuk-man, co-founder of Slowood.
In 2018, when Dora Lam gave birth to her daughter, she and her husband began to consider where they could find organic and sustainable products for the baby, while they found that these products were sold in different stores across the city. Therefore, the new parents decided to set up a one-stop environmentally friendly shop where residents are able to buy almost all living necessities. This is how Slowood came into being.
Although the brand currently has four stores, it has been barely surviving. According to Dora Lam, their revenue can barely meet the expenses, and they don't intend to expand in the short term.
"There are some misunderstandings over the price of 'zero waste' products. Some people have the stereotype that these products are expensive or even unaffordable," she said.
Citing the spices and food sold at Slowood, she said they are more economical than those sold at supermarkets. For example, a bottle of basil or thymes goes for between HK$30 and HK$40 at supermarkets, but the cost comes mainly from the bottle itself and logistics expenses. Customers who bring their own containers to Slowood can get the same amount of herbs for less than HK$10.
Dora Lam hopes the concept of zero waste could be more widely accepted in the future.
Another Hong Kong-based company - Urban Spring, a smart water-dispenser brand - has also joined the team that is shaping a sustainable lifestyle in the city. It has set up a machine that provides water-refilling services at Central Market to encourage passersby to bring their own reusable water bottles to help ease the city's plastic-waste problem. The company has installed dispensers at more than 400 locations across Hong Kong, such as schools, shopping malls and country parks. So far, it has helped to save more than 7.8 million plastic bottles, virtually reducing about 12.4 million kilograms of carbon emissions.
According to an Environmental Protection Department report on the monitoring of solid waste in Hong Kong in 2019, plastic waste accounted for 21 percent of the city's municipal solid waste. About 121 metric tons of polyethylene terephthalate, or PET, plastic bottles are sent to the landfills every day - equivalent to about 6.37 million bottles.
Ada Yip Chun-chun, CEO of Urban Spring, said residents who are interested in enjoying a plastic-free or low-waste lifestyle should start forming easy eco-habits, such as using reusable bottles, ordering takeaway food as less as possible, or using less tissues.
"We need to give ourselves an alternative to live a greener life," she said.