Jimmy Lai sentenced to 13 months in jail
Share - WeChat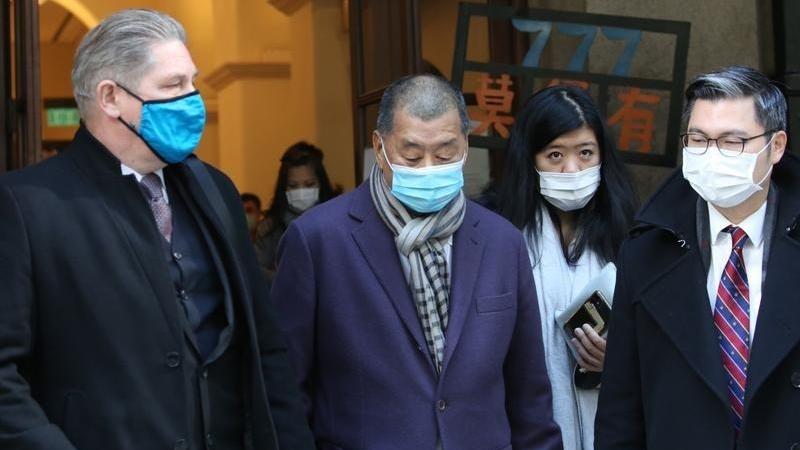 Hong Kong's District Court on Monday sentenced media tycoon Jimmy Lai Chee-ying to 13 months in prison for inciting others to participate in an unauthorized assembly last year.
Lai is currently serving a 20-month sentence at Stanley Prison after being convicted for participating in three illegal assemblies in 2019.
The 13-month sentence will run concurrently with his previous sentences.
Seven other defendants, including former lawmaker Lee Cheuk-yan, and activists Chow Hang-tung and Gwyneth Ho Kwai-lam, were also sentenced to jail terms ranging from four months and two weeks to 14 months for taking part in the same assembly which was prohibited by the police in the interests of public order, public safety, and the protection of the rights and freedoms of others.
Judge Amanda Jane Woodcock ruled that deterrent sentences are appropriate since the defendants ignored the serious risk of the COVID-19 pandemic to the public health.
The court on Thursday convicted Lai and Chow of incitement to knowingly take part in an unauthorized assembly at Victoria Park on June 4, 2020, while Chow and Ho were found guilty of knowingly participating in the same assembly, along with other unidentified persons.
Lee and four other defendants, namely Richard Tsoi Yiu-cheong, Simon Leung Kam-wai, Leung Yiu-chung, and former chairman of the Democratic Party Wu Chi-wai, pleaded guilty on Nov 1.
The unauthorized assembly case involves a total of 26 defendants, including Lai, former lawmaker Albert Ho Chun-yan, and activist Joshua Wong Chi-fung. So far 24 people have been sentenced.
The remaining two defendants, Nathan Law Kwun-chung and Sunny Cheung Kwan-yang, fled the city before the trial. The court has issued arrest warrants for them.