Kiwifruits sweeten life in NW China county
Share - WeChat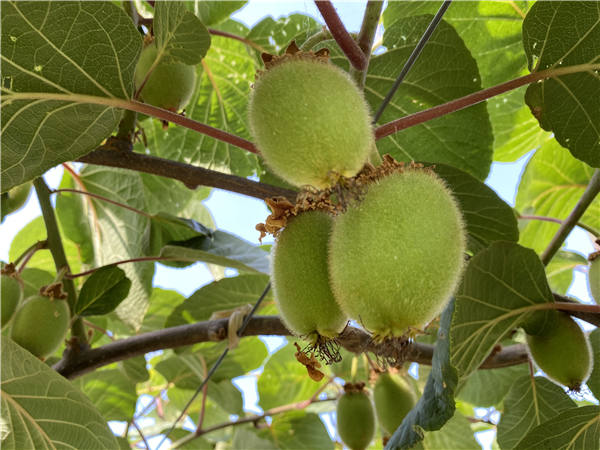 Before it was brought to New Zealand about a century ago and became world-renowned as kiwifruit, this humble fruit had been grown as "Chinese gooseberry" for almost 1,500 years. Back in its hometown in northwest China, it has brought prosperity to over 120,000 people.
At the end of November, Deng Xiaoqing, a farmer in Meixian County, Baoji city of Shaanxi province, had sold out all of this year's kiwifruit harvest.
"The kiwifruit industry in my hometown is enjoying a renaissance. Usually, the fruits would be sold out by the end of the year, but this year, the sales goal was completed ahead of schedule," said the 38-year-old farmer.
The fruit was recorded in China's ancient medical book, Compendium of Materia Medica during the Ming Dynasty (1368-1644), while it was cultivated in fields and gardens as early as the Tang Dynasty (618-907).
Deng once worked as a graphic designer in northwest China's Xinjiang Uygur autonomous region. In 2015, when he saw his neighbor sell 10 boxes of kiwifruit in just one day online, Deng decided to return to his family business of planting the fruit.
The circumspective farmer dries the juicy fruits for one day after they are harvested in autumn so that they can be better preserved in the county's shared cold storage. Stored at a temperature between minus one degree Celsius and one degree Celsius, the fresh kiwifruit is kept hydrated with automatic sprinklers and sufficient nitrogen.
"My customers are from all across the country and about 40 percent of the fruits are sold via social media platforms," Deng said.
Last year, the ambitious farmer expanded his cultivation area. "I'm optimistic about the kiwifruit industry in my hometown."
A bilateral agreement on geographical indications (GI) between China and Europe came into effect in March, while Meixian kiwifruit was listed among China's first batch of products under GI protection.
"Our fruits are yummy and healthy. I believe they will attract more overseas customers in the future," Deng said.
In 2021, about 520,000 tonnes of kiwifruit were harvested in Meixian, bringing a total value of about 5.85 billion yuan (about $918 million) to the county.
A kiwifruit-themed museum has been set up in the county, displaying the fruit's history and modern industrial development. The local government has teamed up with universities to further improve the production efficiency and taste of the fruit.
The county also plans to attract more investment and international talent to develop relevant industrial chains including fruit wine and cosmetics.
"We will develop the industrial chains and turn the county into a major production hub of the delicious fruit," said Zhang Xinlin, director of the county's kiwifruit industrial park management committee.
Most Popular