Embrace of rail brings transport sea change
Share - WeChat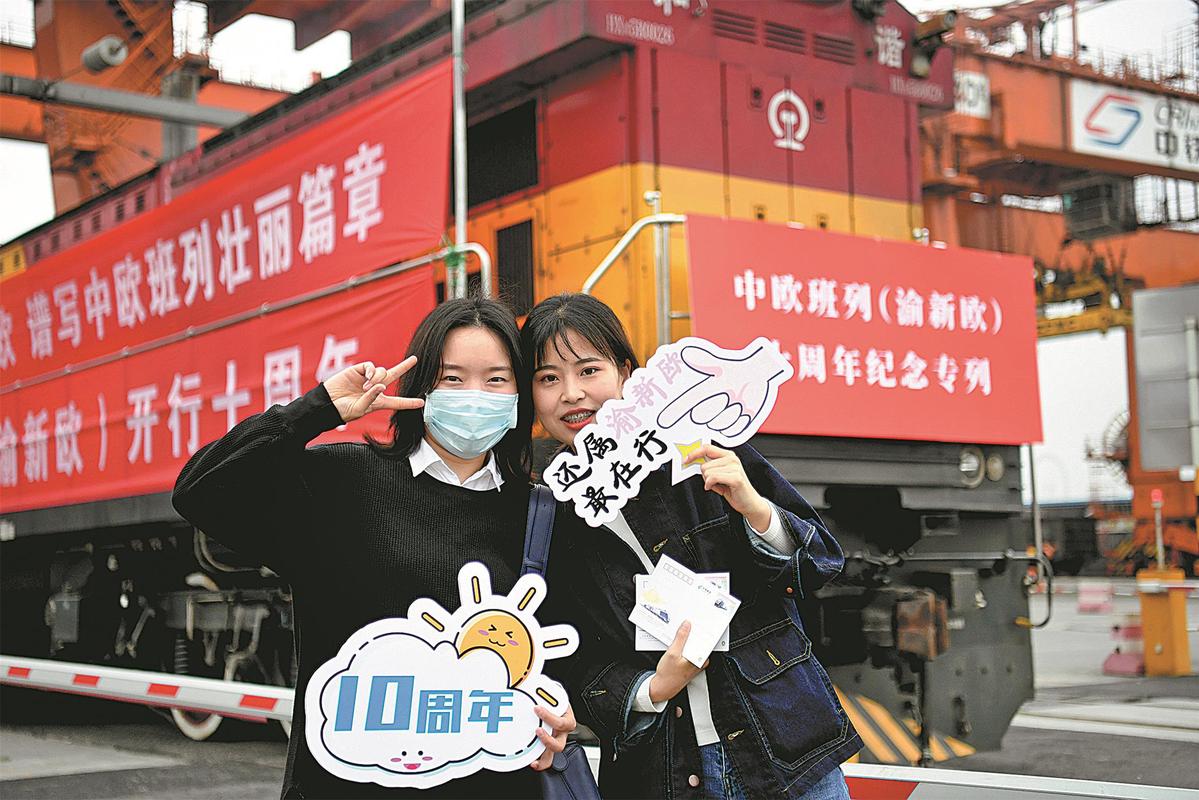 Largest intake
The University of Duisburg-Essen has been cooperating with many Chinese universities and has enrolled some 2,000 Chinese students, the largest intake among German universities.
"Therefore, the development of the Belt and Road Initiative is one of the cooperation projects in line with a long relationship between Duisburg and China," Link said.
To deal with the growing relationship with China, the city government in May appointed Markus Teuber, former senior executive of the Duisburger Hafen AG(Duisport) who has been closely involved in CRE trains, as the official China representative of the city of Duisburg, replacing Johannes Pflug, who took up the job in 2014 right after Xi's visit.
Johannes Grunhage, who has studied and worked in China and speaks fluent Chinese, is now head of the new Office of Chinese Affairs, which serves as the first point of contact for any China-related matters within the city.
Grunhage told German media recently that the growing role of Duisburg as a hub for China-Europe rail transport has brought prosperity to the city. It is home to some 100 to 120 Chinese companies and a fast-growing Chinese community of 1,300 people.
Dong Wanxu, who once worked for the German railway company Deutsche Bahn, is now managing director of TE Bahnoperator, based in Duisburg. The company he founded three years ago focuses on serving CRE trains.
"Rail transport has its advantage and I am quite optimistic about the future," Dong said. But he added that in the short term, the COVID-19 pandemic has posed challenges by causing serious delays and congestions along some routes.
Markus Bangen, CEO of Duisport, operator of the port of Duisburg, said that the company's business related to CRE trains has grown nearly 40 percent during the pandemic. He said that visibility of the train service has improved due to the fact that air cargo services and ocean shipping was either unavailable or restricted for a period of time.
To manage the growing business, Duisport has established Duisburg Gateway Terminal, a joint venture with COSCO Shipping Logistics and Hupac of Switzerland and HTS Indermodal of the Netherlands to build the largest container terminal in the European hinterland with a capacity of 850,000 TEUs.
Built on an old so-called coal island, the new terminal, covering 240,000 square meters, is expected to handle up to 100 container trains a week from China. Total investment will amount to 100 million euros ($112 million).
"We have now eight container terminals in Duisburg, nearly all of them are involved in China trade business. But we have to increase capacity if we have increasing volume," Bangen said.
He expects business to grow more rapidly if China allows the transport of dangerous goods on CRE trains, referring to the chemicals that are traded between China and Germany and other European countries.
While acknowledging the complexity of the issue, Bangen hopes that there will be more transparency of data about the CRE trains after cargoes switched trains due to different gauge of railway tracks in countries along the long journey.
Duisport accounted for 26,760 jobs in the 2020 fiscal year, about 15 percent of all jobs in the city of Duisburg.
The company set up an Asia desk a few weeks ago to deal with the growing China business. It is also planning to open its first representative office in China next year.
Bangen said it will be up to the new board to decide whether the first office will be in Wuhan, Duisburg's sister city, or Chongqing, a key player in CRE business. He said that the company will open offices in both cities. "The question is which will be the first," he said with a smile.
Duisport, through its joint venture with PSA of Singapore, is already participating in the investment of a multimodal logistics facility in Chongqing.
"The booming China-Europe freight train business between Duisburg and China has brought many tangible benefits to all sides," said Feng Haiyang, Chinese consul general in Dusseldorf, the capital of North Rhine-Westphalia state.
He describes the train service as following the Belt and Road Initiative's principle of joint contribution, extensive consultation and shared benefits.