Embrace of rail brings transport sea change
Share - WeChat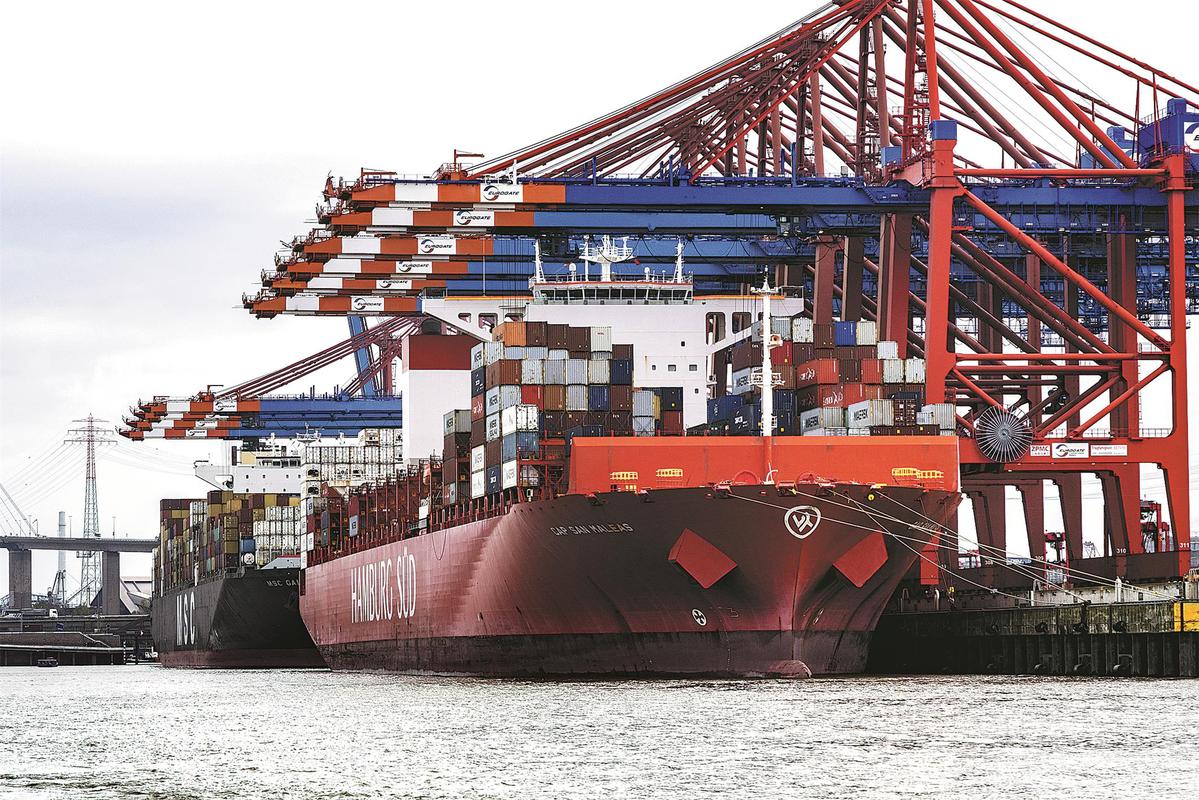 Fast-expanding scale
There were only 17 train services that year, a number that later expanded exponentially, exceeding 3,000 in 2017, 6,300 in 2018 and 12,400 in 2020 as more routes were launched linking Chinese and European cities.
By the start of July this year, there were 73 routes linking Chinese cities with some 170 cities in 23 European countries. And that number has kept rising. In October, the German port city of Hamburg greeted the first freight train from Shanghai. On Nov 18, China's southwestern province of Guizhou sent its first CRE train to Moscow, a route that could be extended to other European cities.
Zhang took up his post at CRCT Europe Logistics in August, but has been closely involved in the planning of CRE trains from the beginning. He expects the total number of services to reach 15,000 this year even on conservative estimates.
These trains now pass through five Chinese customs checkpoints: Alashankou and Horgos in the Xinjiang Uygur autonomous region, Suifenhe in Heilongjiang province, both bordering Russia; Manzhouli in the Inner Mongolia autonomous region; and Erenhot in Inner Mongolia, on the frontier with Mongolia.
Unlike the trains that go through Russia and Belarus, which can haul up to 70 wagons, the services heading to Western Europe, such as Germany, are limited to no more than 41 40-foot containers, or 82 TEUs, due to the shorter platforms at terminals there.
There is good news on that front. A document released on Nov 24 by the three German political parties that agreed to form a coalition government includes a plan to increase rail freight transport by 25 percent by 2030, signaling huge investment in modernizing the country's railway network.
"The goal of our company is to provide a better service for the China Railway Express," Zhang said from his office overlooking the Duisburg port along the Rhine and Ruhr rivers that intersect in the city.
Pointing to a large map of China Railway Express routes on the wall, Zhang expressed the view that the CRE is a good alternative to sea and air transport. With delivery times of 10 to 15 days, rail fits between ocean shipping, which takes about 30-45 days, and air transport, at four to five days. But it's attractive on price: rail freight comes to just a fifth of the cost of air transport but more than twice that of ocean shipping.
Zhang said rail is especially attractive for the transport of seasonal products and products with a relatively short shelf life.
"After 10 years of practice, the CRE rail transport has gained increasing recognition," Zhang said.
While the ratio of return trips of CRE trains have reached an overall 81 percent, the ratio is still relatively low in West, Central and East Europe compared to Russia, where the rail freight service with China has existed for a much longer time.
"We have to step up our business promotion," Zhang said.
He dismissed the notion that the CRE is in direct competition with air and ocean shipping because rail transport capacity is still a fraction of that of ocean shipping.
Zhang points out that his company cooperates with air and ocean shipping companies such as COSCO Shipping in developing intermodal transport services.
Zhang hopes that the CRE can further expand its routes in Europe, cut costs and establish more hubs like Duisburg, which has long been a key transport hub in Europe.
So far, over a third of the CRE trains go through Duisburg. China has been the largest trade partner of Germany since 2015 and became the largest trade partner of goods for the 27-member European Union for the first time in 2020.
Zhang has made many trips to Duisburg over the years and he describes the port city as becoming "busier", so much so that finding space to store CRE containers has often become a tough job.
Soren Link, the mayor of Duisburg, is known for calling his city "Germany's China city".
He describes Duisburg's location at the confluence of the Rhine and Ruhr rivers, in the heart of Europe, as making it "an ideal destination for transport and logistics".
"Therefore with the start of the Belt and Road Initiative, Duisburg became a crucial factor for the development of the China-Europe freight train connections," said Link, who has been mayor since 2012.
He said that the number of CRE trains arriving in Duisburg increased rapidly after President Xi Jinping's visit to the city in 2014.
Xi visited on March 29, 2014, during his trip to Germany. While greeting the arrival of a freight train from Chongqing, Xi expressed hope that Duisburg will play a greater role in promoting cooperation between China and Germany, and China and Europe.
Link, who greeted Xi during the visit, said that with the CRE train connections, Duisburg benefits directly from the Chinese projects and involvement in the region.
"The train connections also serve as an opportunity for the local companies to expand their markets in Central and East Asia," said the 45-year-old mayor, who belongs to the Social Democratic Party, which beat Chancellor Angela Merkel's Christian Democratic Union in national elections in September.
When COVID-19 hit Europe in 2020, the CRE trains carried much-needed personal protective equipment to Germany and other European nations via Duisburg.
Link notes that Duisburg has a long history of cooperation with China. The first sister-city relationship between Chinese and German cities was established in 1982 between Duisburg and Wuhan, the capital of Central China's Hubei province.