Overcoming odds, Jilin honoree becomes national inspiration
Share - WeChat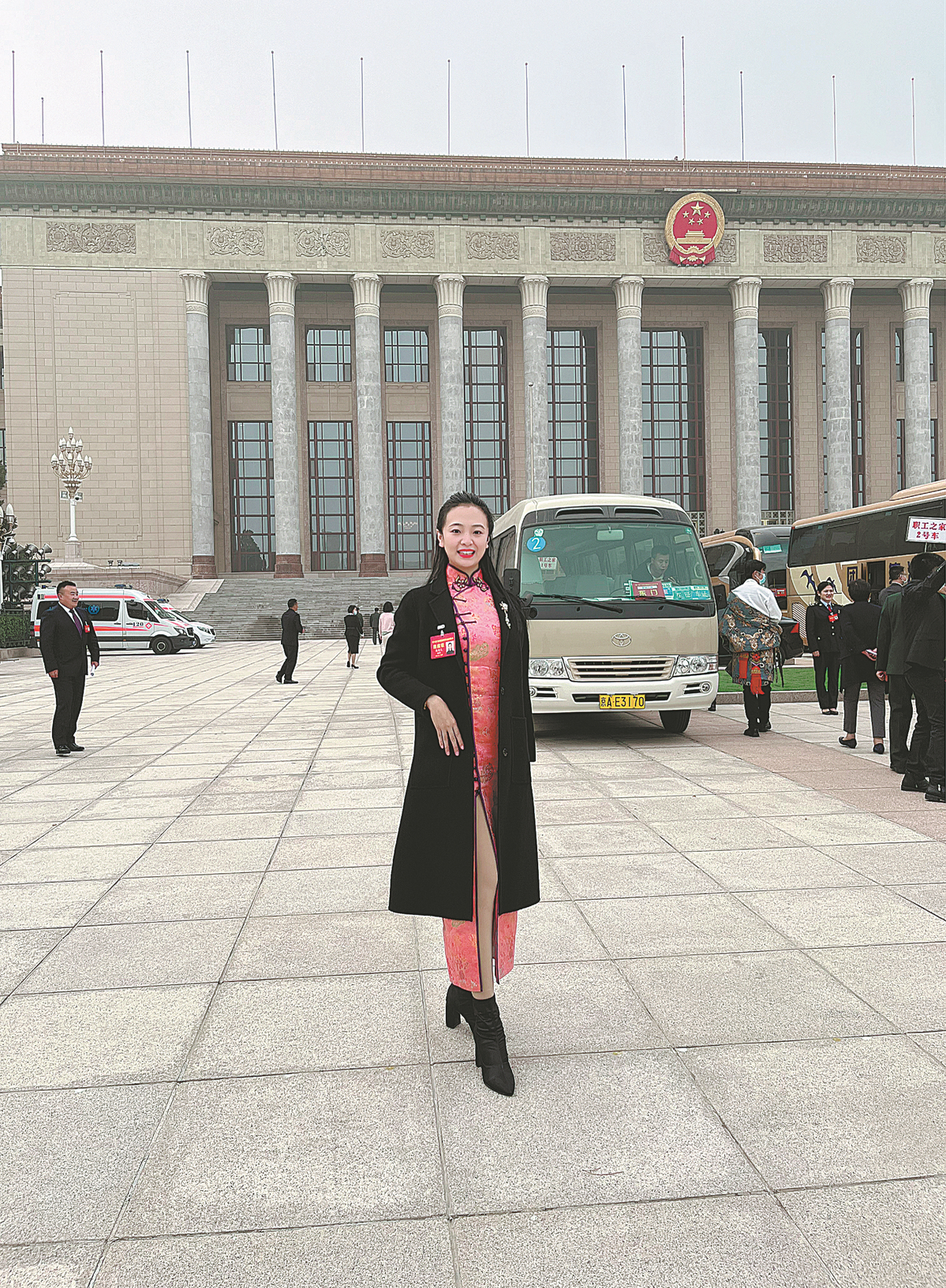 In the past six years, Zhang Chaofan has personally donated 1.35 million yuan ($211,000) and raised a further 5.2 million yuan to help 400 people with health problems-from teachers with cancer, to disabled and autistic children from poor backgrounds-learn traditional Chinese culture. She has also made some 700 speeches at universities and in impoverished mountain areas to spread awareness of the importance of self-respect, self-confidence, self-reliance and self-improvement.
On Nov 5, along with 67 other honorees, Zhang received the National Ethical Role Model award at the Great Hall of the People in Beijing. A further 254 nominees were also recognized.
The 29-year-old, who grew up in Changchun, Jilin province, was born with part of her left arm missing. Her unflagging drive to become stronger has been an inspiration to many.
"It was humiliating when other children laughed at me," she said. "The paintbrush became my only friend."
When she was 7, her grandmother encouraged her to take up speedskating, a seemingly impossible mission for a little girl who couldn't walk steadily.
"I don't know how many times I fell on the ice," she said. "When I became the provincial 800-meter speed skating champion, I decided to take control of my life."
From then on, Zhang began to live like everyone else and developed self-confidence.
At primary school, she started studying traditional Chinese painting, and after several years of hard practice, she became quite skilled.
By the time she reached junior high school, the girl who was now good at sports and painting began to receive attention from her classmates and teachers.
When she was put in charge of cultural and sports activities for the class, she would make her classroom the most distinctive in the school, with a blackboard newspaper and culturally oriented decorations.
In addition, one of her compositions was so well-written that it was given out to all the students in her grade as an example. The school also created a "tenacious struggle award" especially for her.
In 2011, Zhang was admitted to Beijing Technology and Business University.
For the next four years, she repeatedly earned the highest scores on her exams and later won a national scholarship, along with honorary titles including "Merit Student of Beijing" and "Outstanding Graduate of Beijing".
In 2015, she declined an offer to pursue postgraduate studies at the university and decided to set up a calligraphy and painting school in her hometown of Changchun.
"It was really hard at the beginning, but I kept going and achieved success," Zhang said. "More and more children were attracted to the school, and when they got good scores, I was happy because I knew they had come closer to realizing their dreams."
When she learned that some parents were unable to afford tuition fees, she made the lessons free and began to provide 300,000 yuan annually to help less-privileged students through a foundation she set up.
"I think it's important for teenagers to receive quality education because they are the future of our country," she said. "I will make every effort to give them equal opportunity to pursue their dreams and inspire them to do their best."
In 2018, Zhang set up the Chaofan Education Group and expanded her school by 35,000 square meters.
Working with the Luyuan district government, she promoted the establishment of a public welfare base, including an exhibition hall for New Era Dream Weavers, public welfare courses and an innovation and entrepreneurship base for teenagers.
Early last year, the school was forced to suspend courses due to the pandemic, but Zhang didn't halt her public welfare activities.
She raised materials and donations worth more than 8.9 million yuan from the public and sent medical masks, protective suits, disinfectant and daily necessities to workers on the front lines of the antivirus fight.
"Women in the new era should have the courage to create value and also have a sense of social responsibility," she said. "It is my honor to be elected as a model. This will become the force that drives me to forge ahead and pass on the seeds of public welfare through even greater efforts."