Just for laughs
Share - WeChat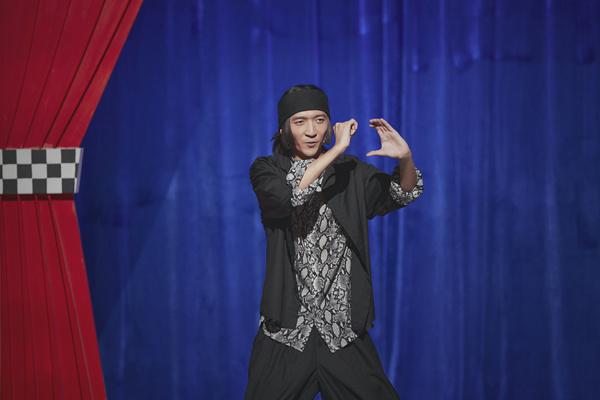 A reality show, being streamed on Chinese platform iQiyi, focuses on comedy, Chen Nan reports.
Wu Liuqi doesn't need fancy sets to tell his tales. With a big red nose, a pair of round spectacles like Harry Potter, and his expressive body language, Wu, a 31-year-old mime artist, made his stage debut in the reality show Super Sketch Show, broadcast by streaming platform iQiyi, with a five-minute performance, titled Bob's Travels.
Playing the role of Bob, who finds a magic hat which turns him into the captain of a big boat, Wu takes audience along on his voyage into a fairy tale world, where he meets new friends and helps to find the grandmother of one of them. The actor's commitment to engage with the audience allows him to do a lot onstage.
"The audience love to see the actor use nothing but his skills to create a magical world," comments one viewer on Sina Weibo.
Actor Cao Muzhi, who also participated in the reality show, says he was "taken back" to his childhood while watching the one-man show. "I even felt a little bit lost after returning to reality."
Wu, a Beijing native, has been performing and touring as a mime artist for 10 years and has gained a faithful fan base in the country. This is the first time Wu has performed in a reality show which premiered on Oct 15 and is being streamed weekly on iQiyi.
The reality show invites five celebrity judges-actor-director Huang Bo, actor-director Xu Zheng, actor Yu Hewei, leading standup comedian Li Dan and well-known television personality Ma Dong-and audience members to vote for 25 groups of contestants. With many rounds of competition, comedians work as soloists or in groups to create original shows for the final win.
According to Ma, founder of Beijing-based media enterprise Mewe, which produced the reality show along with iQiyi, comedy is at the center of the show, which opens up various genres.
Comedy is not new to Chinese reality shows produced by TV stations and streaming platforms. For Ma, it's also a family tradition since his father, Ma Ji (1934-2006), was a xiangsheng (cross-talk) master.
"Comedy is hard. The judgement is made based on one rule-whether it makes you laugh or not," says Ma Dong.
"All comedy, at its core, is tragedy, if you look deep enough into it. That's why it is so hard."
Most Popular