CIIE brings out major global green plays
Share - WeChat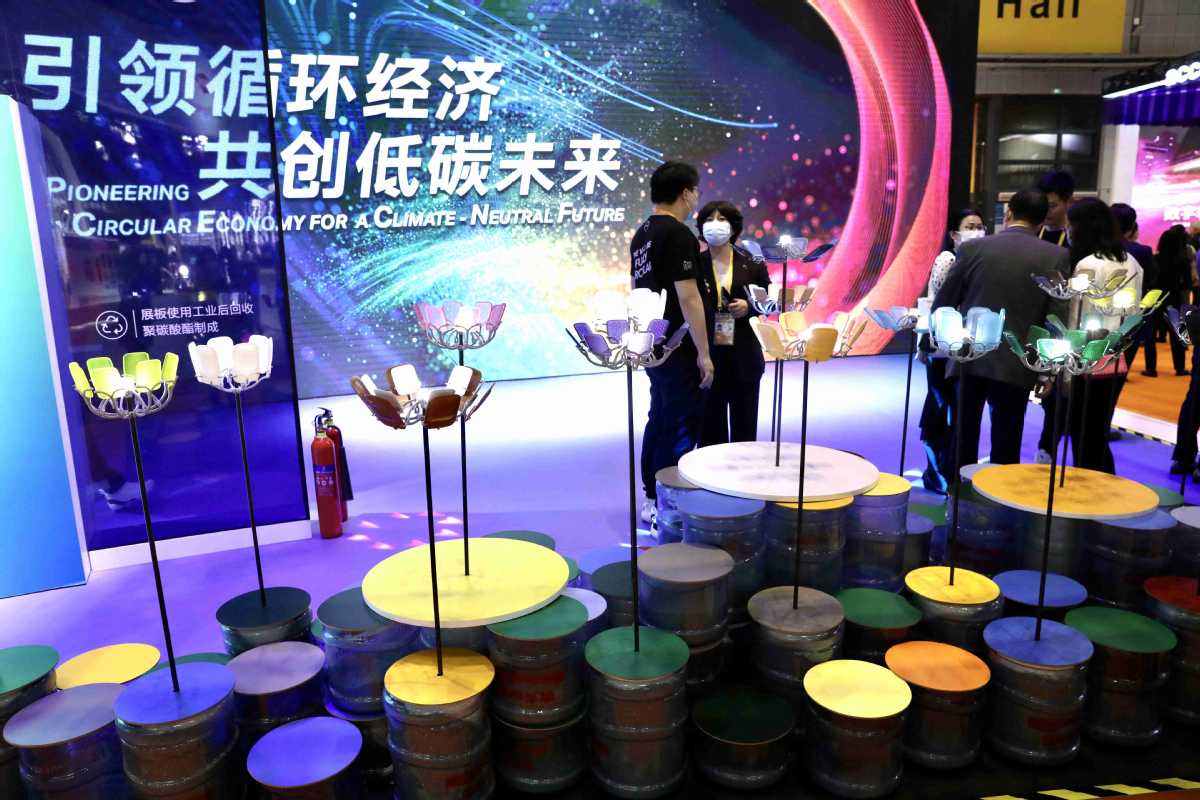 Innovative solutions debut at trade gala to support carbon neutrality
Manufacturers saw the recent China International Import Expo as a platform for introducing the latest low-carbon technologies, products and services, which enables downstream companies to become greener and promotes carbon neutrality, according to industry experts.
Carbon capture solutions such as UCARSOL and SELEXOL debuted during the fourth CIIE in Shanghai for the Asia-Pacific market. They are designed to reduce carbon emissions in industrial processes to support energy and manufacturing companies in achieving their carbon reduction goals.
The solutions capture carbon dioxide in the production of blue hydrogen, biomass oil and gas, as well as in gas emissions at the end stage of traditional fossil fuel energy consumption.
These carbon capture solutions are among the 32 debut products and solutions showcased by Dow Inc at the CIIE.
"Dow is showcasing its advanced portfolio of materials science solutions at the fourth CIIE and demonstrating how it can help customers and industries in China grow in a lower-carbon and more environmentally sustainable way," said Gloria Xu, vice-president of Dow China.
Xu said that in response to rising demand for high-value materials in the Chinese market, Dow brought more than 100 innovative technologies and products to the fair under three themes: climate protection, consumption upgrade and new infrastructure.
Carbon neutrality is key to a sustainable manufacturing ecosystem and the CIIE is an ideal platform for engagement with Chinese customers, partners and government agencies around innovative solutions that help energy-intensive industries reduce their carbon footprint, Xu added.
Dow, a stalwart and dedicated participant at the CIIE, brought for Chinese customers its full range of solutions, with innovative materials science targeting the needs of the China market to help boost business growth and build a better and lower-carbon future.
"China is becoming the world's largest consumer market amid the strategic transition toward higher-quality and lower-carbon growth. At the CIIE, we can engage existing and potential Chinese customers from almost all industries and regions. There is no other place with the same depth and width," Xu said.
"The CIIE is an important international exhibition. Through this excellent platform, we have demonstrated Caterpillar's innovative products, technologies and services, engaging our major customers, business partners and government agencies to reinforce our commitment to helping our customers in China build a better world in a more sustainable way," said Chen Qihua, vice-president of Caterpillar.
Caterpillar displayed a portfolio of products and solutions ranging from gas generator sets, remanufacturing products and command stations to help customers build a better world in a sustainable manner.
The Cat gas generator set features low total life cycle costs in its class with advantages of high efficiency and reliability along with easy operation and maintenance.
Its gas gensets are designed to meet the challenges of a dynamic market environment. Cat's models address the high requirements of a broad range of applications and improve efficiency, reliability, flexibility and environmental sustainability as they have low life cycle costs.
Using 100 percent original equipment manufacturer parts, Cat's remanufactured products provide like-new quality and performance with the same warranty as new equivalents. Each product is cleaned, inspected, salvaged and remanufactured to original factory specifications.
"Through remanufacturing, we make a significant contribution to sustainable development-extending the value of the energy and water consumed in a component's original manufacture and keeping high-value nonrenewable resources in circulation for multiple life cycles," Chen said.
He added that low-carbon development is a priority for the government, and Caterpillar has seen growing needs of its customers for lower-carbon solutions to help them achieve climate goals while building a better world.
"Our customers and the industries we serve need advanced energy solutions and fuel-efficiency construction machines, as well as value-added services, to navigate through their energy transition to a lower-carbon future," Chen said.
Norway-headquartered Hexagon Purus is a global provider of hydrogen Type 4 cylinders, battery packs and vehicle systems integration for fuel cell electric and battery electric vehicles. The company took the opportunity at the 2021 CIIE to demonstrate how its hydrogen cylinders and systems technology can help speed up the adoption of fuel-cell-powered vehicles in China.
This year marks the start of Hexagon Purus' development in China and it is also the first time for the Scandinavian firm to participate in the CIIE. Hexagon Purus debuted its world-class Type 4 cylinder for the Chinese market.
"The hydrogen industry is developing rapidly in China, and we see big opportunities here," said Urs Laeuppi, CEO of Hexagon Purus China& Southeast Asia.
Hydrogen energy is a clean, efficient, safe and sustainable secondary energy source. In the context of building a new power system with new energy as the mainstay, hydrogen energy will be an important technological support to help achieve carbon neutrality.
"We see huge potential for hydrogen energy in transportation in the future," said Laeuppi. He said that the lower weight, longer life cycle and lower costs associated with Type 4 cylinders are considered to be a game-changer for the mass adoption of fuel cell electric vehicles, or FCEVs, and hydrogen distribution trailers.
China has been stepping up investments in hydrogen energy with central and local government policy guidance to explore the hydrogen industry.
The nation plans to have 1 million FCEVs in operation by 2035, which will create enormous opportunities for enterprises involved in this sector.
"We look forward to leveraging our expertise and experience to support China's energy transformation and the ambitious dual-carbon goals," said Laeuppi.
This is the fourth year in a row for Germany's Schott AG to participate in the CIIE. One important highlight for Schott is that all of the company's exhibits during this year's CIIE are produced based on Schott's Climate Neutral 2030 project, which has already achieved 100 percent green electricity at Schott plants in China, and 75 percent green electricity in plants worldwide.
Aiming to achieve companywide climate neutrality by 2030, Schott has developed an action plan including investing in the research of technological advances in glass melting, adopting energy-saving solutions, switching to green electricity via certificates, and compensation projects for emissions that it cannot avoid or reduce, such as reforestation projects in China.
"Through these measures, we are able to bring sustainable glass production technologies to China from upstream in the supply chain for an extremely wide range of industries, including pharmaceuticals, advanced optics, consumer electronics and home appliances," said Frank Heinricht, CEO of Schott AG.
Schott supplies specialty glass materials produced with low-carbon methods, so that the company reduces the carbon footprint passed down supply chains.