Diplomats: CIIE shows China to be an attractive food importer
Share - WeChat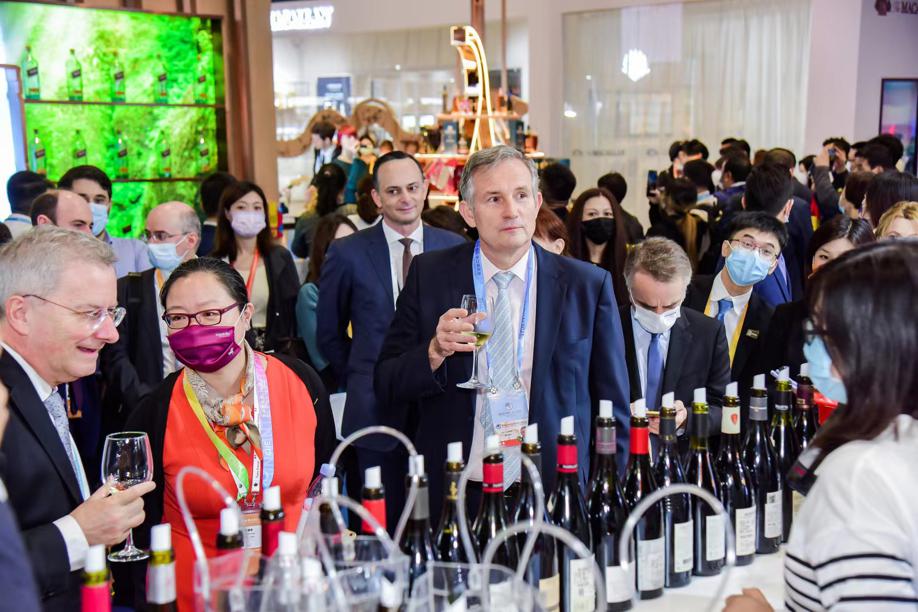 The fourth edition of the China International Import Expo, which ended earlier this month, illustrated how China is a promising market for food and agricultural exporters, according to foreign diplomats.
The European Union Food Booth at this year's expo showcased cultural heritage examples, local farming practices and an array of quality products from 27 of its member states.
Damien Plan, counselor for agriculture of the EU Delegation to China, said that China is a high-growth potential market with a growing middle class that possesses a strong appetite for iconic European products.
"China is our third-largest export destination of agri-food," he said. "In 2020, European agri-food products exports to China reached a new record of 18 billion euros, or around 23 percent increase from 2019."
Plan noted that the bilateral agreement between the EU and China, which protects around 200 iconic European and Chinese agri-food brands against usurpation and counterfeit imitation, will help further promote cooperation on agri-food trade between the two sides. The agreement took effect in March.
In addition to the many independent French exhibitors present at the CIIE, the French business promotion agency, Business France, organized a pavilion called "Taste France" which brought 10 different food companies and representatives from two French regions of wine production to the expo.
Laurent Bili, French ambassador to China, said that agriculture and food is the second-largest export sector for France, and China, with its rapidly expanding demand for high quality food, has become a strategic market for the European nation.
"French companies had the largest presence among other countries in the expo's agricultural and food hall. The active participation of French companies in the CIIE reflects their long-term commitment to the Chinese market," he said.
Denmark also set up a separate 500-square-meter Danish Pavilion called "Food Nation" which comprised 30 companies from the food sector.
Katja Goodhew, minister counselor for food, agriculture and fisheries at the Danish embassy, said, "The Chinese market has a keen interest in Danish food, such as cookies, diary and fish. I think the CIIE is a good marketing platform for business to come and promote their products to buyers."
At the Swiss Pavilion organized by Swiss Centers, 26 companies exhibited products including Swiss chocolate, beer, and coffee. Kuno Gschwend, deputy general manager at Swiss Centers China, noted that Swiss products have a good reputation as many consumers associate them with trustworthiness, health and cleanliness. He added that while the visitor numbers for this year's CIIE was below pre-pandemic levels, the media coverage exhibitors received was much appreciated.
The CIIE has been an effective means of promoting products from Cyprus, too, said Petrou Petros, commercial counselor of the Cyprus embassy.
Cypriot businesses have been participating in the CIIE since the first edition in 2018. According to Petros, the nation's companies have been focused on showcasing GI agricultural products, such as a wine called Commandaria that has a history of more than 2,000 years.
"We are glad to see Chinese consumers developing a greater appreciation of Cyprus products. As we are a small country, and our production is limited, we focus on high-end products that are produced in small quantities," he said.