Livestreaming becoming a popular career choice
Share - WeChat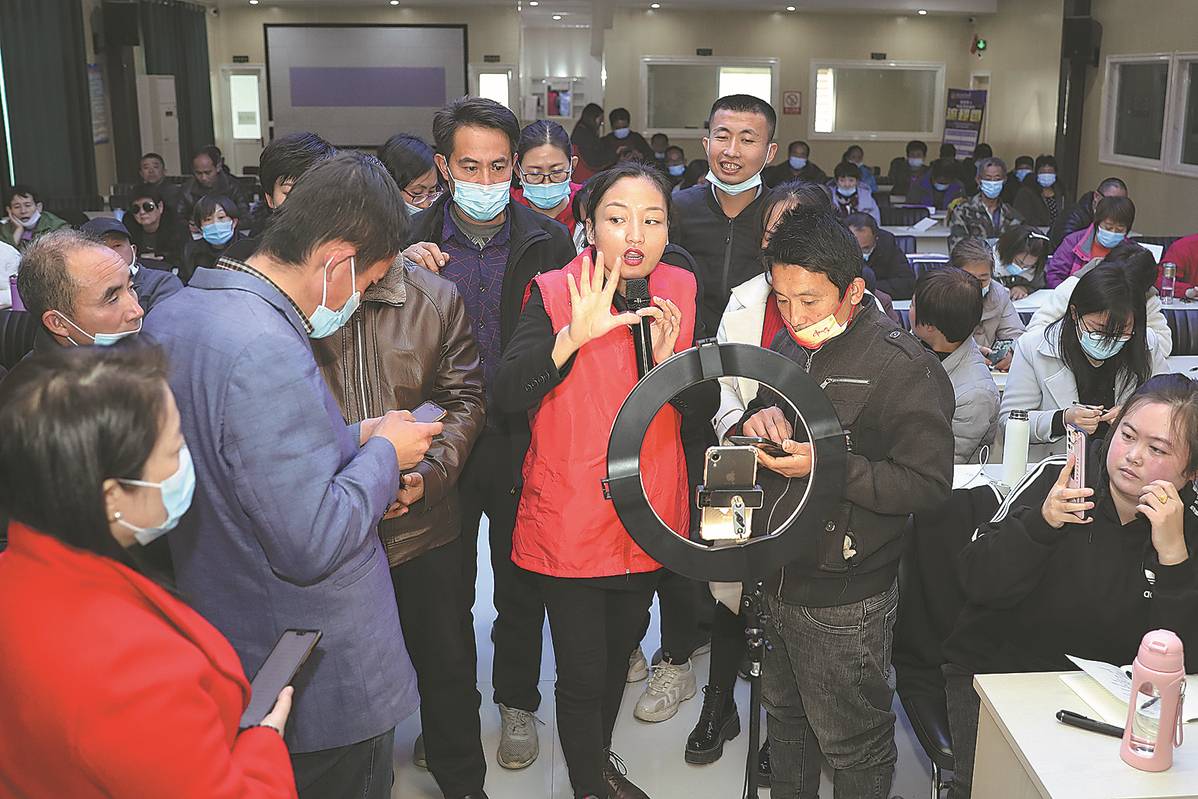 The stability of the developing livestreaming sector has made it an ideal source of jobs for those born after 1995 who have a passion for novel and newly emerging industries, experts said.
A recent report by Zhaopin, an online recruitment platform, and e-commerce giant Alibaba revealed steady growth in the livestreaming sector in the third quarter of the year, with job postings up nearly 12 percent year-on-year. The increase was around 5 percentage points higher on average than for other industries.
The number of college graduates seeking livestreaming jobs surged by nearly 70 percent in the third quarter, compared with an average rise of 47 percent in other industries, the report said.
Liu Siyu, a 21-year-old student in her third year at Nanchang University in Jiangxi province, said she has high expectations for the livestreaming industry.
"It was a novelty before the novel coronavirus epidemic hit, but it has grown to be a big industry nowadays," Liu said.
"The applications I browse every day, like Taobao and Douyin (a short-video-sharing platform), all have livestreamers selling goods.
"In my opinion, being a livestreamer is no different from being a traditional salesperson. In fact, it's more flexible and can offer higher incomes. I may try the job after I finish my college studies. I'm young and I have time to try any kind of job."
After booming during the COVID-19 epidemic last year as people sought more online entertainment due to home quarantines, the livestreaming industry has become known for offering good salaries.
The report said the average salary for jobs related to livestreaming was over 10,000 yuan ($1,600) a month in the third quarter, a year-on-year increase of nearly 11 percent. Livestreaming product development positions offered the highest wages over the period-averaging about 26,000 yuan a month.
Despite high labor costs, talent is in great demand, especially for livestreamers and livestreaming operators, the report said.
It said that those two positions made up over 70 percent of jobs available in the sector in the third quarter, and the proportion is projected to increase.
Other related jobs, such as livestreaming tutors and assessors, have also emerged, the report said.
However, problems have also come to light due to the sector's rapid expansion in the past few years.
Last year, 13-year-old vlogger Zhong Yusheng, who called himself Zhong Meimei on the Kuaishou short-video-sharing platform, attracted over 1.5 million followers in two months by making videos of himself making fun of female teachers.
His video and livestreaming channel were later removed, sparking controversy over whether his school forced him to delete the content. Zhong said he did so after his mother told him to.
Yang Lin, a 35-year-old from Beijing who has an 8-year-old son, said that it's hard to cut off the connection between children and livestreaming or online video platforms as they have become an important teaching tool in their daily lives.
"Last year, when the epidemic was still rampant, my son received his lessons online by watching livestreams," she said.
"It's hard to completely separate livestreaming from our lives."
Chu Zhaohui, a senior researcher at the National Institute of Education Sciences, said in a recent interview with China Youth Daily that due to continually growing employment pressure, the growth of the livestreaming sector is important for information technology development.
He said, however, that the sector could be affected as other industries implement policy changes, so job seekers, especially college graduates, should keep this in mind and choose a more stable career.