National Museum honors painter of note
Share - WeChat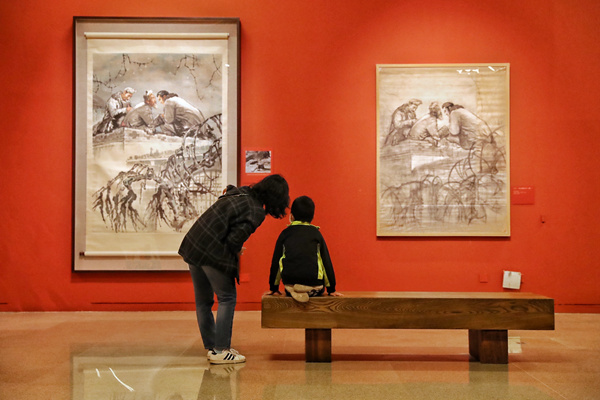 Late modern artist Liu Wenxi is often hailed as "the Chinese painter whose work has been viewed the most", because a portrait he made of Chairman Mao Zedong is featured on the bank notes of the fifth edition of the nation's currency, the renminbi, which has been in circulation since 1999.
In addition to that, Liu is remembered as "a people's artist" as he created a body of work that provides a vivid portrayal of grassroots Chinese, especially the farmers in the northern part of Shaanxi province.
Liu developed an emotional bond with Shaanxi and the people living there during a trip in 1957, during which he was to find inspiration for a graduation work. He was then a student of Zhejiang Academy of Fine Arts, now China Academy of Art in Hangzhou, Zhejiang province.
After graduation in the following year, Liu became a teacher at Xi'an Academy of Fine Arts in Xi'an, Shaanxi. Over the next six decades, until his death, he lived, worked and traveled extensively in the province. He left an artistic legacy depicting various aspects of the social life of local farmers, lauding their hard work and unyielding spirit in the face of life's difficulties.
Art for People, an exhibition currently being held at the National Museum of China in Beijing and set to run through early December, pays tribute to Liu's lifelong service of grassroots people. On show are more than 200 ink-and-water paintings, drawings and sketches that depict his 60-odd journeys to the many villages tucked away in the remote mountains on the Loess Plateau in Shaanxi.
Liu once said, "Shanbei (northern Shaanxi) is in my blood. The land, the landscapes, its history and cultures keep providing me abundant nourishment, and enriching the reserve of my source of life."
Most Popular