Wu keeps the faith for China's Cup challenge
Share - WeChat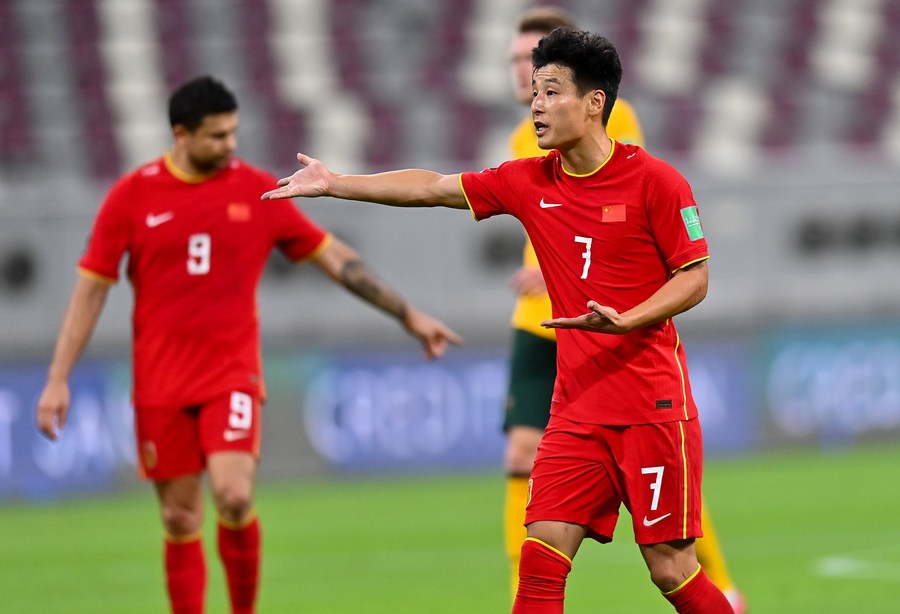 Wu Lei has urged his national teammates not to dwell on their slim chances of reaching the World Cup and instead go all out for victory in their remaining qualifiers.
Team China resumes its bid to make the 2022 finals in Qatar against Oman in the United Arab Emirates on Thursday, when Espanyol striker Wu is keen to add to his tally of 25 international goals.
"Of course, I want to score and more importantly I want to help Team China secure a victory," Wu told media in Emirati city Sharjah on Monday.
"Now we should not think too much about the points we have. We should just try our best in each of the remaining qualifiers no matter which opponent we face."
With just one win from its four games so far, Team China sits fifth in Group B of the final phase of Asian zone qualifying. The top two finishers from each six-team group will qualify automatically for the finals in Qatar. China's most realistic chance of progressing appears to be as one of the third-placed finishers, who will face off in a two-legged playoff. The winner of that tie will enter an intercontinental playoff to decide the final spot for the finals.
With head coach Li Tie under fire after his team's unconvincing start to the campaign, expectations are low that Team China, which will also face Australia next Tuesday, can successfully negotiate such a difficult route to Qatar.
However, Wu insists the players are undaunted by the naysayers and will approach their remaining six Group B games as professionally as possible.
"We've been playing for many years, and we can handle the outside noise and pressure. Actually criticism isn't necessarily all bad, and we understand the reasons," Wu said.
"So for the players, we just need to try our best on the pitch. During difficult situations, we also need to remain confident. And when you receive praise and applause, you need to think more about your shortcomings. No matter if there are positive or negative voices out there, we can all understand."
China's task has been made more difficult by the loss of home advantage. The nation's heightened vigilance against COVID-19 means home matches have been played in a bio-secure bubble in Sharjah since the final phase of Asian zone qualifying kicked off in September.
Earlier this month, a Chinese Football Association announcement dashed hopes that the Oman and Australia games might be played in China, with coach Li admitting that the players "reacted quite emotionally" to the news.
"The toughest task for us during this period is making sure the players are in the right frame of mind. All this, with the long stints in the bubbles, is a new experience for the national squad," Li said before departing for the UAE.
Due to his club commitments in Spain, Wu does not spend as much time as his teammates in the bubbles. However, he is acutely aware of how difficult the situation has been for them.
"I always keep in touch with my teammates, and we understand each other. I know they are under a lot of pressure as they have stayed in the bio-secure bubbles for so long," said the 29-year-old.
"I understand how tough that can be. After the last qualifiers, they had a short time to adjust themselves in Shanghai. So I feel they have a better mentality after arriving here this time.
"It's a pity that we could not enjoy home advantage for the next two qualifiers. It would be a great help if there were fans to cheer for us and create a great atmosphere. But we're here now, so we only need to think about fulfilling our goals and playing well in the remaining qualifiers. In a way, I always think of Sharjah as a lucky place for us."
Forward Zhang Yuning, meanwhile, is also doing his best to block out any negativity.
"We were disappointed to lose home advantage, and now all we can do is think positively and adjust our mentality. We need to turn such disappointment into a desire for victory," said Zhang.
"I feel I'm in good shape now and I'm ready to test myself in intense matches. We needed to play more warm-up matches, but we couldn't arrange more due to the pandemic.
"Playing high-level matches such as these qualifiers is a great opportunity for me. I have improved in terms of experience and strength. Especially, when we play intense and fast-paced games like this, we can grow quickly.
"The naturalized players also trained really hard. As long as we can keep pushing ourselves on the pitch, I believe more goals will come eventually. The naturalized players are doing well and we are linking together better all the time."