Young, old share passion for soccer in Artux
Share - WeChat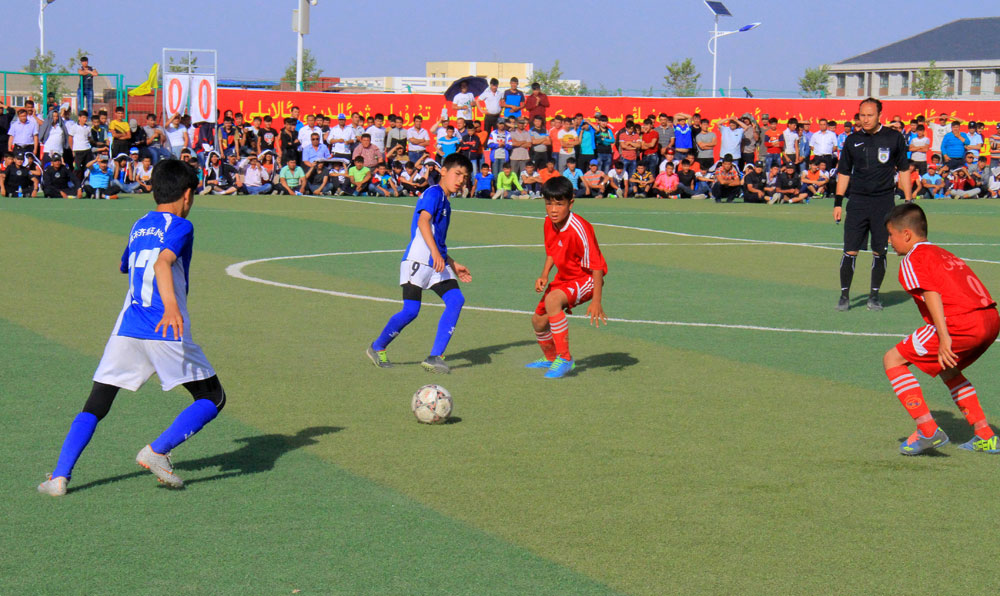 Though braving temperatures that dropped to the freezing point in Artux, the capital of Kezilesu Kirgiz autonomous prefecture in the Xinjiang Uygur autonomous region, Asadulla Arken never stopped his daily training on the soccer field.
Arken, 18, a senior in the senior high school department of Artux No 1 Middle School, and his teammates spend at least three hours each day improving their soccer skills.
The school, which is popular for its specialty of soccer, has a team of over 80 members, including Arken.
Over the past decade, the school has sent 26 outstanding soccer players all over the country to various clubs of the Chinese Super League and other domestic professional divisions, such as Beijing Renhe Football Club and Guangzhou Football Club. Artux has therefore garnered a reputation as a city of soccer in Xinjiang, where those who can walk can play soccer.
"I was interested in soccer when I was a little boy, and I started my soccer training in my first year of primary school," said Arken. "At that time, the soccer team of Artux No 1 Middle School was quite famous among soccer enthusiasts like me."
After graduating from primary school in 2016, Arken was selected to attend Artux No 1 Middle School due to his soccer skills.
"I was so excited to be a member of the team, in which I could meet more excellent players and coaches, and, more importantly, much more of the wonderful world," he said. "I made a decision that I would make more efforts to improve my skills."
In the ensuing years, the young boy's hard training brought him great progress and several awards in competitions in the city and beyond.
"The most important award for me was the championship for the 15-year-old group at the region's campus soccer competition in 2018, which gave me more confidence to become an excellent soccer player like my idol, Portuguese superstar Cristiano Ronaldo, in the future," he said.
Yasenjiang Barat, 52, head of the soccer coaches at the school, said: "Soccer is a mass sports activity with quite high participation of the residents of our city. It's like a bond among the locals regardless of age or gender."
On the city streets and on open ground, boys and girls can often be seen playing soccer together. There's even a soccer team for people ages 50 to 88.
"People play everywhere," Barat said. "Life without soccer is like tasteless mutton kebabs without cumin."
After graduating from Xinjiang Normal University in 1989, Barat became a physical education teacher at the school.
"Since China's professional leagues debuted in 1994, governments at different levels have worked out various policies to promote the sport among the public and professional players," he said. "Since 1996, with the support of local education and sports bureaus, our school has organized a series of league championships among the teachers in the city and promoted the sport to residents in remote areas."
"Over the years, our school's soccer team has participated in nearly 30 international and domestic competitions," said Barat. "In 2015, the national team, including 10 players selected from our school team, won the championship in the 10th International Youth Football Competition held in Sochi, Russia."
Chen Guanyu, head of the city's Culture, Sports, Radio, Television and Tourism Bureau, said: "We made great efforts to promote the popularization and development of soccer on campus. A total of 17 schools in Artux have won the title of national-level school with a soccer specialty."