Jump-rope champ redefines fast in Chongqing
Share - WeChat A short video on Saturday went viral as it showed an insanely fast jump-rope performance by a visually impaired male athlete, who won the competition at the ongoing 11th National Games for Persons with Disabilities.
How fast is insane? It's 196 skips in 30 seconds.
The athlete, 20-year-old Yang Hui, is a high-school senior at the Chongqing Special Education Center. He won the gold medal in the 30-second class for visually impaired male contestants. It was the first gold medal for Team Chongqing at the event, which was kicked off in Xi'an, Shaanxi province, on Friday.
"Intensive training started on Aug 5, with six-hour daily practices until the start of competition," said Zhou Weilin, Yang's coach.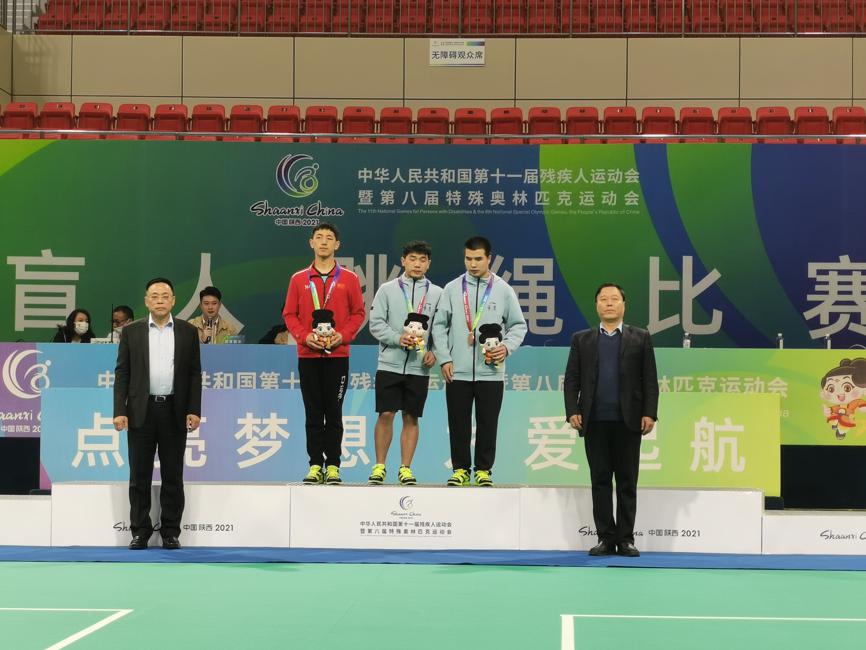 Zhou said the training is usually arranged in their spare time, as they need to attend academic classes. To keep in shape, they need three to five after-school training sessions on weekdays, with each lasting 90 minutes. Contestants need to train for three hours on weekends as well.
In 2016, Yang's athletic talent for jumping rope was discovered by the coach, and he joined the school's team.
"Rope skipping changed me a lot," Yang said. "I used to be timid and nervous on stage, but now, after several competitions, I can keep myself cool."
Yang has won in four paralympic games and championships. "He is a gifted athlete. He learns fast," Zhou said.
Even so, his visual impairments have posed some tough challenges.
"With no visual concept, I turned to the coach and low-vision classmates often to help feel the movement by hand touch, and to find the right position, angle and rotation direction," Yang said.
He said he is attempting a rope-jumping record at more competitions in the future.