COVID-19 outbreak hits nation
Share - WeChat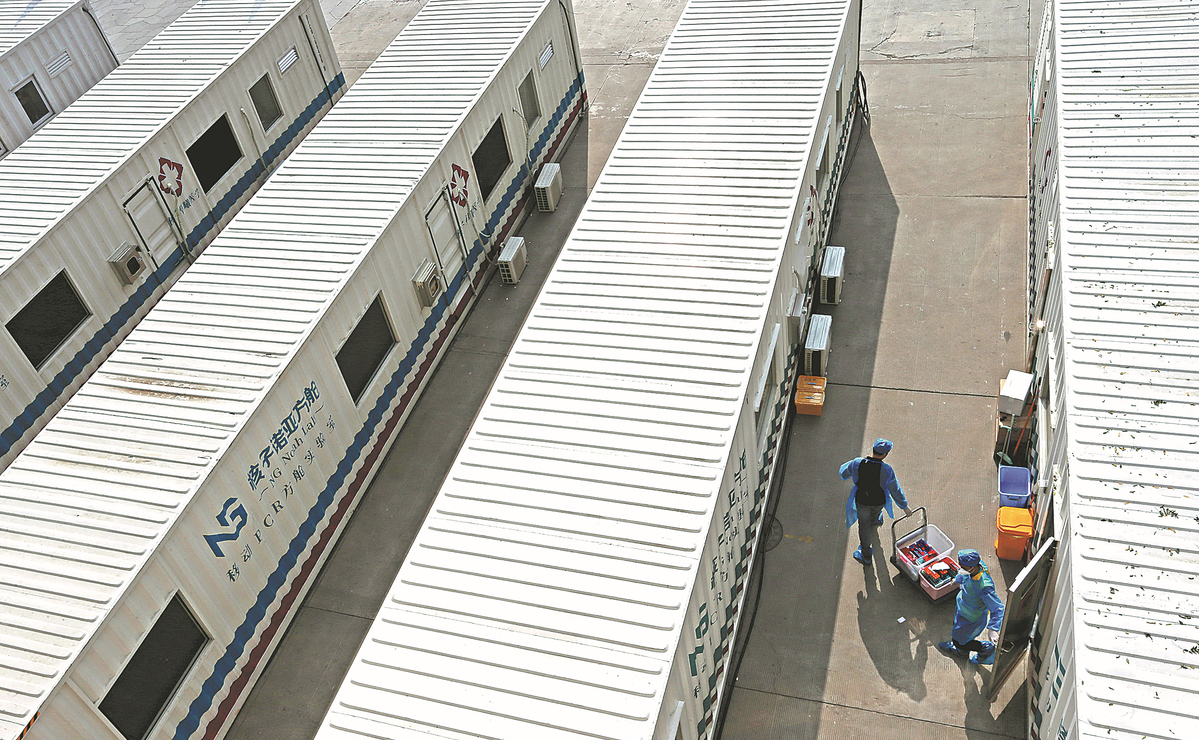 Cases caused by Delta variant reach 11 provincial areas; infection to spread, commission says
The recent resurgence of COVID-19, which has hit 11 provincial regions and has lead to at least 106 infections in 13 tour groups, is believed to have been caused by an imported case, health officials revealed on Sunday.
"Most cases reported in the recent wave were caused by the Delta variant and related to tourism. The origin of the virus is still under investigation," said Wu Liangyou, deputy director of the National Health Commission's disease prevention and control bureau.
"Gene sequencing revealed the cases were imported from overseas," he said at a news conference held on Sunday by China's Joint Prevention and Control Mechanism of the State Council, which was founded in response to the COVID-19 public health emergency.
"The latest resurgence developed fast, with a growing number of cases that were not related to the tour groups. And cases have kept growing," Wu added.
He estimated that cases will continue to grow in the next few days and spread to more areas.
So far, the new wave has hit 11 provinces and regions, including the Ningxia Hui and Inner Mongolia autonomous regions, Shaanxi, Yunnan and Guizhou provinces and Beijing. A total of 133 cases are so far involved-including the 106 from the tour groups-most in Gansu province and Inner Mongolia.
By Saturday, Northwest China's Gansu province had logged 41 confirmed locally transmitted cases. Of them, 30 are in Lanzhou, seven in Zhangye, two in Jiayuguan, one in Tianshui and one in Longnan.
The province has suspended all tourist activities in a circuit-breaker measure after the spike in cases, with all tourists in Lanzhou, where most cases were reported, required to stay wherever they are under quarantine.
The measure is in line with requirements released by the Ministry of Culture and Tourism on Saturday. It requires travel agencies to suspend cross-provincial tourism activities in regions that contain medium- or high-risk areas.
Anti-epidemic measures in Gansu also include the suspension of cultural activities, exhibitions and mass gatherings.
Stranded tourists in the province are required to take no less than two nucleic acid tests during an interval of no less than 24 hours. Only those with negative results will be allowed to leave.
Beijing reported five confirmed locally transmitted cases between 12 am Saturday and 3 pm Sunday, local health authorities said on Sunday. All of the cases have been sent to a designated hospital for treatment, and an epidemiological investigation is underway.
Beijing's public security department announced on Sunday that people from counties with new infections or travelers who have visited the counties with new cases within 14 days are not allowed to enter to Beijing. People from other counties without new cases but that belong to cities reporting new infections are advised not to come to Beijing. Exceptions will only be given to those with a green health code and a negative nucleic acid test taken within 48 hours.
North China's Inner Mongolia reported 10 confirmed locally transmitted cases between 10:30 am on Saturday and 11 am on Sunday, according to the regional health commission.
All 10 cases have been sent to designated hospitals for treatment, and an epidemiological investigation is underway.
According to Wu, teams of experts have been dispatched to Gansu, Inner Mongolia, Ningxia and Shaanxi.
In order to prevent the outbreak from expanding, public transportation in regions with new infections is being strictly controlled, said Zhou Min, deputy director of the Ministry of Transport's emergency control office.
In medium- and high-risk regions, public transportation to and from outside places has been suspended, while services within those regions will be under strict surveillance.
"Emergency services will run 24 hours a day, and we will cooperate with related departments to guarantee necessary transportation services for important supplies, such as vaccines and food," he said.