Tibet to further expand opening-up, foreign cooperation
Share - WeChat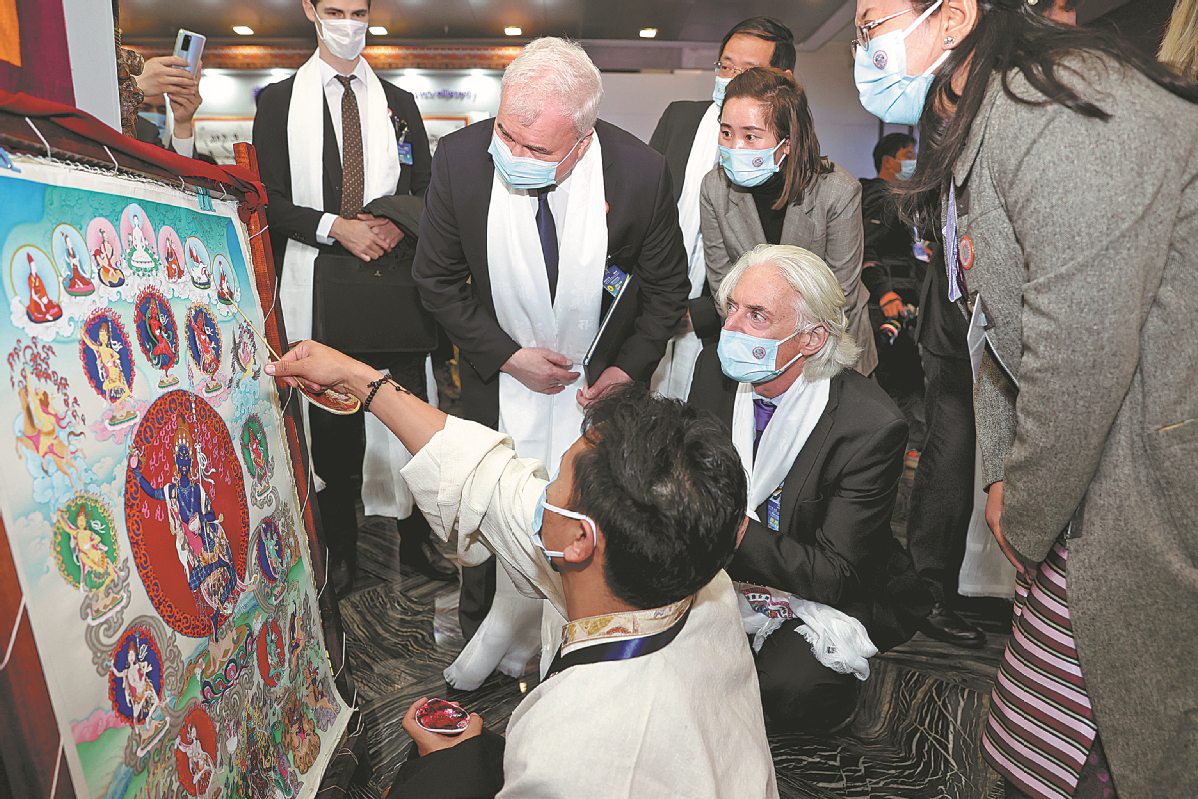 The central authorities will continue to support the Tibet autonomous region in expanding opening-up and foreign cooperation, and will assist the region in deepening Belt and Road cooperation with neighboring countries, State Councilor and Foreign Minister Wang Yi said on Wednesday.
In an event held in Beijing by the Foreign Ministry to promote Tibet,Wang said the region has become an important window for China's opening-up and cooperation with the outside world.
According to Wang, from 2016 to 2020, nearly 160 million Chinese and foreign tourists visited the Tibetan plateau.
Viewing the plateau as a "holy,pure land" that is of great significance to mankind, Wang said the ministry will assist Tibet in accelerating construction of an "ecological civilization" in which humans and nature coexist in harmony.
China will further promote exchanges and cooperation in ecological conservation between other countries and Tibet and tell the world about Tibet's achievement in building an ecological civilization and its contributions to the world, he said.
"We will continue to support Tibet in maintaining security, stability and ethnic unity, and oppose all separatist practices that attempt to harm security and undermine the stability of the region," Wang said.
China welcomes foreign friends that have an unbiased attitude to visit Tibet, but at the same time it will not accept attacks or slander against the development and progress of the region, he added.
In July, Tibet celebrated the 70th anniversary of its peaceful liberation. Efforts over the past seven decades have brought about a historic transformation in Tibet regarding its economy, society and people's livelihood, which is the epitome of China's development, Wang said.
According to Wang Junzheng, the new secretary of the Tibet Autonomous Regional Committee of the Communist Party of China, the region's GDP has grown 320-fold over the past seven decades.
As a gateway for opening up to South Asia, Tibet will continue to open to the outside world and improve its business environment,he said, adding that he also welcomes friends from around the world to visit and invest in Tibet.
Yan Jinhai, acting chairman of the people's government of the Tibet autonomous region, said that Tibet has enlarged its circle of friends, noting that it has carried out trade cooperation with over 70 countries and regions and formed friendly relations with 10 cities in six countries.
Nepali Ambassador to China Mahendra Bahadur Pandey, who visited Tibet a month ago and saw the change for himself, said that Tibet is using its potential to contribute to the development of the surrounding region, including Nepal.
Nepal and Tibet have had geographical, cultural and economic links since ancient times, and people in Nepal and Tibet have similar ways of living influenced by Buddhism, he said.
Nepal-China trade has increased,and people-to-people exchanges have brought bilateral relations closer, he said.
Andrey Denisov, the Russian ambassador to China, said that he welcomes Tibet's policy of expanding cooperation with foreign countries and expects to consolidate cooperation between the region and Russia.