Parents thank Wuhan surgeon for saving baby
Share - WeChat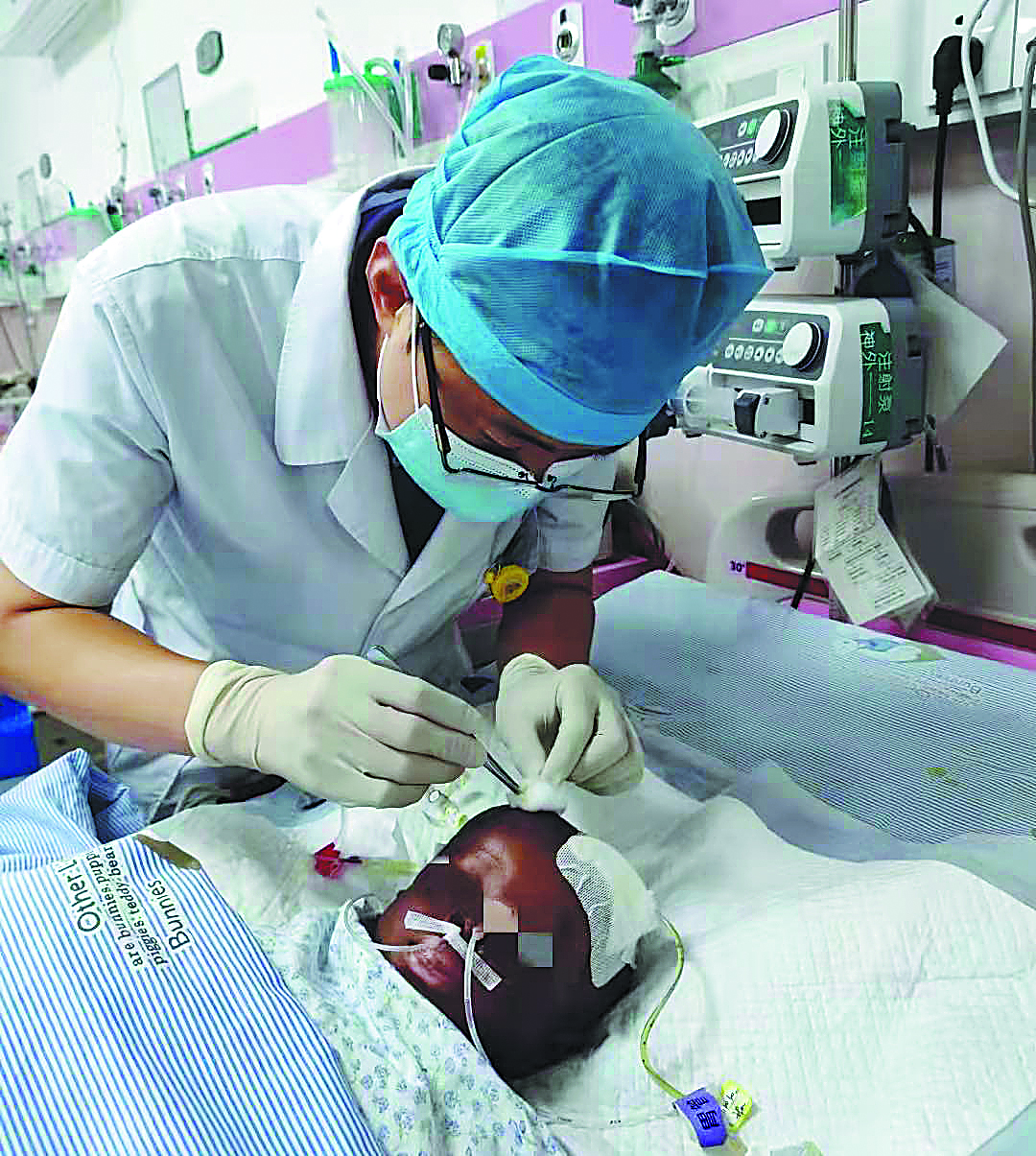 Wuhan Children's Hospital neurosurgeon Deng Wenyue and his colleagues recently received a special silk banner expressing a couple's gratitude in English.
The banner was sent by Akinnet Akiy and his wife Linnet Boh because they wanted to thank the medical team after their 6-month-old daughter Aubrey was discharged from the hospital on Oct 11 after emergency surgery.
"Thanks to the Chinese doctor. We received the best treatment and warm help in Wuhan Children's Hospital. I'm very grateful to Dr. Deng for his kind help. Long live the China-Cameroon friendship," the couple wrote on the banner.
Akiy, 35, and his 36-year-old wife arrived in Wuhan, the capital of Hubei province, from Cameroon in 2009 and started to teach English at a kindergarten.
On Sept 28, Aubrey, unconscious and in critical condition, was sent to the hospital's intensive care department.
Aubrey's mother, who can speak only a few simple words in Chinese, told doctors the baby had been feverish for two weeks and her condition didn't improve after a week's treatment in a hospital near their home.
The department immediately invited Deng for a consultation on the baby. Doctors determined Aubrey had hydrocephalus combined with subdural hematocele, which required emergency surgery.
The baby was transferred to the neurosurgery department the next day and Deng operated on her at once.
"The operation was successful," Deng said. "After the corresponding anti-infection treatment, the baby was out of danger and conditions gradually became better."
After the operation, Deng and his colleagues tended to Aubrey and her parents. He visited her inpatient ward every day to get information about her recovery.
Walking around the inpatient wards, Deng found that many child patients had their toys with them.
"Then I recalled that when I was sick in my childhood, my grandmother sent me a handmade tiger doll, bringing me warmth and comfort," he said. "The little tiger was lively and powerful, which also had the meaning of exorcising illness."
Deng bought a tiger doll and gave it to Aubrey as a gift.
"I told her parents that it could be seen as a token to bring them good luck and make the baby recover earlier," he said.
Deng tried to explain Aubrey's condition in simple words instead of precise medical terms, which greatly relieved their nervousness.
"Now the baby's brain has a bacterial infection of fluid, which will bring harm to her health, so we will do an operation to drain it out," he explained to the couple.
One day after the operation, Akiy noticed the red banners on the wall of the doctors' office and asked what they were. Deng told him it was a way for patients to express their gratitude to doctors.
The couple then commissioned a special banner, which they sent to the medical workers in the department to express their gratitude.