Entrepreneur swaps law for the land
Share - WeChat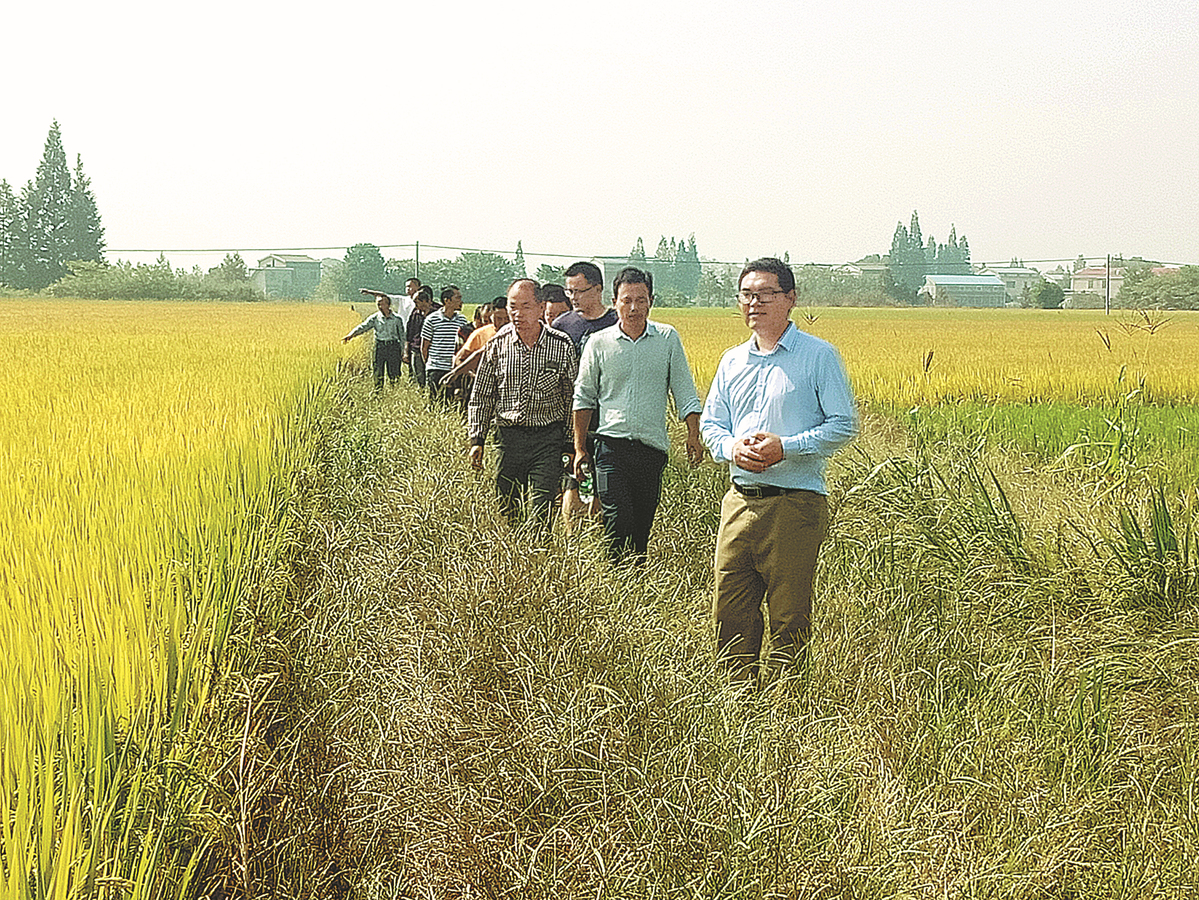 When Luo Yong, a native of a village near Dongting Lake in Hunan province, decided to return to his home area, he had spent 12 years working for the provincial government following his graduation from Peking University.
He established an agricultural technology company, which assists in rice cultivation and provides many internet-based services to villagers. In the past three years, he has led his 30-strong team to help plant 33,000 hectares of rice, while training schools he runs have produced 3,000 full-time growers.
When Luo obtained a master's at Peking University Law School, he never thought that someday he would return to working on the land. By age 4, he was helping his impoverished parents in local fields, but they also expected him to study hard to get a good job in the city.
He had worked as a public servant for nearly 10 years when he was chosen to lead a poverty-alleviation group in a county that had officially been designated as impoverished.
He held the position from 2015 to 2017, developing agricultural businesses and e-commerce in the rural area. "I found that villages need talent, and that I could play my part in building up the countryside and doing meaningful things," he said.
He added that dedication to society's needs can result in achievements and better promote the nation's rural vitalization program.
However, his family was not on his side when he gave up his stable government job and returned to the countryside.
Family members were worried about the uncertainties and challenges of starting a new business in the rural areas.
"Even now, they don't understand the choice I made, because we are still struggling and making great efforts," Luo said.
His parents were even more unhappy when they witnessed the hardships he endured, such as injuring his hand while working in the fields or his constant journeys to training schools, he added.
"But they are proud of my entrepreneurial spirit," he said, referring to the training company he started in 2018 with two partners, who both graduated from renowned universities and are highly experienced in the internet sector and arranging rice-planting services.
The digital agricultural service platform they have built improves seed quality and saves money when rice is planted. The company also provides agricultural machinery, such as cultivators and drones, on more than 13,333 hectares of farmland, Luo said.
"Farmers can select the project they want us to take charge of, such as seed planting or using fertilizers and plant protection drones," he said.
The company also provides services to foster high-quality farmland, planning, technology training, grain storage and agricultural finance.
So far, more than 100,000 metric tons of grain have been sent to market, while nearly 2,000 tons of rice have been sold with his company's help, according to Luo.
Despite the company's rapid development, there was a period when the quality of plant protection fell after Luo and his partners hired unqualified drone operators from outside the county.
"A few focused on efficiency, rather than quality. They left the farmland after finishing their work, but the farmers had to shoulder the burden of achieving good results," Luo said, adding that later the company decided to find pilots within the county.
Last year, the partners opened nearly 20 occupational training schools in major rice-producing counties across Hunan.
The schools offer courses ranging from cultivation techniques to maintenance of agricultural machinery. So far, 60,000 people have undergone training.
About 60 percent of the coursework focuses on practical training for members of agricultural cooperatives and farmers.
"Talent is the foundation of rural vitalization. It's important for farmers to improve agricultural techniques for the sake of national food security and agricultural modernization," Luo said. He added that his company aims to become a major supplier of talent and services.
"I think the countryside is a big society and it needs a range of talent, such as people who are good at business and management, as well as educational and medical practitioners," he said.
He plans to establish an incubator for rice-cultivation startups in villages to set a good example for future entrepreneurs.