In high spirits
Share - WeChat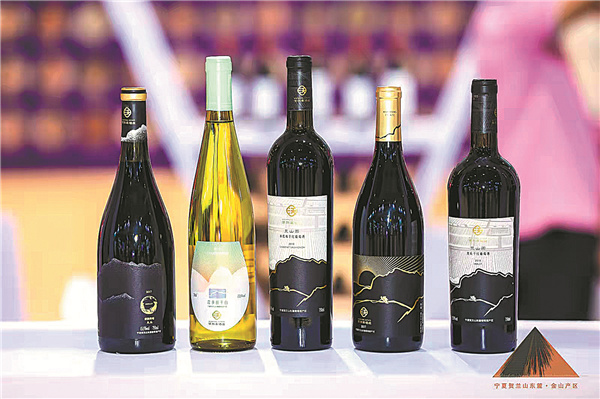 "In some way it is similar to the habit ancient Chinese people had of doing things after checking Tung Shing, a Chinese divination guide and almanac, and some ideas echo in I Ching, an ancient Chinese divination text. I hope this will lead other local wineries to follow our example and apply this environmentally friendly method."
Chinese people have a history of drinking wine. It is said envoy Zhang Qian of the Western Han Dynasty (206 BC-AD 24) brought wine back to China following his expedition westward on the orders of Emperor Liu Che.
Chinese people, however, have their own wine-drinking habit. Yu Huiming, vice-president of Xixia King Winery in Ningxia, says: "Chinese people prefer to drink together with others. They don't often drink by themselves at home like their Western counterparts."
Ningxia is actively exploring wine tourism. It announced 10 tourism routes, centering on the wineries in the foothills of Helan Mountain, during the recent expo. The routes also combine traditional tourist sites such as Zhenbeipu Western Film Studio and the rock art of Helan Mountain.
Zheng says staff members at his winery take visitors to see the general process of making wine, show them around the cellar and provide tastings.
"When building the winery, we had already planned to open it to the public and receive visitors. So we used red bricks to build the underground cellar so that it makes guests feel warm," says Zheng.
He adds that a wine town, combining wine-related entertainment and accommodation, will be built not far from his winery in the near future.
Liz Thach, a US-based wine expert who has been to Ningxia twice, says: "I must admit I am a big fan of Ningxia's cuisine and wine, and the growth of Ningxia's wineries has been phenomenal since I visited in 2012.
"Ningxia has done incredible things in wine tourism, combining architecture and cuisine. I think it has succeeded in its goal to attract Chinese tourists. The next goal is to promote wine tourism for people from around the world."
Most Popular