HK to be 'magnet' for global investors
Share - WeChat The city's bourse operator will offer more products to investors to back the SAR's vital functions under the nation's 14th Five-Year Plan. HKEX chief Laura Cha Shih May-lung talks to Oswald Chan.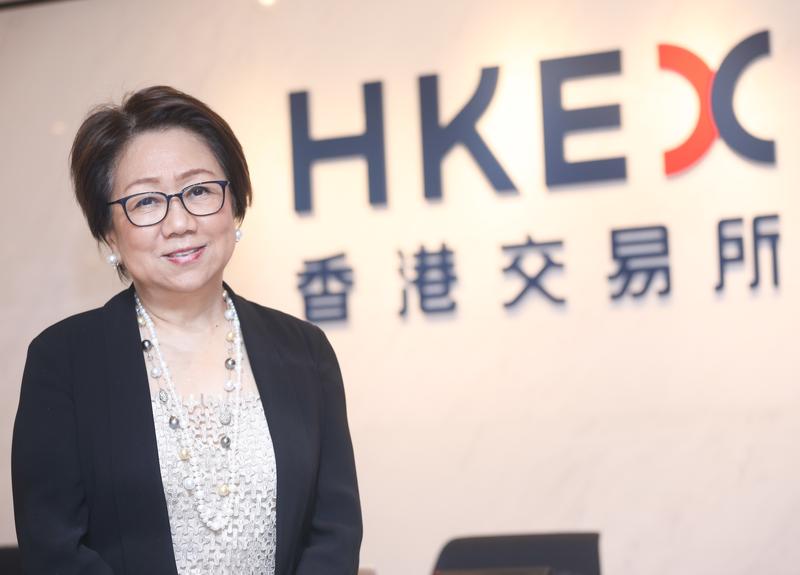 The National People's Congress — the nation's top legislature — approved the 14th Five-Year Plan (2021-25) in March, vowing continued support for Hong Kong's lifting its position as an international financial, transportation and trade center, an offshore renminbi business hub, and a pivot for global assets management and risk management.
"I think this is the first time that the central government set out very clearly the direction for us, but even before these were set, Hong Kong was already moving in that direction," said Laura Cha Shih May-lung, chairman of Hong Kong Exchanges and Clearing, which runs the city's bourse.
"As an offshore renminbi center, we can help to promote more renminbi products. We will certainly get more renminbi products and bonds listed in Hong Kong and diversify and see what kind of renminbi products we can create ourselves," Cha said in an interview.
According to Hong Kong government data, the city had a renminbi liquidity pool of more than 850 billion yuan ($131.9 billion) as of July. It processed 70 percent of the world's offshore renminbi payments in 2020. In the second quarter of this year, the average daily turnover of renminbi real-time gross settlement exceeded 1.5 trillion yuan.
There are more than 120 renminbi-denominated financial products listed in Hong Kong, including dual-counter shares, bonds, real-estate investment trusts and exchange-traded funds.
Asset management is the second function the SAR can leverage in the financial market. The city can facilitate the inflow and outflow of capital — international capital flowing into the Chinese mainland, as well as mainland capital flowing into overseas markets.
"And, by providing more diversified products, more mainland investors will come here and broaden their investments besides investing in the domestic market," Cha said.
With the launch of Cross-boundary Wealth Management Connect in the Guangdong-Hong Kong-Macao Greater Bay Area last month, there will be mainland capital coming to Hong Kong looking for more products to invest in. HKEX will be that avenue and certainly sees that as an opportunity, she said.
To create more products, HKEX has revised the listing rules to allow biotech companies, as well as those with weighted voting rights, to go public in Hong Kong. This has tremendously bolstered the local IPO market. "We're making ourselves more attractive and luring more flotations by diversifying our listing basis. These are areas in which we can continue to make our market more attractive to investors," Cha said.
The listing regime reform has paid off. In the first half of this year, there were 46 new-company listings (92 percent involving new economy and biotech enterprises). They raised a total of HK$210 billion ($27.0 billion) — more than double that of the previous year. HKEX said it is reviewing more than 200 IPO applications to date.
Apart from the revamped listing regime, the Shanghai-Hong Kong Stock Connect and Shenzhen-Hong Kong Stock Connect have further strengthened Hong Kong's position as an asset management center. Global investors can now access the mainland market, supporting the needs of investors seeking returns, while catering to the demands of the vast pool of untapped mainland capital.
According to HKEX, the total revenues of the two stock connect programs soared to HK$1.32 billion in the first half of this year — up 78 percent from a year ago. In the same period, the average daily turnover of northbound trading swelled by 54 percent annually, to 114 billion yuan, while the daily turnover in southbound trading skyrocketed 132 percent, to HK$48 billion.
The average daily turnover for the Bond Connect reached a record half-yearly high of 27 billion yuan in 2021 — an increase of 34 percent over that of the previous year.
In risk management, HKEX is committed to providing more direct derivative products and hedging instruments for investors for reasons that the mainland onshore market has been unable to provide. The bourse has been building a suite of futures and options products for investors, cementing Hong Kong as an international risk management center.
HKEX's first A-share derivatives product — the MSCI China A50 Connect Index futures — will be launched on Monday. The new product will be an efficient risk management tool for global investors in managing their A-share equity exposure. This could further arouse their interest in the stock connect program.
The city's bourse operator has also launched various renminbi currency products, such as USD/CNH futures, USD/CNH options, Mini USD/CNH futures, EUR/CNH futures, JPY/CHN futures and AUD/CNH futures. Last year, HKEX introduced about 40 equity derivatives products, with the underlying indexes tracking other Asian and emerging-market economies.
"You know what an investor wants. You go to a department store that offers many kinds of products instead of just one or two for them to choose from. That's good for our development as an (stock) exchange," Cha said.
HKEX will continue to attract global liquidity by diversifying its product ecosystem across asset classes, and improving its market structure and operations, such as shortening the IPO settlement cycle from "T plus 5" to "T plus 2".
"One is to make our market infrastructure better, shortening our settlement, making it easier for our investors. We're also constantly reviewing our listing regime. We have to meet the market's needs as the market is evolving."
HKEX is also looking at other upcoming trends that can help the stock exchange enrich its product offerings. "We are very much at the forefront in assessing the key themes and trends. For example, green finance is what we intend to develop further. The carbon market is another area, and of course, the whole ESG (environmental, social and governance) realm has now become very much mainstream," Cha said.
The Hong Kong government is expected to issue green bonds totaling HK$176 billion over the next five years. More than $38 billion of green debt has been issued in Hong Kong up to 2020, and last year's green debt financing arranged in Hong Kong reached an annual record high of $12 billion, according to the government statistics.
As of July, 108 green or ESG-related bonds were listed in the bourse, and the Securities and Futures Commission — the city's agency responsible for scrutinizing financial products — has authorized more than 60 ESG funds.
"We always look at mainland exchanges as partners and collaborate to see how HKEX and other exchanges can work together," Cha said.
HKEX paid 210 million yuan for a 7 percent stake in the Guangzhou Futures Exchange in February — the first-ever equity investment in a mainland futures exchange by a non-mainland investor. The investment will help HKEX build up and promote the development of the mainland derivatives market along with its mainland partners.
HKEX also signed a memorandum of understanding with the National Equities Exchange and Quotations (the predecessor of the Beijing Stock Exchange) in April 2018 to set up a long-term cooperation mechanism to meet market needs.