Shanxi heritage rescue mission underway
Share - WeChat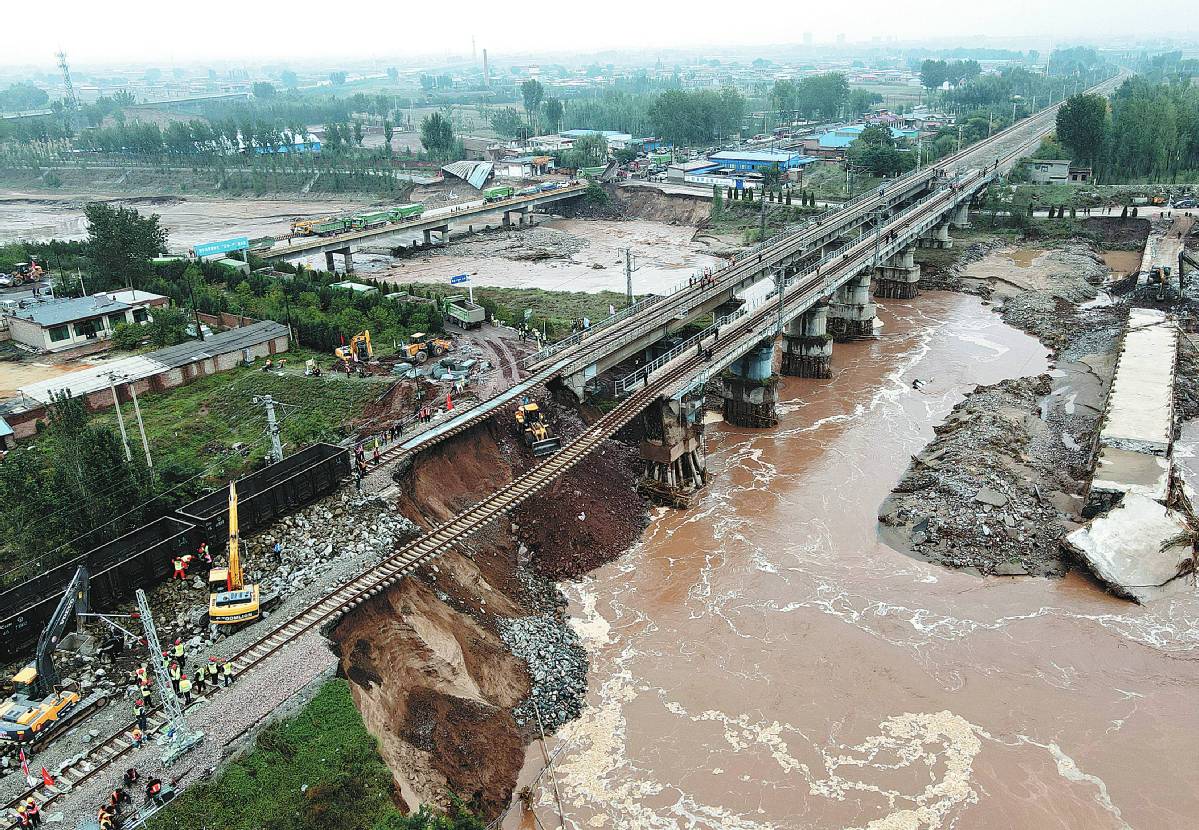 A rescue mission is underway after continuous torrential rainfall earlier this month threatened ancient architecture in Shanxi province.
The National Cultural Heritage Administration told a media briefing on Tuesday that 1,783 heritage sites across Shanxi had been damaged as of Monday.
Major damage includes cracks in walls, leaking roofs, sinking foundations and broken outer fences. No injuries have been reported at the ancient architecture sites.
Among the damaged sites, 176 are registered key sites under national-level protection, 143 are under provincial-level protection, and 661 are under city- or county-level protection.
Preliminary evaluations found most damage to be minor, the administration said on Tuesday, but 89 sites, including two national-level key sites and seven provincial-level sites, were reported to be "severely damaged", which means they partially collapsed or their overall construction safety is in jeopardy.
Li Qun, director of the administration, said the gathering of damage data in Shanxi was ongoing. An expert panel sent by the administration was conducting a field investigation in Shanxi for further evaluation and to guide local rescue efforts.
He also vowed on Tuesday that emergency rescue funds would be allocated to save and remedy cultural heritage sites in Shanxi, and the damaged sites would become the focuses of future conservation projects. A comprehensive survey of the safety of heritage sites in the province will also be launched.
The head of the Shanxi Provincial Cultural Heritage Administration said original components of the ancient architecture will be carefully categorized and used as much as possible in renovation work to retain historical authenticity.
Shanxi has one of the biggest trove of ancient architecture in China, with some of the oldest surviving Chinese buildings, dating back to the Tang Dynasty (618-907). Statistics from the Shanxi Provincial Cultural Heritage Administration show that over 28,000 ancient buildings remain standing, with 421 of them registered as national-level key sites.
From 2016 to 2020, over 1.06 billion yuan ($164 million) was allocated by the central and provincial governments for the renovation and consolidation of major ancient architecture in Shanxi.
However, as the head of the provincial cultural heritage administration pointed out, many scattered heritage sites in the countryside, which are not rated, face the biggest threat from natural disasters like torrential rain. More than 800 sites damaged in the latest deluge are not included in protected lists at any level and have lacked renovation and protection.
"Shanxi has rich cultural relics resources, and the workload to protect so many relics is too heavy, which cannot fully rely on government effort," the official said. "We've kept improving the protection level of the architecture on the lists, and we also need to encourage efforts from all of the society."
In 2017, Shanxi launched an experimental program enabling enterprises to "adopt" ancient architecture and support its daily maintenance. The program, which covers 238 ancient architecture sites, has raised a total of 300 million yuan from enterprises.
The heavy downpours in Shanxi refocused public attention of the protection of ancient architecture.
Jia Zhangke, a famous film director from Shanxi who is also a deputy to the 13th National People's Congress, has called on social media in recent days for public awareness of the need to better protect ancient architecture across the province.
In July, when major flooding hit Henan province, damage to cultural relics there was also widely reported.
Li, the head of the national administration, said cultural heritage administrations and departments of emergency management, water resources, and transportation at different levels of government are now cooperating to accelerate related studies and form a scientific system of preventive measures.
"It needs wide participation and continuous efforts," he said. "Protection is the priority of cultural relic-related work."