Taiwan's UN claims 'unjustifiable'
Share - WeChat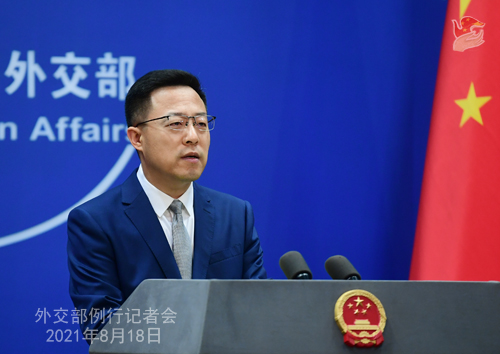 Beijing reiterated on Tuesday that Taiwan is not eligible to become a member of the United Nations.
Foreign Ministry spokesman Zhao Lijian made the remark as the island has recently been seeking inclusion in the UN and attempting to challenge Resolution 2758 of the UN General Assembly in various ways, including having articles written by its officials published in international media.
In its latest move, Joseph Wu, a high-ranking official with the island's Democratic Progressive Party, claimed on Friday that the resolution never addressed the issue of the representation of Taiwan at the UN.
Such claims are "utterly unjustifiable", Zhao told a daily news conference, adding that the UN and its vast membership recognize the fact that there is only one China in the world, and Taiwan is an inalienable part of Chinese territory. He added that they respect China's exercise of sovereignty over the island.
China's attitude of opposing moves aimed at creating "two Chinas" or "one China, one Taiwan" and seeking "Taiwan independence "cannot be challenged, Zhao said.
In 1971, the 26th session of the UN General Assembly adopted Resolution 2758, which restored all lawful rights of the People's Republic of China at the UN and recognized the PRC government as the sole legal government representing the whole of China.
Resolution 2758 embodies legal facts recognized internationally, which is not allowed to be denied or misrepresented by the DPP or anyone else, Zhao said, adding that any form of "Taiwan independence" is doomed to fail.
Hyping up the "Taiwan independence" agenda is a blatant challenge and a serious provocation to the one-China principle, as well as a flagrant violation of Resolution 2758, and will not gain any support, he said.
"We fully believe that the UN and its members will continue to understand and support the just cause of the Chinese government and people to safeguard national sovereignty and territorial integrity, oppose secession and achieve national reunification," he added.
Ma Xiaoguang, a spokesman for the Taiwan Affairs Office of the State Council, also slammed Wu for distorting the resolution on Saturday, saying the claims exposed his ignorance and wishful thinking to challenge the basic norms of international relations.