COP 15 places eco-civilization under spotlight
Share - WeChat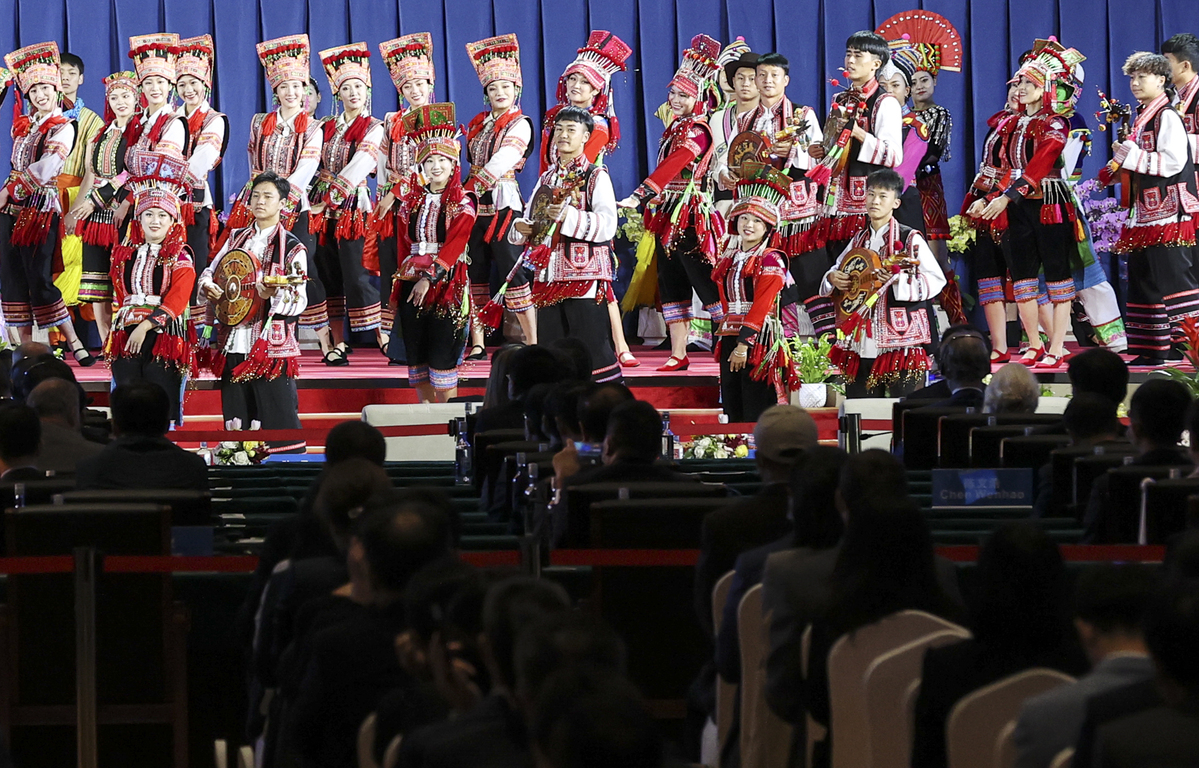 Greater support was urged for developing nations on biodiversity conservation on the opening day of the 15th meeting of the Conference of the Parties to the United Nations Convention on Biological Diversity, or COP 15, in Kunming, Yunnan province, on Monday.
The meeting, on the theme "Ecological Civilization: Building a Shared Future for All Life on Earth", is being held Monday through Friday and will continue in the first half of next year.
Ecological civilization is a concept promoted by President Xi Jinping for balanced and sustainable development that features the harmonious coexistence of man and nature.
Xi will participate in the COP 15 leaders' summit on Tuesday via video link and deliver a keynote speech, Foreign Ministry spokeswoman Hua Chunying said on Monday.
More than 1,800 participants will gather at a forum on ecological civilization on Thursday and Friday at a sideline event. The forum will cover a wide range of topics, including coping with climate change and nature-based ecological protection and restoration.
Addressing the COP 15 opening ceremony, Vice-Premier Han Zheng said China has stuck to an ecology-first path for green development and hopes to step up cooperation as well as exchanges with all parties.
Han, who is also a member of the Standing Committee of the Political Bureau of the Communist Party of China Central Committee, said China will advance biodiversity protection with greater and more tangible efforts.
Stressing the importance of adhering to the principles of fairness, transparency and State-driven efforts, Han called for developing countries' concerns about funding support, technology and capacity building to be accommodated.
He said countries should seek common ground, follow a path that is ambitious and practical and formulate post-2020 goals in a scientific manner. Countries should explore more channels of funding and provide greater support for biodiversity protection, Han said.
China will formulate a national biodiversity protection strategy and action plan for the new era and incorporate biodiversity protection into the mid- and long-term development plans of all regions, Han said.
"We will press ahead with major biodiversity protection projects and further enhance protection methods to make sure that important ecosystems, species and hereditary resources are fully protected. Public education and public participation in eco-protection will also be encouraged," Han added.
Inger Andersen, executive director of the UN Environment Programme, called for more support to help developing nations achieve their goals to counter a grim biodiversity conservation situation. The costs of our "suicidal war" against nature are growing at an alarming rate, Andersen said." As the UN secretary-general has said, making peace with nature is a defining task of the 21st century," she added.
The world's efforts have not been sufficient to reverse the damage done by humankind to nature, she said. When the 2010 Aichi biodiversity targets ended in 2020, the world had some successes, however, the action, ambition and impact were inadequate.
The post-2020 global biodiversity framework now being discussed is an opportunity for "us all", and the world needs to take clear and tangible action, she said.
Post-2020 framework
COP 15, the largest UN gathering on biodiversity in a decade, is tasked with elaborating on the post-2020 global biodiversity framework and identifying new protection goals through 2030.
Andersen also called on parties to focus efforts on an ambitious post-2020 framework and commit to implementing it. "That is how we will ensure a sustainable future for all," she said.
Nature should be placed at the heart of decision-making and the shortcomings of governance and markets corrected. Financial systems need to incorporate biodiversity in their assessments and planning, she said. "We need to mobilize much greater resources from all sources, including finance, technology and the capacity to support developing countries to deliver their international ambitions."
Yunnan province, home to more than a half of China's plant species and more than 6,000 animal species, has set up multiple initiatives to protect biodiversity in the past decades.
More than 120 rescue and protection projects targeting plant species with extremely small populations have been implemented in Yunnan in the past five years, with 30 protection zones marked out.
"We will take this opportunity and strengthen our cooperation with foreign governments and nongovernment organizations to enhance our protection, so that we will work together to build a community of shared life on Earth," said Ruan Chengfa, Party secretary of Yunnan.