The genuine article
Share - WeChat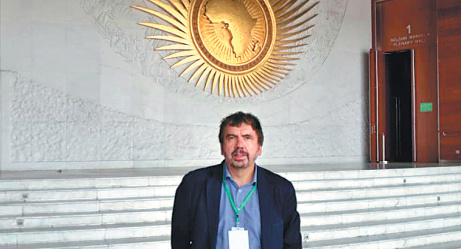 "I actually don't know why I was so excited. I had no real interest in China at 15, but I suppose it was somewhat prescient," he wrote.
Nick Jaspan, director of Prolific North, a UK publisher of consumer and business journals and periodicals, who was a friend of Moody's for 35 years, said that by working in China, Moody believed he had been "given an extraordinary opportunity, and he took the opportunity with both hands".
Martin Jacques, a former senior fellow at Cambridge University's Department of Politics and International Studies and author of When China Rules the World: The End of the Western World and the Birth of a New Global Order, said when he first met with Moody in Beijing in 2009, he was struck that "here was someone from the UK with a lot of journalistic experience who had chosen to work in China", and viewed it as "a sign of the times".
At that time, Moody, new to China, was "feeling his way on the subject and noticeably did not express a view of his own or give any hint as to his own view," said Jacques. For the first few years, that remained the case. But when he saw Moody in 2017 in Beijing, Jacques sensed a "slow but steady shift" in Moody's views.
"I admired the way in which he took time to work these things out in his own mind. A very serious and professional journalist who you could only respect," Jacques said.
To better cover China, Moody read a lot. In his Beijing apartment, there are more than 160 books about the nation.
Su Qiang, a China Daily editor who worked with Moody for eight years, said: "He had read all the books that top experts had written about China, and he closely followed how the world viewed China. He would then contact the writers for an interview, elaborate on objective opinions and challenge prejudices or unfair claims about China."
Moody reported on many high-profile events, such as the 19th CPC National Congress and the annual sessions of the National People's Congress and the Chinese People's Political Consultative Conference National Committee.
He traveled to most provinces and autonomous regions throughout China, drawing on the material he collected to write mostly at first about business and economics, before branching into political and social trends.
Yang Zhiping, vice-mayor of Suzhou, Jiangsu province, was interviewed by Moody in May 2016, when he was head of Suzhou Industrial Park.
"There were no obstacles in my communication with Andrew when I explained to him our development experiences," he said. "He showed an amazing ability to understand, and expressed my views well in his story. This could be because he was such an experienced journalist who had focused on the Chinese economy for a long time."