The genuine article
Share - WeChat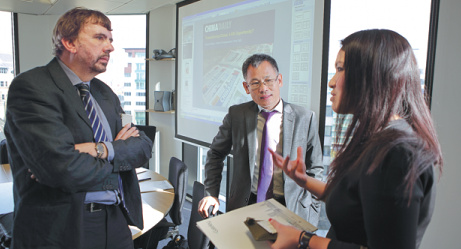 'A huge loss'
As a result of the degenerative disease, Moody felt that his arms were tied to 10-kilogram sandbags when he tried to reach the keyboard. As his muscles had weakened and shoulder joints nearly dislocated, "it must have hurt a lot when he typed", said Wang Liping, a neurologist from Peking University Third Hospital, who was Moody's attending doctor.
But Moody soldiered on. "All he cared about was whether he could keep on working," said the doctor, adding that Moody told her with "so much pride" that he loved his job and was fully capable of doing his work.
Zhou Shuchun, China Daily's publisher and editor-in-chief, said, "He kept his word, but I will never be able to make good on my promise to him," referring to a "deal" that the two journalists reached at Moody's home when Zhou visited him in February for Chinese New Year.
Zhou shared with Moody a passion for writing and classical music. During the meeting, the pair made a compact: Zhou would take Moody to a classical music concert and Moody would compare notes with Zhou on writing.
Moody more than kept his word. During his nearly 13 years at China Daily, he wrote about 700 front-page stories and penetrating analyses on China's New Era, its economy, politics and international relations.
His works added up to more than 1 million words and were published in the newspaper group's different publications, as well as in the China Watch sections published in The Washington Post and The Wall Street Journal in the United States, The Daily Telegraph in the United Kingdom, Le Figaro in France and many other publications around the world.
"These stories aim to explain to a wider audience the strategies and aims of the Chinese government, and also look at the challenges and difficulties it faces," Moody wrote. "It is also to highlight important issues, which go largely ignored in the mainstream Western media, which often fail to provide a full or true picture of China."
Moody's articles were widely cited by media outlets worldwide. For example, in February last year, he conducted an exclusive interview with Nobel laureate Michael Levitt, a professor of structural biology at Stanford University School of Medicine in the US.
Levitt was carrying out a daily analysis of figures on the COVID-19 outbreak released by China and the World Health Organization. His research showed China was already winning the war against the pandemic in February last year.