Top doctor fights inequality in healthcare to raise standards nationally
Share - WeChat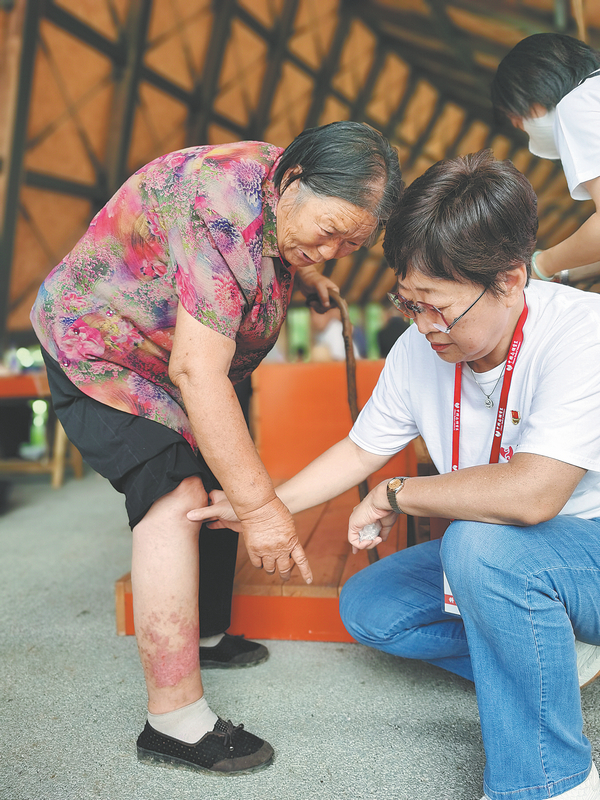 On the way to Xi'an in Shaanxi province on the night of Sept 19, 2020, the vehicle that Ling Feng, a chief expert in neurosurgery, was riding in with three doctors was caught in traffic caused by a fatal car crash.
After walking 1.5 kilometers, they joined ambulance workers, firefighters and traffic officers, and gave first aid to those injured in the accident.
The four doctors had just finished volunteering to see patients in Pucheng county in the Northwest China province.
Ling, a well-known neurosurgeon of Xuanwu Hospital affiliated to Capital Medical University in Beijing, has treated countless people and made a great contribution in the field of the diagnosis and treatment of spinal-cord vascular malformation.
In 2017, with her husband's consent, Ling sold their apartment for 2 million yuan ($309,600) and set up the Beijing Ling Feng Foundation, in the hope of recruiting more doctors to provide voluntary medical services.
She pushed the Chinese Medical Doctor Association to establish the volunteers' working committee in March 2017. Three months later, Chinese Medical Volunteers Action was launched.
By the end of 2020, the team had visited 206 counties, some of which were poorer areas, to see patients. The team has registered 4,400 doctors who are willing to help in rural areas, Ling says.
The team has established 192 stations in rural areas, where doctors stay when they volunteer to treat patients and give medical professionals training.
Providing better healthcare is intended to prevent rural people from falling into poverty again caused by illness. At the end of 2020, China achieved the goal of eliminating extreme poverty-a key goal for the new era of building socialism with Chinese characteristics.
An uneven distribution of medical resources in China means that major hospitals in top-tier cities are crowded with patients from all over the country, while many smaller hospitals and rural clinics are shunned because they lack expert doctors.
"Illness is a major cause of poverty in many rural areas," Ling says. "We hope our voluntary work will make a contribution to improving health in these regions and help to eradicate poverty."
Born into a military family in 1951, Ling joined the army at 16 and was accepted into Shanghai No 3 Military Medical University in 1970.
Upon graduation, she was sent to work in Nanjing General Hospital in the capital of East China's Jiangsu province. Four years later, she began training in neurosurgery at Capital Medical University and then pursued further studies in interventional neuroradiology, a subspecialty in radiology, in Paris, France.
Since the early 1980s, Ling has introduced new technologies to China and trained a generation of young neurosurgeons throughout all of Asia in endovascular techniques. This refers to surgical procedures where a catheter containing medication or instruments is inserted into a blood vessel.
In 2004, she spearheaded the development of the China International Neuroscience Institute in Beijing. A neurosurgical training center was then established in 2007.
She has served the World Federation of Neurosurgical Societies, which is based close to Geneva, as the chair of Women in Neurosurgery and was president of the WFNS meeting in Beijing in 2019.
China Medical Volunteers Action has extended helping hands to other countries, such as Ethiopia, Fiji and Guinea.
In Ethiopia, they have helped treat children with hydrocephalus, a buildup of fluid in the brain. Meanwhile in Fiji, they have provided training for the diagnosis and treatment of strokes, a condition with a high incidence rate there, according to Ling.
"We are continuing to recruit new members, but with more overseas missions predicted in the future, we will need more financial support to cover the doctors' travel expenses," she says.
China Medical Volunteers Action has received donations from the public and some businesses.
At annual meetings of the National People's Congress and the Chinese People's Political Consultative Conference in March, Lin, who is a CPPCC member, suggested that rehabilitation rooms be added to rural areas' clinics.
"Rehabilitation helps patients who were saved from the jaws of death have a better quality of life," Ling says.
"But there are not enough therapists in rural areas-usually it's 700 therapists for 100 clinicians (globally), but there are only four therapists for 100 clinicians in China."
During her visits to rural areas, Ling found that many places-relocated areas in particular-had a large number of old people, physically challenged people and people with chronic illnesses in need of rehabilitation. Without medical equipment, village clinics cannot do rehabilitation.
"If some basic rehabilitation equipment was available, rural clinics could help patients rehabilitate at home," Ling says.
Ling recommends that a village of more than 1,000 residents has a rehabilitation room within its clinic, equipped with 10 kinds of rehabilitation products, three physiotherapy instruments and other medical appliances such as a heartbeat monitor and blood-pressure gauge.
Still, more volunteers need to be recruited among Chinese doctors, especially rehabilitation therapists.
"It costs only 50,000 yuan to set up a rehabilitation room," Ling says, calling on local authorities to give more financial support.
She predicts that about 30,000 rehabilitation rooms will be established in rural areas in two or three years' time.
"I hope that each and every one of the 690,000 villages throughout the country has a rehabilitation room," Ling says.
In June, Ling, a Party member for 48 years, was awarded by the Beijing municipal government for her extraordinary work, ahead of the centennial of the Communist Party of China.
Most Popular