Beer bonanza boosts brand's bottom line
Share - WeChat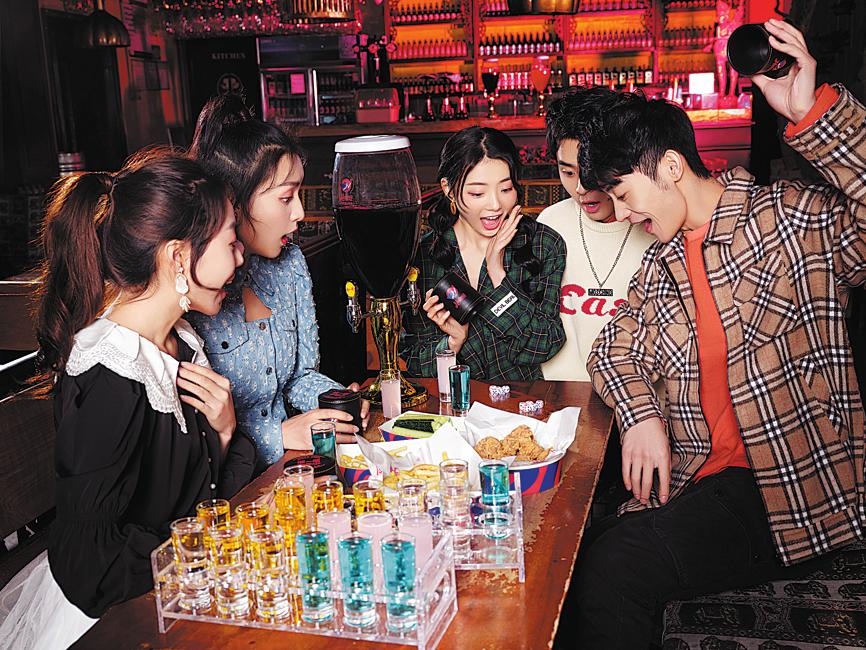 Bottoms-up youth social scene bolstering barley beverage biz
Helens International Holdings Co Ltd, China's largest bar chain and the first such listed company, has developed from small bistros and social networking places for college students and young office workers.
For many college students, Helens is the place to go at night, with multiple beer varieties on tap. Most brands such as Corona, Budweiser and its own Helens label brews carry price tags under 10 yuan ($1.55) per bottle, which is quite affordable for students. The same kind of Budweiser in 330 milliliter bottles is usually sold for 15 yuan to 30 yuan in supermarkets and convenience stores, according to market research provider LeadLeo Research Institute.
Helens currently operates 527 bars in more than 100 cities across the Chinese mainland. On Sept 10, Helens went public on the Hong Kong Stock Exchange. It initially planned to raise HK$2.51 billion ($320 million) from its initial public offering, the company said in a regulatory filing. During its first trading day, its market value reached as high as HK$30 billion.
Helens said it is targeting consumers aged between 18 and 28. A large number of young consumers in this age group don't have enough money to go to high-end bars and order alcohol with high unit prices, so Helens has become their primary choice.
"In the early days, the bar sector in China was mixed with good ones and bad ones, and we have kind of disrupted the market by launching a bar chain with standard products and services. A lot of customers stop by our bars based on peer recommendations. We hope to serve as a social venue that creates memories for young consumers," said Zhang Bo, senior vice-president of Helens.
"What we provide is not merely alcohol, but it's more about a happy atmosphere and experience as consumers can purchase similar alcoholic products at supermarkets. We hope to build a big brand with small front-end operations. We insist on operating the brand with direct ownership and not via franchise," Zhang said.
"Like in many overseas markets, going to pubs has become part of a lifestyle for many local consumers. Earlier in China, not many people drank coffee. Now, coffee has become quite prevalent in the country, and we would like to expand our bars just like Starbucks."
In March, Helens received $33 million in combined investment from China International Capital Corp Ltd and BA Capital-a consumer-focused fund in China.
From 2018 to 2020, Helens' bars nationwide expanded from 162 to 351. In 2018, its sales revenue reached 115 million yuan, and last year, it achieved sales of 818 million yuan. The compound annual growth rate was 166.9 percent over the period, according to its prospectus.
In Wuhan, capital of Hubei province, Helens has 65 bars, the highest number of all urban markets. The company aims to bring the number of its bars in the city to about 80 by the year-end.
In Changsha, Hunan province, Helens operates some 45 bars. In an area of 8.3 square kilometers around the famous traditional food court Pozi Street, Helens has opened more than 10 bars.
From 2018 to 2020, the market scale of Helens remained the largest in China. It plans to expand the total number of bars nationwide to about 1,000 next year and to around 2,200 by 2023. Most new bars are expected to be launched in second and third-tier cities, and Helens will continue to offer the most competitive prices possible.
"We will not worry about possible dilution from opening too many bars as we see growing demand from young consumers and significant growth potential of the bar business in China," Zhang said.
By the end of 2020, China had about 35,000 bistros, or small-scale mass-market bars. Some 95 percent of them were independently operated. In terms of revenue, the combined market share of the top five bar operators in China makes up about 2.2 percent of the total, according to LeadLeo.
By the end of last year, China had about 300 million people aged between 20 and 34, accounting for 21.2 percent of the total population, according to the National Bureau of Statistics.
"Helens aims to target young consumers and achieve high turnover with thin profit margins. It has attracted a large number of young consumers thanks to cheap beer, as the group has a certain demand for socializing over drinks," said Liu Qi, an analyst of LeadLeo.