Wuxi shares Mid-Autumn Festival celebrations with South Koreans
Share - WeChat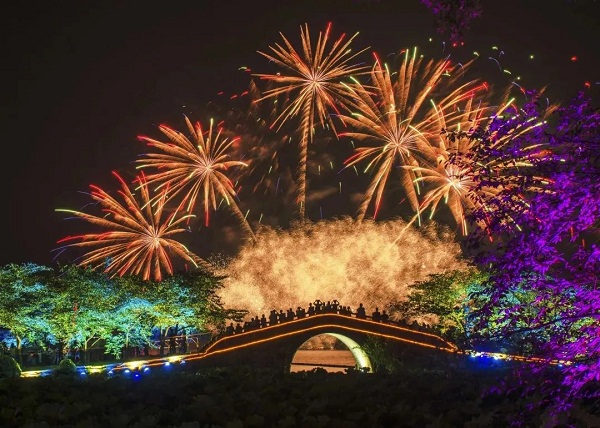 The municipal government of Wuxi hosted a dinner party for the South Korean entrepreneurs in the celebration of this year's Mid-Autumn Festival on Sept 19.
Guests included directors and their families from 12 South Korea-based enterprises in the city, such as SK Hynix, Samsung and LG.
Zhao Jianjun, acting mayor of Wuxi, greeted the guests with best wishes for the holiday.
According to Zhao, South Korea is now Wuxi's largest trading partner, export market and source of imports. More than 500 well-known South Korean enterprises have invested over $30 billion in Wuxi to expand their footprint in China.
Zhao noted that the partnership between Wuxi and South Korea has become closer during the COVID-19 epidemic. The local government has lent its full support to Wuxi-based South Korean enterprises looking to resume operations.
After the dinner, the participants enjoyed a breathtaking fireworks show at the Yuantouzhu scenic area, a popular tourist attraction in Wuxi.
The Mid-Autumn Festival falls on the 15th day of the eighth lunar month. It has been a custom since ancient times for the Chinese to reunite with family members and enjoy a sweet mooncake while observing the moon on this occasion.
In South Korea, the Mid-Autumn Festival is also known as Chuseok, a major harvest festival with a three-day holiday. During this festival, South Koreans visit their ancestral hometowns, share a feast of traditional food such as songpyeon and rice wines, dance together and enjoy views of the moon.