New variety of kelp gives farmers' profits a boost
Share - WeChat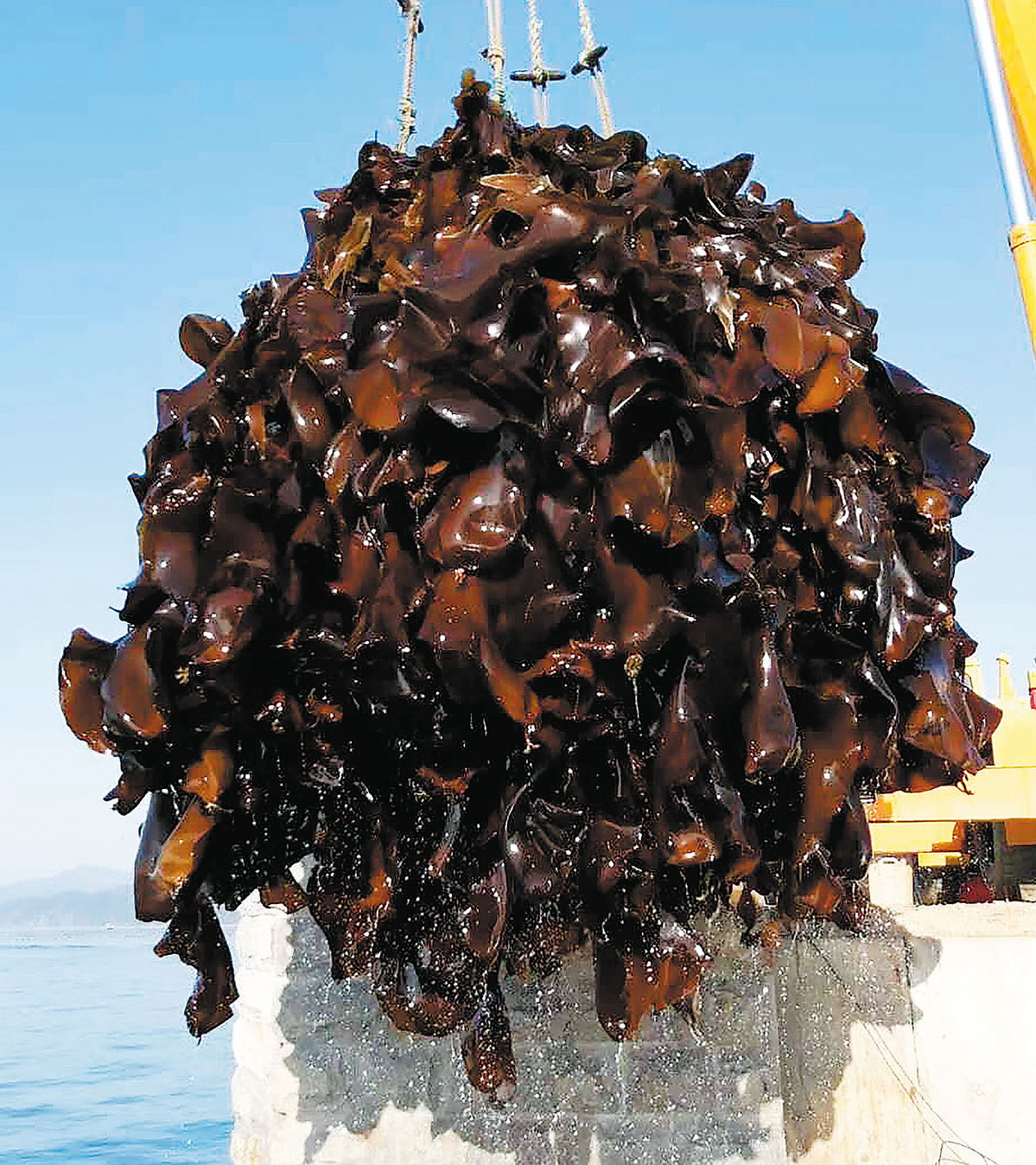 A research team in Qingdao, Shandong province, said recently it had succeeded in using hybrid technology to develop a new variety of high-yielding kelp that can bring substantial profits to seaweed farmers.
Kelp - Saccharina japonica - is a large brown seaweed that typically has a long, tough stalk with a broad frond divided into strips.
The new kelp variety, Zhongbao No 1, is being widely grown in coastal waters off the Liaodong Peninsula in the Bohai Sea and the Changdao Islands in Yantai, Shandong, and "its future farming in extended areas is expected to boost commercial use of good-quality kelp", researchers said.
It is also representative of the country's efforts to develop a quality aquaculture industry that is highly efficient and eco-friendly, they added.
The development of the new kelp variety was the result of 10 years of cooperation between a Qingdao-based team of researchers from the Chinese Academy of Sciences' Institute of Oceanology and Dalian Haibao Fishery Co in Liaoning province.
Pang Shaojun, a research fellow at the institute and a member of the International Seaweed Association Council, led the research team. He said the new kelp variety has better blade quality than common varieties, with broader and stronger fronds and higher biomass output after being blanched in processing.
Fronds of common kelp varieties tend to be more fragile, which is undesirable. In contrast, the new variety has tougher blades and its color remains deep green after processing, Pang said on Thursday.
Pang's team found the yield of the new kelp variety was almost 64 percent greater than that of common varieties when grown in similar conditions in July.
The new kelp variety has won widespread favor among seaweed farmers. Zhang Mingfu, who runs a farm in Lyushun, Liaoning, started to cultivate Zhongbao No 1 in 2015.
Zhang said the kelp is usually cultivated along eight-meter ropes. The common varieties produce 80 to 120 kilograms per rope, while the new variety can yield 160 to 200 kg on average and 240 at most.
The common varieties sold for an average of about 1,300 yuan ($200) a metric ton this year, but the new variety can fetch an extra 100 to 200 yuan, Zhang said. "The new variety has gained popularity among our clients and we have received orders till the end of next year."
The institute said Zhongbao No 1 received authorization from the Ministry of Agriculture and Rural Affairs this year.
Pang said his team will focus on the development of quality varieties of kelp in future research, saying they can play a great role in the growth of related industries.
"Kelp was the first aquatic species widely cultivated across the country and it is considered the cornerstone of the country's marine aquaculture," he said, adding that kelp is a key feeding material for other farmed marine delicacies including abalone, sea cucumbers and sea urchins.
"Good quality kelp varieties will sustain the growth of this country's giant seaweed industry," Pang said.