Macao reaping gains and glory
Share - WeChat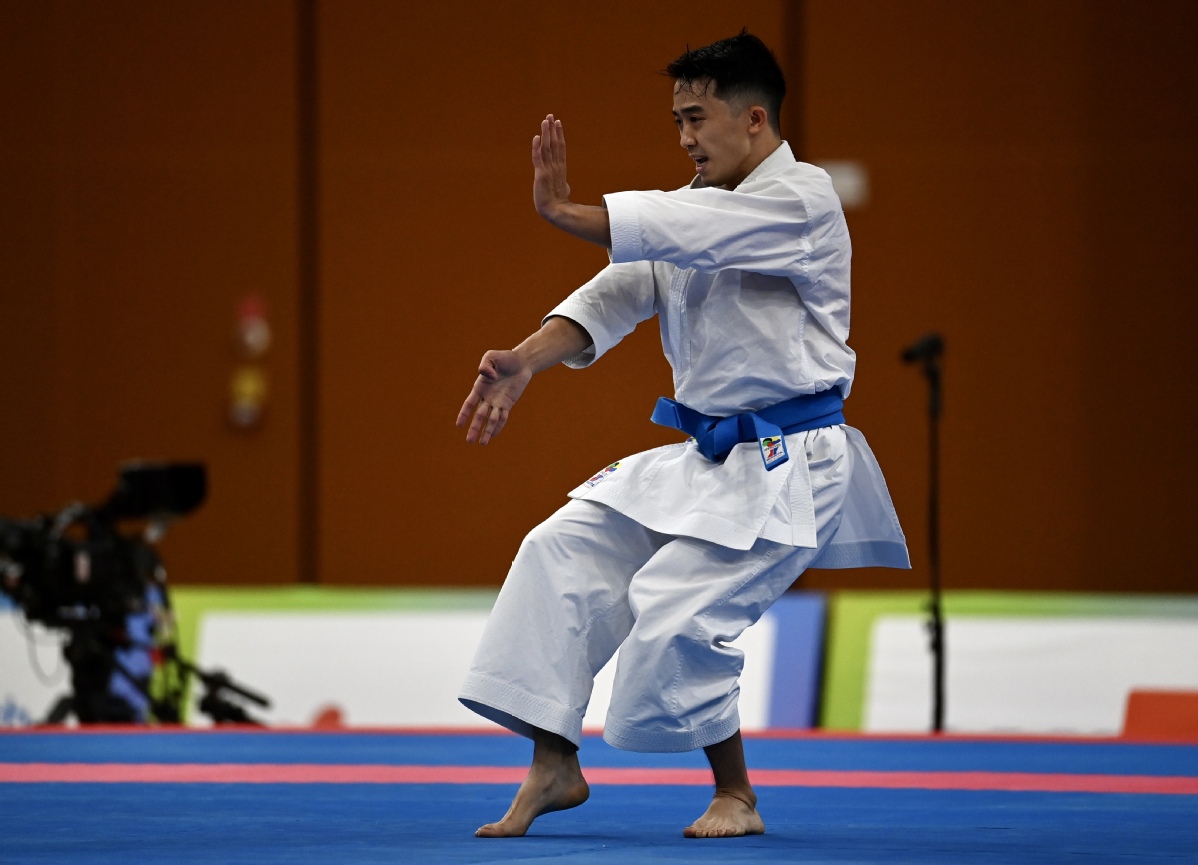 SAR's first-ever medal at Games underlines growing cooperation
Kuok Kin-hang won Macao's first-ever medal at the National Games on Saturday, underlining the growing importance of the showpiece to the special administrative region.
Ever since the Games opened last week in Xi'an, the team's athletes have been keen to stress the manifold benefits-both on and off the field of play-of competing against and cooperating with their compatriots from the Chinese mainland. Kuok's bronze medal in the men's karate competition gives extra credence to that notion.
"I'm really satisfied with my performance today. This is a very special moment for me and it's an honor for me to win the first medal for my delegation. This is very important for us," said Kuok.
"Previously, I hadn't participated in any big tournaments for nearly two years (due to the pandemic), so I actually didn't know how good my rivals were going to be. The only thing I could do is trust myself.
"Actually I was pretty nervous the day before the match, and I woke at 4 in the morning on the match day. No one set me a target, but I put plenty of pressure on myself. I just told myself the goal this time is a medal."
This is the Macao team's sixth trip to the quadrennial National Games, which this year is being hosted by Shaanxi province, from Sept 15-27. The delegation boasts a total of 102 athletes who are participating in 20 sports, including swimming, shooting, table tennis and badminton.
Veteran Macao triathlete Hoi Long credits the Games as being a massive motivational force throughout her athletic career.
"Looking back over the four National Games that I have competed in, I have different experiences at each edition. But what remains the same is that I can always see the addition of younger and stronger triathletes from the Chinese mainland," Hoi, who competed at the 2018 Asian Games, told China Daily during a WeChat interview on Saturday.
"Especially, during the last decade, the development of triathlon across the nation has been rapid. But I still met my old rival Zhang Yi (of Sichuan province), who has also competed at four National Games.
"It must have been tough for her to maintain the high level of training in the national team for all these years. And being able to reach the podium (winning silver) once again at the age of 34 is a great achievement for her."
Hoi's feats in triathlon are also impressive, especially considering she lost her hearing when she was a baby. But she never considers herself different to others, and credits sports with giving her exceptional mental strength.
"My hearing loss means I have trouble verbally communicating with others, but that does not mean I have a disability in sports," Hoi said.
"During my daily training, it can be a little bit dangerous if I ride a bicycle alone on the road as I cannot hear the sound of cars. Also, I'm a little bit slower than other athletes at the start line, as I can only set off after I see others start.
"Now the spirit of the triathlon motivates me in every aspect of life, and it can help me overcome all difficulties."