Successful HK election brings hope for stability, prosperity
Share - WeChat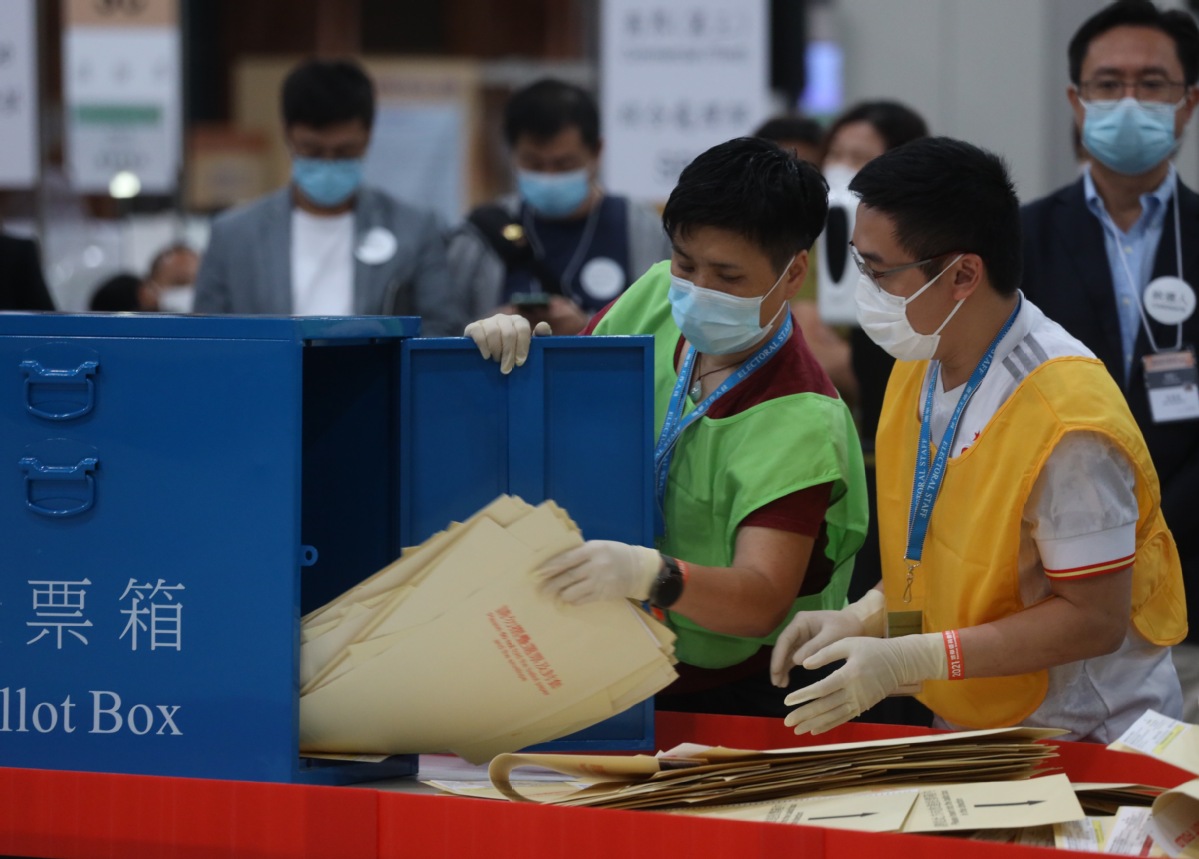 The successful holding of the 2021 Election Committee's subsector ordinary elections in China's Hong Kong Special Administrative Region has brought new prospects and hope to the HKSAR to resume stability and advance prosperity, a central government spokesperson said on Monday.
As the first key election after the enforcement of the Law on Safeguarding National Security in the HKSAR in 2020, and improvements to the HKSAR's electoral system earlier this year, the election held on Sunday is highly important and has far-reaching impacts, a spokesperson with the Hong Kong and Macao Affairs Office of the State Council said in a statement.
The election is a vivid example for fully implementing the principle of "patriots administering Hong Kong," and it is conducive to Hong Kong's long-term stability, improving the well-being of local people and the steady practice of "one country, two systems" in the long run, the spokesperson said.
With membership growing from 1,200 to 1,500, the Election Committee now has broader coverage and representativeness, features more balanced participation of different sectors of society, and improves the quality of democracy in Hong Kong, the spokesperson said.
The Election Committee members selected through the election represent the overall interests of Hong Kong society and national interests.
All these have laid a sound foundation for the successful holding of the upcoming Legislative Council election and the election of the Chief Executive, the spokesperson said.
The people of Hong Kong have shown widespread recognition and appreciation for the new electoral system, which they believe has returned to the original aspiration of elections—to select the good and capable to serve the people. They said the new electoral system is conducive to fostering a healthy, rational and constructive election culture and boosting social harmony, the spokesperson noted.
It has been proved that the new electoral system suits Hong Kong's reality and boosts the healthy development of democracy in Hong Kong. It combines safeguarding national sovereignty, security and development interests with Hong Kong's long-term prosperity and stability and ensures the steady implementation of "one country, two systems", said the spokesperson.
Members of the Election Committee have important tasks and they should exercise their democratic rights with a sense of responsibility to the country and the HKSAR and live up to Hong Kong people's high expectations.
With the full implementation of the new electoral system, democracy in the HKSAR will steadily move forward, the governance efficacy will be consistently improved, and Hong Kong people's aspirations for a better life will be gradually realized, the spokesperson added.
Xinhua contributed to this story.