Putting life's setbacks to the sword
Share - WeChat Wheelchair fencer Li Hao tells China Daily about his rocky but rewarding road to Paralympic gold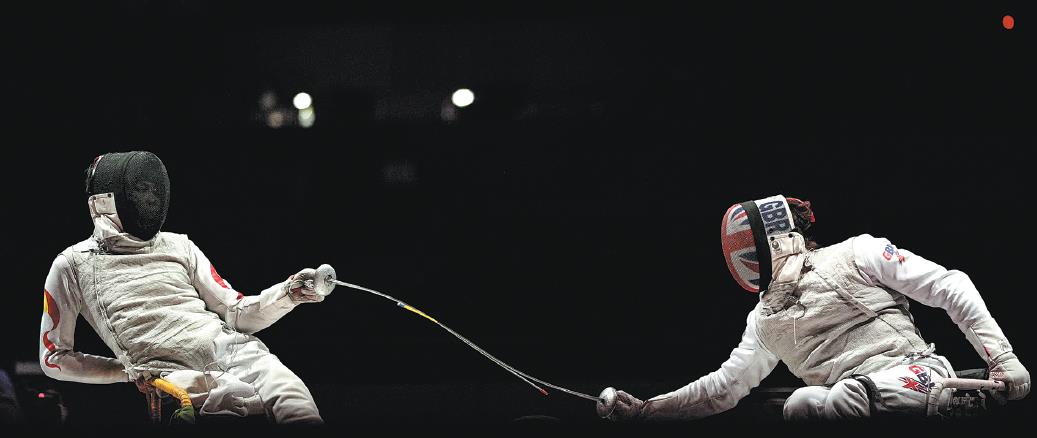 Chinese Paralympic hero Li Hao says people's first impressions of him are as a humble, placid and calm character-and they're not wrong. The 27-year-old, however, says that once he picks up his saber and puts on his helmet, he transforms into an altogether more competitive and "hotheaded" character.
That passion and tenacity were key to the wheelchair fencer's success at the Tokyo Paralympics, where he made headlines by winning China's first gold medal of the Games, in the men's saber individual category A. He reached the highest podium for the second time by helping the nation claim the men's foil team gold.
During an exclusive Weibo livestream with China Daily last week, the self-professed "underdog" of the Chinese team insisted the gold was truly unexpected.
"I never thought about winning the first gold medal for the Chinese delegation. It was really a big surprise, and right at that moment my mind went blank," said Li.
"Actually, there are many very competitive fencers in our country. So I struggled to even qualify for the Paralympics. I just feel I was so lucky. My ranking points were not that good, and I thought I probably wouldn't have a chance to compete at the Paralympics."
Li faced Artem Manko in the individual final, but said he was not at all daunted by the Ukrainian after overcoming a more feared rival-teammate Tian Jianquan, who eventually bagged bronze.
"I was happy enough to be able to come to Tokyo, and I thought it would be a surprise for me to win any medal. And honestly speaking, I was not that excited to win the final against the foreign fencer," Li explained.
"What really made me nervous was competing against my really tough teammate.
"Actually, I could barely ever beat him over the last five or six years. I was really excited to compete with him again at the Paralympics. Chinese wheelchair fencing has been very competitive. So I'm more like an underdog who was not known by most before the Paralympics. And even now, I still feel I'm just an average fencer in Team China."
Li was also keen to play down his role in the foil team final, saying: "I don't think I was the main contributor. My teammates are too strong, and my job was to try my best and not to drag them down. Team China was the defending champion, and that was the first time for me to team up with them. I was really nervous."
That sort of humility was also evident in Li's post-match interviews in Tokyo, with the athlete stressing how thankful he was for the support of his coach and parents, as well as the whole nation.
"Before we started our journey to Tokyo, the Chinese delegation made comprehensive preparations, including helping us to learn pandemic prevention protocols. In Tokyo, we needed to be very clear what we can do and what we cannot do," Li added.
"The Chinese delegation also gave us plenty of supplies to ensure our comfort and safety. So we could just focus on our training and competition at the Paralympics."
Li admitted, though, that he initially struggled to cope with the pressure of the Games.
"Before I went to Tokyo, I called my mother. After all it was my first Paralympics, so I was a little bit anxious," he said. "I remember I could not sleep during the first few nights at the athletes' village in Tokyo. I could even hear the sound of my heartbeat in bed. My mom kept telling me to relax.
"Also my coach was very supportive. During the final, I was a bag of nerves at the beginning. I was trying to win points as quickly as possible, and was constantly looking at the scoreboard.
"My coach noticed this and told me to be patient. He said your rival is also strong and don't try to score points with my first strikes. So I stopped looking at the scoreboard and just tried my best to finish each strike."
Uphill struggle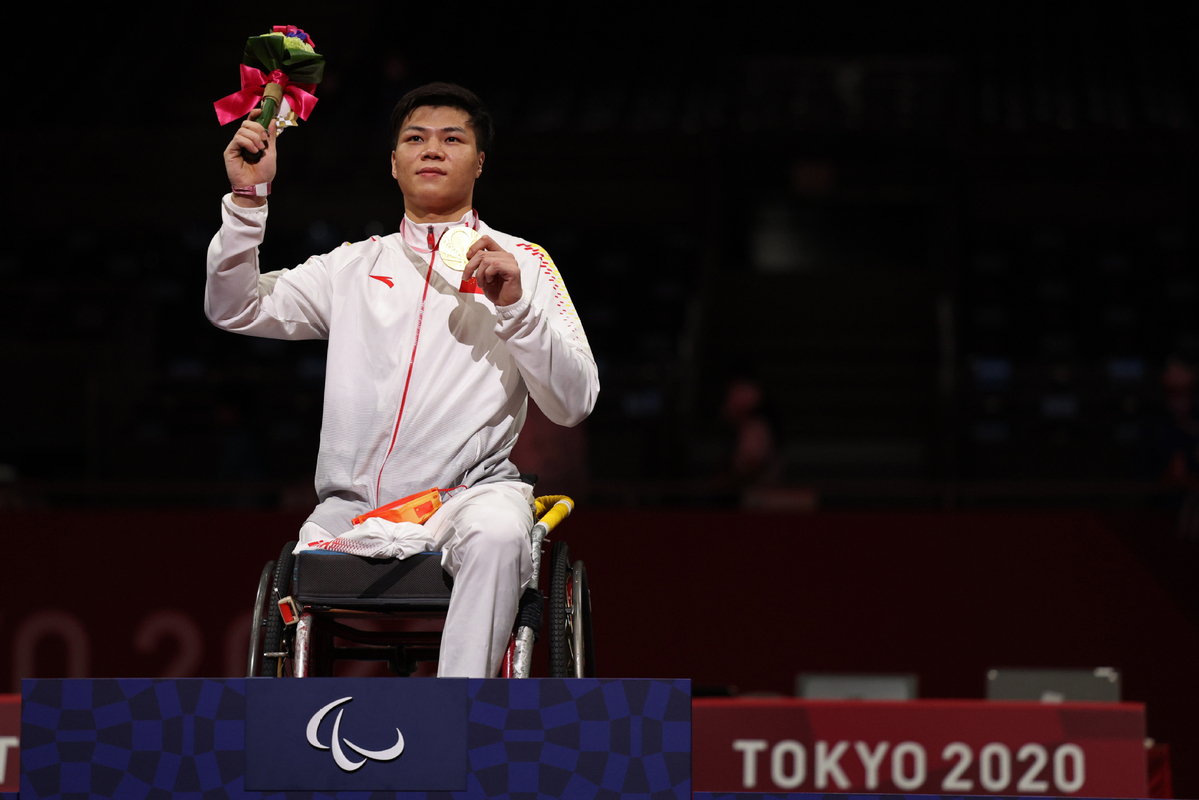 Li lost his right leg in a car accident when he was just 2 years old. Despite that trauma he never lost his tenacity, a character trait that his parents reckoned would have a good outlet in sports.
"I always tell myself I need to face life and all difficulties directly. We cannot be afraid of any rivals before we draw out the sword," said Li.
"I remember the first few years after the accident were really tough. There was a small hill near my home, and all the kids nearby would play there and compete to see who could climb over the hill the quickest. I joined them, but it was very hard for me to climb. Other kids climbed very fast, but it would take me nearly an entire night to get to the top, and I just wanted to prove myself.
"My mom just stood at the bottom of the hill behind me. During the whole night, she would say nothing but just watched. She took me home after I reached the top."
Li's first athletic pursuit was swimming, but success in the pool proved elusive and he was ultimately persuaded to switch to wheelchair fencing in 2014.
"Many people say, 'When one door closes, another opens.' I searched for that open door for too long. But once you can find it-for me it was sports-you open a new world. I think everyone's life is not always easy. Yes, I lost a leg, but I don't feel I'm that different to others now," he said.
Li admits his journey to Paralympic gold has been littered with doubts.
"When I was younger, I thought about quitting wheelchair fencing, as training on a daily basis wasn't easy. I remember I complained a lot to my mom. But then I thought I have tried this hard in the sport and spent all this time, so quitting should never be an option," he said.
The transformative effect of sports on Li's life has also helped him endure through the tough times.
"I remember before I joined any sports teams and could be part of this big family, I always felt I was different. Especially when I was a kid, other children would gather around me being curious, staring at me. That really damaged my confidence," Li said.
"Then I joined sports teams and I met many more disabled athletes who have similar stories like me. Some even suffered much more than me and had much tougher lives. So I always think of these friends. If they can manage to defeat all these difficulties, then I can too.
"Embracing sports was a turning point in my life. Before practicing any sports I wasn't confident at all. And physically speaking, I wasn't as healthy and strong as I'm now. More importantly, I have experienced different lives and see a bigger world through sports.
"Through sports, I earned the chance to participate in these competitions in different cities and even different countries. More importantly, I have met so many different people. If I had not chosen sports and just stayed in my hometown, I would be a very different me now."
Li's mother keeps all her son's medals in a special box at home, where Paralympic gold takes pride of place. He hopes it's just the first of many more major titles, so his mom will eventually have to upgrade to a bigger display unit.
"After the Tokyo Paralympics, everything for me has started from zero again. I feel like I have returned to 2016 when I started to prepare for the Tokyo Games," he said.
"I hope I can still compete at the Paris Paralympics. But just like this time, first I will need to win over my teammates to win a spot for the Games!"
Most Popular
Highlights
What's Hot