Multinationals see opportunity for trade in services
Share - WeChat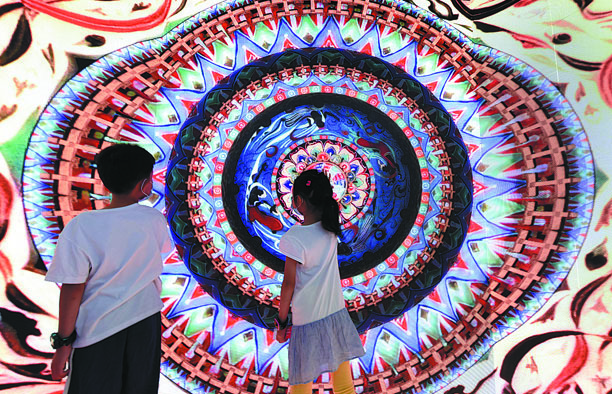 As China carries out comprehensive trials for wider opening-up in the trade in services sector, multinational companies are rushing to transform from simply being manufacturing companies to becoming service-oriented manufacturers to better adapt to the nation's changing market environment, said government officials and business leaders.
Since the restructuring of the global value chain is accelerating, services such as research and development activities, financing, logistics, marketing and branding have all become more prominent in domestic and global economic growth, said Gao Yan, chairwoman of the Beijing-based China Council for the Promotion of International Trade.
She said trade in services will be a key driving force for the nation to sustain its economy and cultivate new competitive advantages in the coming years.
Trade in services refers to the sale and delivery of intangible services, such as transportation, tourism, telecommunications, research and development, construction, advertising, computing and accounting.
Reinforced by an investment of 140 million yuan ($21.7 million), Germany's Merck Group will begin operating an electronics technology center in Shanghai in the first half of 2022, providing technology solutions and materials to the semiconductor industry to drive its growth.
From personal computers, smartphones and televisions to wearable electronics, China has become the world's largest producer and consumer of a wide range of consumer electronics, said Anand Nambiar, global head of semiconductor materials for EMD Electronics, one of Merck's business units.
"We believe that a golden age for China's semiconductor industry has just begun-no doubt the fastest-growing market in the coming decade," he said, adding that semiconductor solutions have also become one of the company's largest and fastest-growing businesses in China.
In addition, Honeywell, a US industrial conglomerate, established a low-carbon research center in Shanghai last month with the aim of offering low-carbon solutions that can help facilitate China's efforts to achieve carbon neutrality by 2060.
China's service sector attracted 535.57 billion yuan in foreign direct investment in the first seven months of this year, soaring 29.2 percent year-on-year and accounting for nearly 80 percent of the foreign investment that the country actually used during that period, according to Ministry of Commerce data.
Foreign investment in scientific research and technology services increased 49.2 percent year-on-year in the first seven months, while such investment in information transmission software and information technology services grew 29.1 percent.
Apart from building 100 cold-storage facilities across China by the end of the 14th Five-Year Plan period (2021-25), GLP Group, a Singapore-based logistics and industrial infrastructure provider, plans to build facilities that can store pharmaceutical products and support the supply chains of China's agricultural products.
Encouraged by consumers' growing demand for fresh food, beverages and other products, as well as digital technologies and favorable trade deals such as the Regional Comprehensive Economic Partnership agreement, GLP Group plans to invest more in China, said Lu Yanjing, vice-president for Global Freezer Services, a subsidiary of GLP that operates 400 logistic and industrial parks, innovation parks, data centers and office facilities across China.
"We hope to seize the fresh opportunities arising from China's dual circulation growth paradigm by introducing more personalized products and services that add value and health relevance to consumers' lives," she added. Under the dual circulation model, the domestic market is the mainstay while the domestic and foreign markets reinforce each other.
As China has further cut it negative list for foreign investment access and signed high-standard free trade deal deals to support openness, more than 10,000 companies from 153 countries and regions participated in the China International Fair for Trade in Services held in Beijing earlier this month. About 1,672 contracts and agreements on cooperative intentions were achieved during the fair, with the total transaction amount exceeding that of the previous fair, data from the Ministry of Commerce shows.
Since the digital economy has become an increasingly important driving force for trade in services, the government will establish and improve laws and regulations for the proper classification of data resources and the protection of cross-border transmission, privacy and public safety between now and 2025, said Wang Dongtang, deputy director-general of the ministry's department of trade in services and commercial services.
"In addition to participating in the formulation of international rules and technical standards, such as for data security, currency and taxes, the government will actively uphold international exchanges and cooperation in cyberspace in the coming years," he said.
Philippine Ambassador to China Jose Santiago Sta. Romana said that with China and its partners pushing for the implementation next year of the RCEP agreement, the free trade deal will not only help the Philippines to ship more minerals and agricultural and manufactured products to China, but also will stimulate the growth of trade in services to further enrich bilateral business ties.