Yunnan girls' school given national flag as gesture of appreciation
Share - WeChat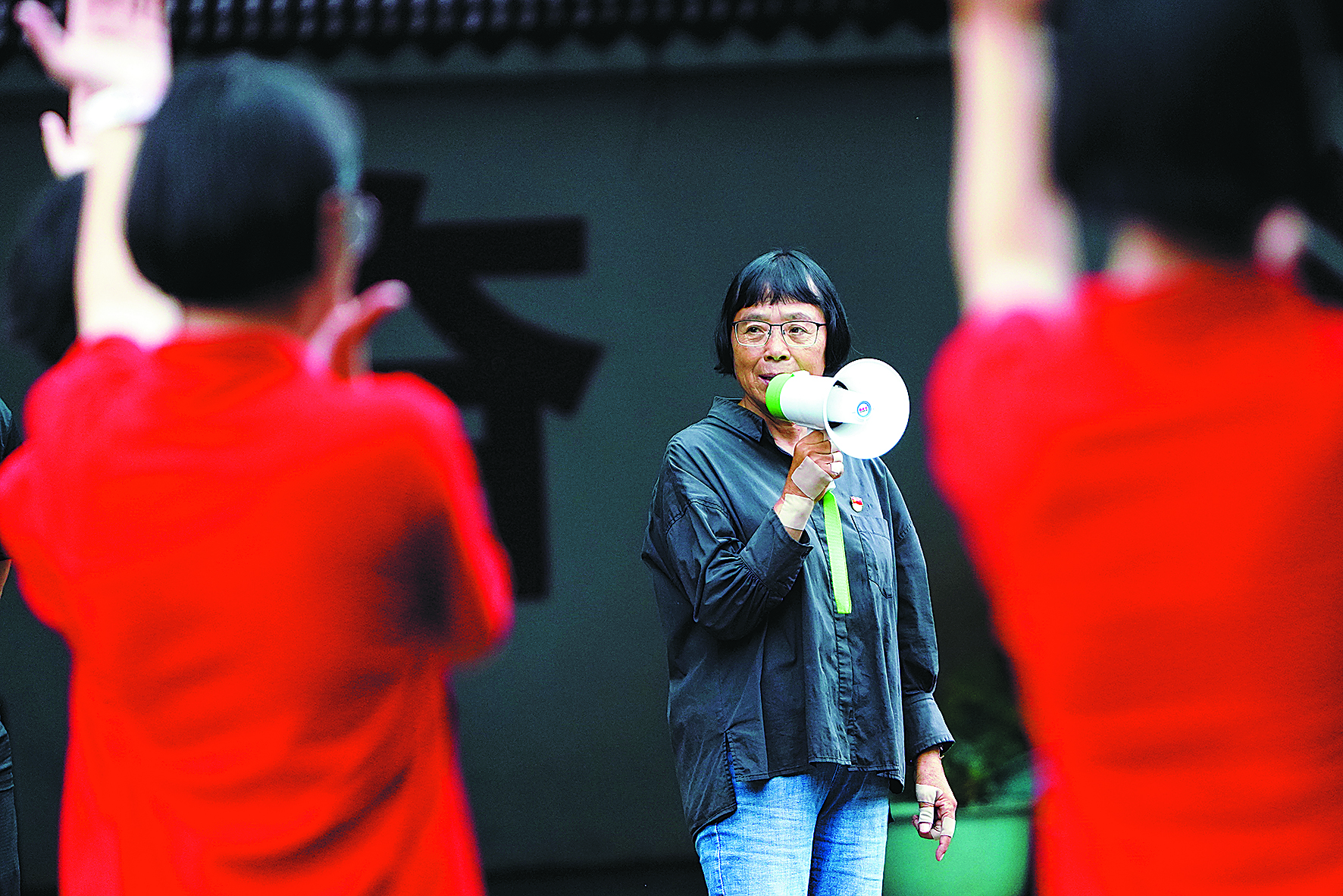 At the opening ceremony for the new semester, China's first free high school for girls received a special gift, the national flag raised at Beijing's Tian'anmen Square on Sept 1, 2008, the day the school was founded.
The Tian'anmen Management Committee sent the flag to the school to show its appreciation for its founder and principal, Zhang Guimei, and her dedication to girls' education in the nation's less-developed areas.
Since the Huaping Girls High School in Lijiang, Yunnan province, was founded, around 2,000 girls from impoverished families have graduated from it, and they have all been enrolled by universities.
Led by Zhang, students made a solemn vow to the national flag.
"We will defend the national flag with our lives, and we will defend our country with our lives."
During the ceremony, Zhang, 64, recalled the first time she taught in a classroom more than 40 years ago. Due to nervousness, she called her students "comrades", and they made fun of her poor handwriting on the blackboard.
However, after the class ended, many students praised her and said they wanted her to continue teaching there as they had not had a teacher for several months.
"We need teachers. We need teachers to teach us," the students said, according to Zhang.
"The more I get to know the students, the more I want to change their destiny through education," Zhang said.
She said she often made home visits to prevent students from dropping out of school, which meant she had to travel several hours to go to their houses deep in the mountains.
Over time, she found that many girls dropped out of school because their families believed it was useless for them to receive advanced education. She realized just how bereft of hope girls from less-developed areas were and how much their families neglected them, sacrificing their potential for that of the boys in their communities and forcing them to start work or get married at an early age for betrothal gifts to improve family conditions, Zhang said.
She decided to found a free public high school for girls in 2002, an idea that was met with great skepticism. Despite her commitment and tenacity, she was only able to raise 10,000 yuan ($1,200 at the time) in five years.
After learning about her quest, the local Communist Party of China branch and government set up a special task group to help her realize her dream of opening the school.
The school has enrolled 159 high school freshmen this year. A recent video posted by Xinhua News Agency showing Zhang comforting a freshman who had lost her parents went viral on social media platforms.
Zhang told the student she could come to her for help whenever she encountered difficulties and that she did not need to be afraid of anything now that she had come to study at the school.
"A girl can influence the next three generations," Zhang once said. "An educated and responsible mother will never let her children drop out of school."
However, years of hard work and dedication have taken a toll on her body.
She has a dozen diseases, and her fingers and wrists are covered with pain-relieving plasters. To get her students to study in a disciplined manner, she lives in the school dormitory and keeps the same tight schedule that they do, getting up at around 5 am and going to bed after midnight.
She insists on home visits all year round for more than 1,500 students, clocking up a cumulative distance of more than 110,000 kilometers. She is also the "mother" of more than 130 orphans in Huaping Children's Home.
She has been awarded honorary titles such as National Women's Red-Banner Pacesetter, National Outstanding Communist Party Member, Model of the Times, National Model of Poverty Alleviation and the July 1 Medal, the highest award the Communist Party of China Central Committee confers on the nation's outstanding Party members.
Xinhua contributed to this story.