President points the way forward for deeper collaboration
Share - WeChat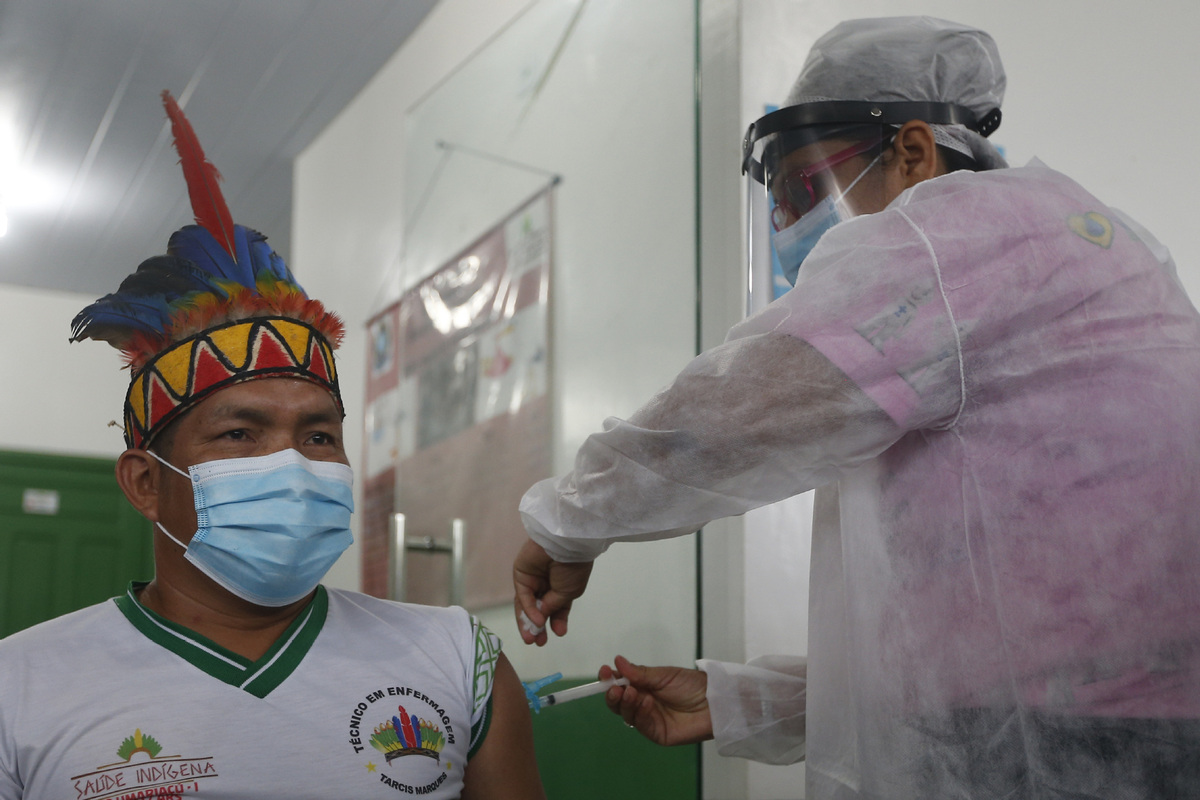 President Xi Jinping's speech calling on nations in the BRICS grouping to strengthen cooperation on public health, advance multilateralism and address common challenges has been hailed by global experts.
In his speech on Thursday, Xi put forward five proposals to foster practical cooperation among the BRICS nations. The grouping of developing countries comprises Brazil, Russia, India, China and South Africa.
The five proposals entail a strengthening in the fields of public health cooperation, in the spirit of solidarity; international cooperation on vaccines, in the spirit of equitable access for all; economic cooperation, in the spirit of mutual benefit; political and security cooperation, in the spirit of fairness and justice; and people-to-people exchanges, for mutual learning.
These proposals will inject impetus into the further development of practical BRICS cooperation in the next stage, said Ronnie Lins, director of the China-Brazil Center for Research and Business.
Since its establishment, the BRICS mechanism has always adhered to the spirit of openness, inclusiveness and win-win cooperation, all of which are important for the practice of multilateralism, said Lins.
He hoped that the BRICS countries will continue to strengthen cooperation in dealing with public health challenges like the COVID-19 pandemic.
Xi said that China will donate an additional 100 million COVID-19 vaccine doses to developing countries this year on top of its $100 million donation to the COVAX global vaccine initiative to contribute further to global anti-pandemic cooperation.
Imtiaz Gul, executive director of the Center for Research and Security Studies in Pakistan, said: "Beyond doubt China has won countless hearts and minds through its magnanimous COVID-19 vaccine donation as well as help that has already seen tens of millions of vaccines flow into developing countries."
He noted that Pakistan has been a major beneficiary of this generosity.
Gul said that Xi's focus on public health cooperation, as well as on strengthening economic cooperation, is very much in sync with the demands of developing countries like Pakistan and many other South Asian and African countries. He noted that the public health sectors in these developing economies are not strong, so they gain from economic cooperation.
Alexei Maslov, acting director of the Institute for Far Eastern Studies of the Russian Academy of Sciences, said that the coordinated efforts of the BRICS countries can play a very significant role in accelerating the global economic recovery amid the pandemic.
"China, obviously, will become the driving force behind the revival of the global economy," he said.
Mustafa Hyder Sayed, executive director of the Pakistan-China Institute, said that Xi's speech reiterated that the only way forward for emerging markets and developed countries alike is international cooperation, be it on the economy, public health governance, COVID-19 or other issues. These are shared interest for all countries.
Contrast highlighted
And Xi's approach is that of multilateralism, of working together collectively, of a win-win partnership, of a partnership and strategy in which where there are collective gains, Sayed said. This approach stands in contrast with a unilateral approach in which the gains of a country or institution come at a cost to others.
"So this approach is the healing touch that the world needs, to move forward in the revival of economies that have been hit hard because of the COVID-19 pandemic, as well as countries which need to provide job opportunities to their people and also battle the pandemic effectively," he said.
Professor Karori Singh, emeritus fellow of the University of Rajasthan in India, said that Xi appeared confident and expressed satisfaction that BRICS countries have enhanced strategic communications and political trust in the spirit of openness, inclusiveness and equity.
He was impressed that Xi reiterated that China looks forward to working with BRICS partners to deepen cooperation in all areas and build closer and more results-oriented partnerships to meet common challenges and create a better future.
Ren Qi in Moscow and Xinhua contributed to the story.