Pharmaceutical companies raise global presence in fair
Share - WeChat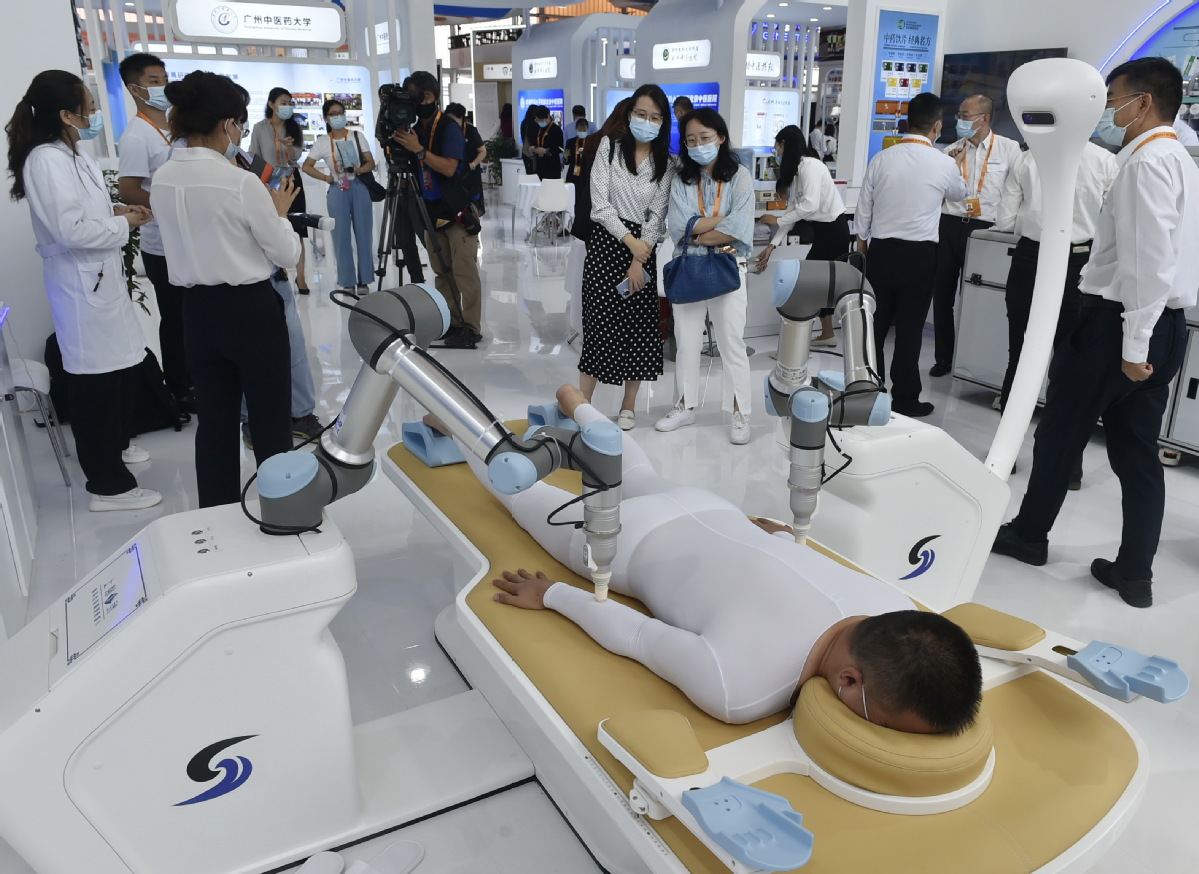 Innovative medicine developers seek to meet huge demand in BRI markets
The 2021 China International Fair for Trade in Services is an effective platform for China's pharmaceutical companies, especially small and mid-sized ones, to communicate and establish partnerships with domestic and overseas counterparts, enhance product and services innovations, and increase global presence, industry executives said.
The six-day event attracted over 12,000 enterprises from 153 countries and regions who registered online and offline, with the event ending on Tuesday. Some 510 Fortune Global 500 companies and industry leaders participated in the fair offline, making up 21 percent of the total, the organizing committee said.
As the world is still grappling with the COVID-19 pandemic, the health services thematic exhibition, one of the eight thematic exhibitions at the fair, covered a total area of about 6,600 square meters and attracted many medical institutions, pharmaceutical companies, as well as insurance and nursing institutions from home and outside the country.
"The fair is a great platform for Chinese pharmaceutical companies to showcase their products and strengths, and through forums and communication with domestic and foreign participants on the fair, we are able to promote China's innovative treatments to the outside world," said Yang Dajun, chairman and CEO of Ascentage Pharma, a Suzhou, Jiangsu province-based clinical-stage biopharmaceutical company.
The company aims to develop world-leading innovative drugs. Chinese pharmaceutical enterprises, especially innovative medicine developers, should eye not only developed markets but also the huge, unmet healthcare demand in other regions, including Belt and Road Initiative economies, he said.
His company has been conducting clinical trials in several foreign countries, including five Eastern European countries and Russia, he added.
In a forum on international healthcare services cooperation and pharmaceutical innovations, Yang suggested regulatory authorities in BRI economies strengthen cooperation and communication to better meet people's demand for innovative medicines.
Beijing-based YishengBio Co Ltd announced during the fair that its PIKA recombinant COVID-19 vaccine, an innovative prophylactic and therapeutic vaccine candidate against multiple SARS-CoV-2 variants, has won clinical trial approval from health authorities in the United Arab Emirates to treat patients with mild to moderate SARS-CoV-2 infections.
That marked an important milestone for the vaccine in the therapeutic arena after it received the clinical trial nod for prevention indications in the UAE and New Zealand.
The company also inked collaboration agreements with Pharmaceutical Development Company from the UAE, and Poseidon Research Balkansis of Serbia, respectively, during the fair. The agreements said YishengBio will conduct clinical trials in the UAE and Serbia for its PIKA recombinant vaccine for both COVID-19 prevention and treatment.
Jasmine Cui, co-founder, chairwoman and CEO of Beijing-based InnoCare Pharma Ltd, said: "As a player in China's booming biopharmaceutical industry, we are very excited to see the industry's progress in innovation and development, as well as to demonstrate innovations and achievements of our own company through the fair."
The company is looking to strengthen international exchanges and cooperation after participating in the fair, not only to promote its innovative medicines in overseas markets, but also introduce foreign innovative treatments to China and benefit patients, Cui said.
InnoCare and Chengdu, Sichuan province-based Keymed Biosciences, both of which are listed in Hong Kong, signed a strategic partnership agreement during the CIFTIS to step up cooperation on discovery of its first-in-class drugs.
CIFTIS provides a high-level platform for the company to ink the cooperation agreement, and the strong cooperation between the two companies will result in a more efficient research and development path for innovative medicines, Cui said.