New curbs safeguard minors playing online games
Share - WeChat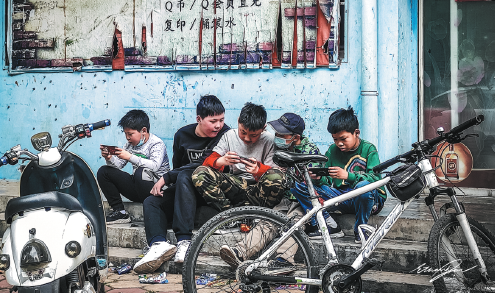 Addiction among young people targeted as restrictions widened
Wu Yanlin, a teacher and mother of a high school student in Wuhan, Hubei province, was delighted when she heard the government was further limiting the time that minors can spend playing video games to three hours a week.
She said online games are a waste of time and badly affect young students' academic studies.
Last year, one of her students became addicted to video games when the high school that Wu teaches at started online-only courses due to the COVID-19 pandemic.
The student's grades fell alarmingly, and it was hard for him to make up the time lost in studying for the all-important national college entrance exam, or gaokao, Wu said.
While the school has banned the use of phones in classrooms, most of Wu's students play video games at home, and their parents often find it difficult to prevent them from spending too much time online, she said.
Wu also has problems trying to prevent her son from overindulging in video games.
She said he became addicted to the games when he was in the ninth grade. "There were constant fights and arguments. Whenever we tried to stop him from playing games, he got really angry," she said.
"For several months, he refused to even talk to us. He would just unlock the door to his room after school and play games."
Wu added that family relations improved only when she placed fewer restrictions on her son's game time.
According to a notice issued by the National Press and Publication Administration on Aug 30, online game providers can only offer one-hour services to minors from 8 pm to 9 pm on Fridays, Saturdays, Sundays and public holidays.
The administration said providers must not offer any form of service to users who fail to register and log in using their real identities. Press and publication administrations at all levels should supervise implementation of related measures and deal with companies that fail to put such requirements in place.
In 2019, the administration limited the time children younger than 18 could spend playing online games to 90 minutes on weekdays and three hours during weekends.
It said the latest restrictions were put in place to help prevent young people becoming addicted to video games.
In a separate question-and-answer session explaining the new rules, the administration said parents who suffer greatly when their children become addicted to internet games had asked for further restrictions and reductions in the time provided to minors by online gaming services.
The administration added that addiction to games among young people has seriously impacted their studies and their physical and psychological health. This has led to serious social issues and has become a source of worry among the public.
Extreme case
Tragedies can occur when young students become addicted to video games and lose their sense of reality.
In September 2018, a 13-year-old boy in Nantong, Jiangsu province, died after jumping from a fourth-floor room. His mother vehemently criticized the game Player Unknown's Battlegrounds, and said her son had jumped to see if he could survive like characters in that game.
Last year, an 11-year-old boy in Handan, Hebei province, and his sister, 9, jumped from a fourth-floor room, resulting in serious injuries to both children, who were addicted to online games and believed they could fly like the characters in them.
Lan Huiyun, a high school teacher in Shuozhou, Shanxi province, said most of his students play video games, and some have become addicted to them.
For students in less-developed areas, such games are the most accessible forms of entertainment and an important way to make friends.
A student in the second grade once asked Lan for leave after telling him that his grandmother had died. Lan became worried when the boy did not show up for class after a week. He contacted the student's parents, and it turned out that the boy had spent the entire week playing games in an internet cafe.
Lan said students who become seriously addicted to online games find all kinds of excuses to play them. They also spend little on food and clothes, saving their money for games.
He added that even when schools confiscate students' phones or call their parents, this does not solve the problem, as they can easily buy cheap secondhand phones.
Liao Yasong, a high school student in Changsha, Hunan province, said she has spent a lot on different games, which she began playing when she was 6.
She used her mother's ID card to register. Liao said playing games is a good way to pass the time and can relieve pressure from her studies.
Many of her male classmates are extremely angry with the new regulations and have said they will use every opportunity to play games and find possible loopholes until the restrictions have a real effect, Liao added.